Hidden amongst the leafy hilltop of Teluk Bahang, lies a natural gem that Penang would sure be proud of. Built high at the edge of the hill adjoining the Tropical Spice Garden on an elevated almost nail-less constructed wooden platform, emerged a beautiful back to nature Thai restaurant with attap leaves covered gazebo and mini bar. The restaurant, Tree Monkey, was thus born on 30 July 2010, which name was prompted by the nearby free roaming dusky leaf monkeys. Thanks to the management of the restaurant as well as the liaison expertise of Warren Tan and CK Lam that a group of us Penang bloggers and floggers managed to gain the experience of jungle dining.
The strategically built al fresco structure promised a panoramic view of activities along the Andaman Sea. It gets even better towards late evening as one can be mesmerized by the beauty of the sunset on the horizon and also the lighted up of the whole place with lamps and candles. This would indeed be a nice place to hang out for romantic couples and families.
As the Tropical Spice Garden would also supply the herbs and spices required by the restaurant, you can be assured of freshly cooked dishes by their North East Thailand chefs. There would also be many varieties of dry herbs and spices that you can purchased at their jointly shared shop within the premises.
What would be more ideal to start the evening off other than to enjoy their limited edition of mocktail – the Sunset Paradise (RM10)? The concoction of orange juice, pineapple juice and grenadine tasted great and this special would only available between 6.00pm and 7.00pm.
There are many items in the ala carte menu that would include items ranging from appetizers, snacks, salads, soups, curries, stir fried dishes, vegetables, seafood, bean curds, eggs, desserts and alcohol. If you are adventurous in trying out Thai food but indecisive on which dish to choose from as a large plate each would be too much for just the few of you, why not try out their tapas sets? Each tapas set would consist a little bit of a few dishes as stated in the menu. The tapas menu dishes might change from time to time.
To start off with appetizers, you can opt for the Thai Tapas (8pcs@RM30, 12 pcs@RM45 or 16 pcs@RM60). There are 12 options on menu such as Thai Toast, Money Bag, Herbs Chicken, Spring Roll, Pandan Chicken, Otak-otak, Mussels Salsa, Lemongrass Stick, Prawn Sarong, Prawn Sabai, Thai Fish Cake and Darling Crab. You can try all of the dishes or select any of the items you think would suit your taste bud (a maximum order of 4 pieces on each item).
If you are still indecisive, let me brief you more on the individual taste of each item. The OTAK-OTAK which was actually a banana leaf wrapped steamed spiced egg paste with seafood would be mild enough for anyone although I personally like it to be a bit spicier. The MUSSEL SALSA, a half shelled mussel steamed with chili lime salsa plus chopped garlic is a must have. Although a bit pungent for some, the right combination of sour sweet taste was perfect. The THAI FISH CAKE, a deep fried curried fish paste mixed with sliced kaffir lime leaves had the right texture and moist. The LEMONGRASS STICK which had crumbed minced seafood and wrapped around a lemongrass stalk was normal except that it did have the strong flavor of the lemongrass. The THAI TOAST, a crispy toast with minced chicken and topped with sesame seeds was quite normal. I actually preferred to have minced prawns instead. The MONEY BAG with minced chicken and frozen mixed vegetables wrapped in spring roll skin did not impress me much. It lacked the sweetness from some freshly chopped carrots, onions and coriander. The PRAWN SARONG which was a deep fried prawn wrapped with crispy rice noodles was normal, just like those you would get from the dim sum shop. The SPRING ROLL wrapped with shredded vegetables was nothing spectacular either. The PRAWN SABAI was another version of the Prawn Sarong but wrapped with spring roll skin. The PANDAN CHICKEN with turmeric and kaffir lime leaves marinated chicken wrapped in screw pine leaves was tasty but it would be better to if they have a bird eye chili added in for that extra flavor. The HERBS CHICKEN was a chicken drumlet coated in lemongrass batter. Not bad but a longer marinate period would be better as the meat was a bit bland. I can't comment on the Darling Crab as the half shelled crab stuffed with mixed seafood was not available at that time.
As for main meal you can go for their Asian Tapas (8 dishes@RM60 or 12 dishes@RM90 served with 2 sets of turmeric rice). There are 12 options on menu such as Mango Salad, Satay, Nam Tok, Crispy Herbs Fish, Chili Paste Prawn, Sweet Bean Curd, Kangkung Belacan, Son-In-Law Egg, Masaman Curry, Panaeng Curry, Tomyum Soup & Tomkha Soup (a maximum order of 4 dishes on each item)
We had CHILI PASTE PRAWNS, prawns stir fried in chili paste. Nice. Next on the set was the CRISPY HERBS FISH where two pieces of batter fried seabass fillets were topped with deep fried curry leaves, shallots and ginger slices. The freshness of the fish combined with the fragrant from the herbs and spices was indeed delicious. The KANGKUNG BELACAN where stalks of morning glory were stir fried in nice aromatic flavor of shrimp paste (belacan) was refreshing and it had some deep fried garlic as garnish. The SWEET BEAN CURD where cubes of deep fried bean curd were topped with Thai sweet chili sauce, fresh onions and chopped spring onion were normal. I wished they could have served a smoother textured bean curd.
The next dish on the set was the PANAENG CURRY. It had beef slices stir fried in red curry with chilies, Thai eggplant, long beans and sliced kaffir lime leaves. The taste was nice except that the beef might need some ginger juice as tenderizer. There was also the HOT STIR FRIED BEEF WITH THAI BASIL (supposed to be NAM TOK, a beef salad as proposed in the menu), a stir fried beef dish with chopped garlic, onions, chillies and Thai basil leaves. This dish was lovely with rice. The MASAMAN CURRY was actually chicken slices stir fried with potatoes in red curry and garnished with cashew nuts. Not bad. We also had three sticks of SATAY as one of the dishes. The chicken meat was well marinated in turmeric and chopped kaffir lime leave. Well, these looked deep fried than the normal grilling to me but the meat was still tender.
On the same set was also the MANGO SALAD. The shredded green mango, carrots, onions and chopped dried shrimps, were well tossed in some chili lime juice. There was a hint of fish sauce added in too. The SON-IN LAW EGG got most of the ladies giggling. What a name! We had two deep fried hard boiled eggs, topped with some chili and tamarind sauce and garnish with some fried shallots. These were normal but appetizing. Lastly, we had two soups. The TOMKHA SOUP had chicken slices slowly simmered with galangal and abalone mushroom with a touch of evaporated milk for that additional creaminess. On the other hand, the TOMYUM SOUP was more likeable by many as it had the nice fragrant of some chili paste, lemongrass, kaffir lime leave, tomatoes and a touch of lime juice. The spicy and sour soup came with a variety of seafood.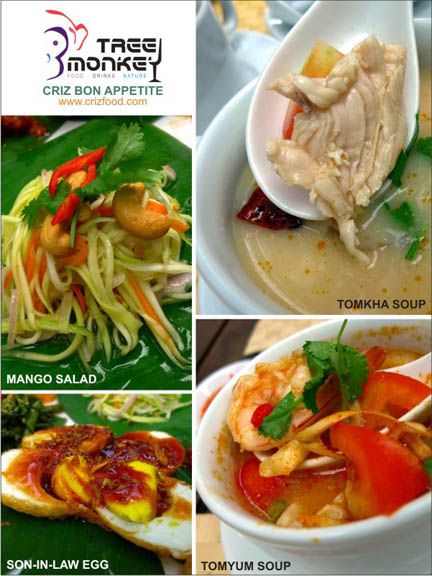 As for dessert, we had the Thai Coconut Ice Cream (RM8.80 – topped with jackfruit and attap palm seeds with a dash of evaporated milk). It was a nice dessert as a change to those served in Songkhla where cubed bread, attap seeds and roasted peanuts were used instead.
The memorable meet up evening with the bloggers ended with Spiced Tea and Coffee with Condensed Milk (RM8 each – hot or cold) being served. Most of us preferred the Spiced Coffee more as it did not have such a thick spiced flavor. The tea on the other hand has a stronger presence of cinnamon, cloves and cardamon.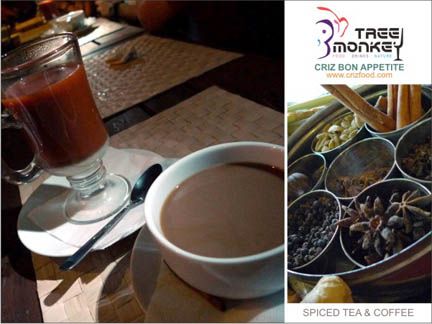 Overall, this place would be a nice and serene venue for couples and small groups. The menu is pork free. Vegetarian dishes can be arranged. It has WIFI facility and can cater up to 80 people at one time. I have to thanks the management, namely, Mr. PattKhor and his beautiful assistant, Ms Wisakha for the lovely evening.
Getting to the restaurant would not be hard as it's located just next to the Tropical Spice Garden. Just drive all the way up to Teluk Bahang but do watch out for some nooks and corners as you might just miss the restaurant especially during late evening. I have drafted out a simple map with photos to lead you to your destination. Upon seeing Hard Rock Café (Map A), drive pass Bayview Beach Resort until you see a housing estate on your left (Map B). Drive further on and round a corner, you would see a hilltop Chinese cemetery (Map C) on your left. Before you reach the next corner (Map D), slow down as the restaurant is barely 50m away on your left (Map E). There would be ample parking space in front and opposite the restaurant. You can also park your car along the hawker area diagonally opposite the restaurant (Map F). Do click on the map for a clearer view.
Due to the steepness of the tar trail and many steps involved in getting to the restaurant, those elderly, handicapped or those with knee problems may have some difficulty in dining there. Let's hope the management might consider having a buggy car to transport these people. After all, they also should have the privilege to enjoy the food and scenic view up there.
Name: TREE MONKEY @ TROPICAL SPICE GARDEN
Address: Lone Craig Villa, Lot 595, Mukim 2, Jalan Teluk Bahang, 11100 Penang, Malaysia.
Contact: 604-881 3494
Opening Hours: 9.00am – 11.00pm (Sun – Thurs), until midnight (Fri & Sat)
GPS: 5.463599, 100.229199
RATING:
Ambience: 9/10 (1-4 cheap, 5-7 average, 8-10 classy)
Food Choices: 9/10 (1-4 limited, 5-7 average, 8-10 many choices)
Taste: 8/10 (1-4 tasteless, 5-7 average, 8-10 excellent)
Pricing: 8.5/10 (1-4 cheap, 5-7 average, 8-10 expensive)
Service: 9/10 (1-4 bad, 5-7 average, 8-10 excellent)
ATTENDEES:
1. William Tan – http://www.genesissix.com/
2. Warren Tan – http://www.genesissix.com/
3. CK Lam – http://www.what2seeonline.com/
4. Criz Lai – http://crizfood.com/
5. Carrie Soon – http://www.cariso.net/
6. Lingzie – http://www.lingzie.com/
7. Alan Choong – http://allaboutpenangfood.blogspot.com/
8. Amanda Teoh – http://allaboutpenangfood.blogspot.com/
9. Steven Goh – http://www.stevengoh.com/
10. Mary Teo – http://reginatravel-foodparadise.blogspot.com/
11. Cheah BH (Bee) – http://buzzingbee.blogsome.com/
12. Patrick Soon – http://studiomoonspell.blogspot.com/
13. Tiffany Thor – http://sexydracula.blogspot.com/
14. Yeap Jian Ming – http://cokeworldcitizen.blogspot.com/
15. Chan Chee Wah (Waco) – http://www.noweating.com/
16. Nel Ng – http://bearyinformative.blogspot.com/
17. Emily Chong – http://www.millymin.com/
18. Xherlyn Chong – http://hysteric-elegance.blogspot.com
19. Calvyn Lee – http://www.icalvyn.com/
20. Sherming Chua – http://www.sherming.com/
21. David Lee – http://www.limpek.com/
22. Joanne Chong – http://www.joannechong.com/
23. Danny Ooi – http://www.joannechong.com/