Many people would have heard of the infamous Cabbages & Condoms Restaurant (C&C) in Bangkok, Thailand, with 5 other local branches in Nakhon Ratchasima, Vieng Pa Pao, Chiangrai, Nangnong plus a resort cum restaurant in Saptai. This themed restaurant is tucked away in an alley in the Khlong Toei district but is quite easily accessible via the BTS Asoke Station. You may ask why the bizarre name as cabbages had nothing to do with condoms at all. The brainchild of this over a decade old establishment, Senator Mechai Viravaidya, had conceptualized this project to spread the knowledge and understanding of contraception throughout Thailand, namely to overcome the reluctance to discuss issues on family planning, sex and HIV/AIDS. Thus, he caught the attentions of the public and eventually condoms became commonly available and as cheap as cabbages. Moreover, part of the profits from these restaurants would go towards supporting the work of the Population and Community Development Association (PDA).
It happened that I was staying at The Key Bangkok Hotel nearby and decided to check out the restaurant. Cabbages & Condoms Restaurant indeed has a catchy tagline on the menu to create the curiosity amongst diners – "Our food is guaranteed not to create pregnancy". There are also many sex awareness posters scattered around the pathway towards the sanctuary-like restaurant ambiance plus quite a few condoms and birth control pills created fashionable outfits on the mannequins along the way. What caught my attention was the after dinner souvenirs – FREE CONDOMS. On top of that, you can also get more condom supplies at their free-flow corner, inclusive some water-based lubricant sachets. Cool~ Such convenience~ Well, they indeed won't give you after dinner mints but you can take a condom instead~ LOL~ 😛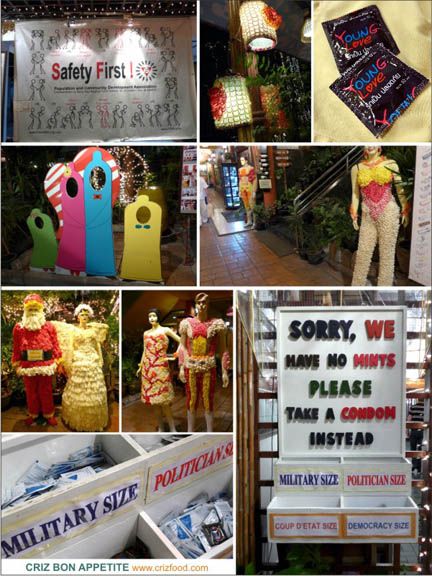 Anyway, Cabbages & Condoms Restaurant may have a great concept in introducing safe sex and family planning but failed in pepping up great dishes. It may be a great hangout place for Westerners over some barely authentic dishes but not for any Asians whom had years of growing up with herbs and spices. Somehow, I felt that the dishes served were mainly catered for those diners with low spicy tolerance. If you are looking for the Yin Yang balance of the Thai cuisine, this is definitely not the place for you as the basic 5 flavors (wan, kem, brieow, ped & kom/ หวาน, เค็ม, เปรี้ยว, เผ็ด & ขม/sweetness, saltiness, sourness, spiciness and bitterness) were not significantly present. You should have at least 3 of the 5 flavors significantly presence in a Thai dish.
To prove my points, I started out with the appetizer of Kratong Thong (Minced Chicken & Corn in Waffle Cups – THB120++). Basically, it was just some blandly prepared minced chicken mixed with some corn kernels (mixed vegetables version) and served in "Singapore Top Hats" aka "Nyonya Pie Tee" crispy pastries. To give them more flavors, you have to dress them with some Thai chili sauce. So, in my opinion, what is so Thai about this dish?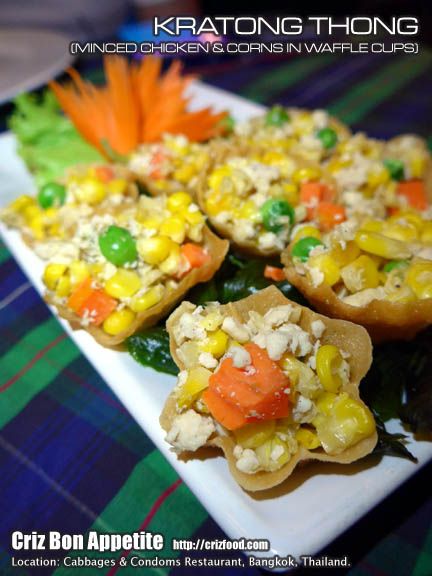 Just as an ideal example to judge on the 5 flavors, I tried out their salad, Yum Ma Khue Yaw (Roasted Eggplant with Prawns and Minced Chicken Salad – THB170++). Basically, only 2 flavors popped up significantly… saltiness from a high hint of nam pla (fish sauce) and sourness from the added lime juice. There were no sweetness from added palm sugar, spiciness from some added bird's eye chilies and even some bitterness from the supposedly roasted eggplant. Even the minced chicken tasted bland. The whole dish tasted rather flat.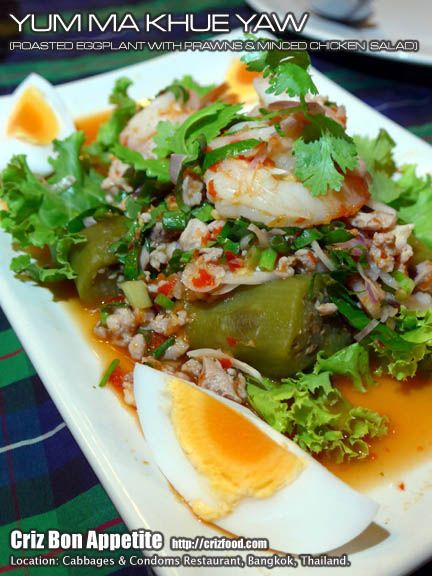 On top of that, they served the worst Gaeng Massaman Gai (Chicken Masamman Curry – THB200++) I have ever tasted with overcooked chicken pieces in super sweet curry. From my experience in cooking and creating many Asian dishes, the texture of the meat was the end result you would get if you have frozen the dish for many days and heat up when needed with a microwave oven. It was so bad until the meat was with powdery texture. It would surely put a shame to the Thai culinary world since it was voted as the #1 dish in CNNGo's Top 50 Best Food in the World 2011.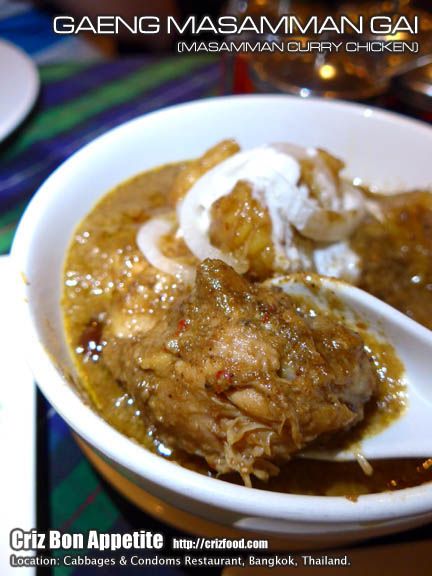 Other than the main dish as above, I have decided to try out their noodle dish which was the Phad Se-Ew Moo (Stir Fry Flat Noodles with Kale & Pork – THB120++). I'm quite a regular for this "hor fun" type of stir fry noodles but the dish served here was horrendous. There were no hints of "wok hei" aka high heat stir frying, balanced flavors and the whole dish had that bitter-like chemical flavors. It was like consuming pesticide without getting murdered.
Overall, the ambience was quite cool for that themed experience or even bumming out with friends over some drinks. However, the restaurant should at least check on their food quality to ensure returned customers rather than concentrating on the one-time Western tourists. The only thing that I had supported was their many scattered donation boxes towards the welfare of some charitable organizations. There will be a surcharge of 10% service tax (ST) and 7% value added tax (VAT) in your bill.
Name: CABBAGES & CONDOMS RESTAURANT
Address: 6 Sukhumvit Soi 12, Khlong Toei, Bangkok 10110, Thailand.
Contact: +662 229 4610
Business Hours: 11.00am-11.00pm
GPS: 13.737885, 100.557966
DIRECTIONS:
Take the BTS Sukhumvit Line and stop at BTS Asoke Station. Use the Skywalk towards Exit 2 and walk downstairs towards Times Square Shopping Center Asoke. Immediately, after the building, turn left into Sukhumvit Soi 12. You can see a signboard directing you to the venue. Walk around 10 minutes and you can see the entrance within a compound on your right.
RATING:
Ambience: 8/10 (1-4 cheap, 5-7 average, 8-10 classy)
Food Choices: 8/10 (1-4 limited, 5-7 average, 8-10 many choices)
Taste: 5.5/10 (1-4 tasteless, 5-7 average, 8-10 excellent)
Pricing: 7.5/10 (1-4 cheap, 5-7 average, 8-10 expensive)
Service: 8/10 (1-4 bad, 5-7 average, 8-10 excellent)