Now who's Huan Chu Leng? You may ask if he's someone famous in Malaysia. In fact, it's just a name given to a 14" long steamed bun or more commonly known as Mee Koo/Mi Koo (Steamed Tortoise Buns in Hokkien dialect). Huan Chu Leng (Potato Dragon in Hokkien dialect) is originated from Taiping, Perak, Malaysia. I have not seen anywhere else selling these delicious steamed buns anyway. They can only be found in the night market at Plaza Perbandaran Taiping, Perak (Taiping Bowling Centre is at Level 3). It has become a delicacy amongst the locals, whether it is eaten plain, toasted or fried with eggs like French toast.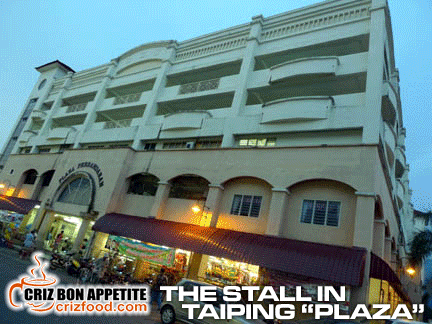 What made the Huan Chu Leng my most sought after buns during my each visit to Taiping was the option to choose from the many varieties the stall has. There are basically 5 types of dough flavors such as Plain, Potato, Pandan, Yam and Brown Sugar with the options to have "Swiss roll like" filling such as coconut jam (kaya), red bean paste, chocolate and brown sugar. Such a huge bun only cost RM3.00 each. It's darn cheap right? After so many years of patronizing this stall, my favorite is still the Green Pandan Huan Chu Leng with kaya filling.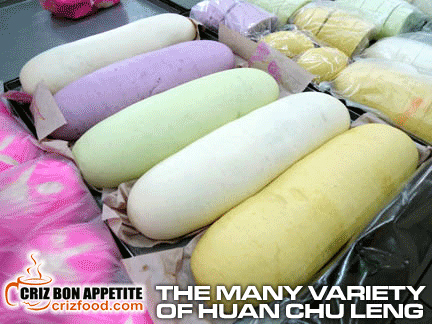 The stall is also famous for its Mini Mee Koo (RM3 for a pack of six), round pink colored buns with a flower designs and also the cute yellow pineapple shaped plains buns. Both buns are usually used for Chinese praying purposes. If you asked the locals or those from the Northern states of Malaysia, practically Penang, you would find that most buyers prefer those obtained from this stall more as the buns here have more refined textures. You can even get many flavors of mooncakes prior to the Mid-Autumn Festival month.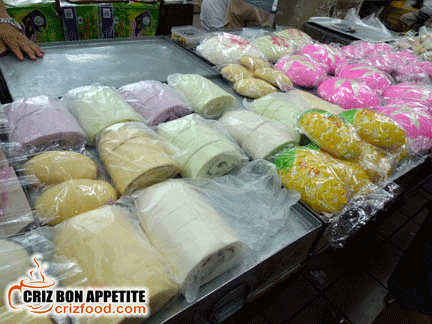 Unless you are familiar with the road into Taiping town, you would be a bit confused with the directions as Taiping has developed very fast within the last few years. The easiest way to find the Mee Koo shop is to use the Simpang way rather than to drive all the way to Kamunting (Lake Garden and Taiping Zoo). As you exit from the Taiping Plaza toll, turn right at the first traffic light. Drive on and you would pass through a few traffic lights before you reach the main traffic light at Simpang.
Turn left into Jalan Taming Sari. Go over the flyover and drive on until you see Bismillah Roti Canai shop on your left. Turn right into Halaman Pasar. Drive on until you reach a cross junction. Turn left into Jalan Kota. Drive on until you reach the second cross junction (CIMB Bank at the corner) and turn right into Jalan Tupai. Drive straight again after you have reach another cross junction. You will see the Taiping Hawker Center on your left. Take the first turning on your right and you will see the Plaza Perbandaran Taiping there.
The roads here are rather messy as many of the roads are one-way. If you are still unsure, just ask for the direction to "Plaza" or "Taiping Bowling Centre". The Hokkien speaking locals would be glad to direct you there. You can even call up Mr. Chong to collect the buns if you feel that it's a bit too late for you to get them at the Plaza.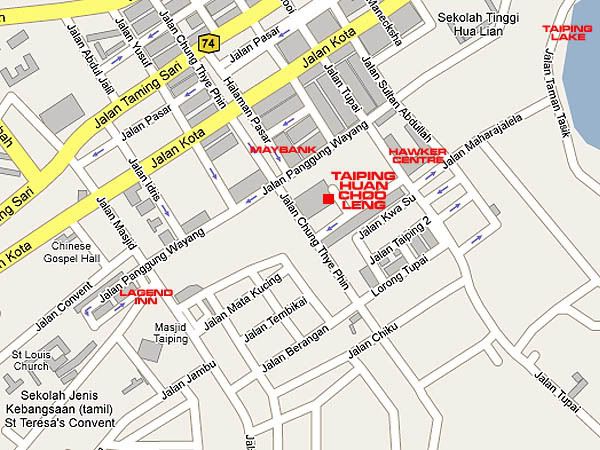 Name: CHONG BAKERY
Shop Address: Plaza Perbandaran Taiping, 34000 Perak, Malaysia.
Residence Address: 97, Jalan Landak, Green House Area, 34000 Taiping, Perak, Malaysia.
Contact: 016-4511899 (Mr. Chong)
Opening Hours: 4.30pm – 9.00pm ( Closed Friday)
GPS: 4.849453, 100.741882
RATING:
Ambience: 6/10 (1-4 cheap, 5-7 average, 8-10 classy)
Food Choices: 8/10 (1-4 limited, 5-7 average, 8-10 many choices)
Taste: 8/10 (1-4 tasteless, 5-7 average, 8-10 excellent)
Pricing: 6/10 (1-4 cheap, 5-7 average, 8-10 expensive)
Service: 9/10 (1-4 bad, 5-7 average, 8-10 excellent)