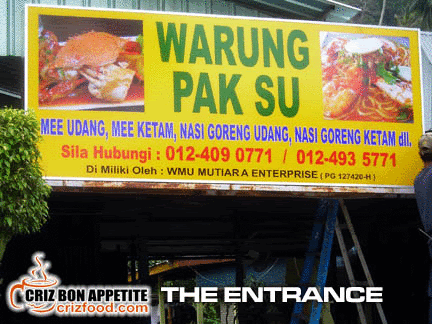 Since I did not have the opportunity to visit another seafood restaurant that was much recommended by the Kuala Juru village folks as it was closed during my visit to Kuala Juru earlier, a small group of us decided to go for another food hunt to the small fishing village deep into the outskirt of Juru. This time, I had revisited Restoran Nelayan Kuala Juru as well as the much acclaimed Warung Pak Su. I won't touch much on my earlier trip as I had updated the post itself with some new information and photos. Let me share what I had dined at Warung Pak Su instead. Somehow this visit had a few hiccups as the sky was pouring heavily and the pricing for the food was a bit of surprise to us but these hiccups did not did not deter us from savoring some of the good food around that area.
Being a well established restaurant, Warung Pak Su surprisingly did not provide any printed menus and indeed it was a risk we had to take when ordering a few of the dishes. As most of the seafood items were freshly bought daily, all the items were based on market rate. The first dish that we ordered was the Ikan Siakap Bakar (Grilled Perch – RM30). The fresh fish was cut into halves, marinated with some spices and wrapped in banana leaves and grilled for a certain period of time. The end product was a nicely cooked fish, mild in spices taste and fresh in juiciness. The grilled fish would go well with the special sauce which consists of sliced onions, chili paddy, lime juice, soy sauce and sugar but I personally found the sauce to be a bit overpowering with lime taste.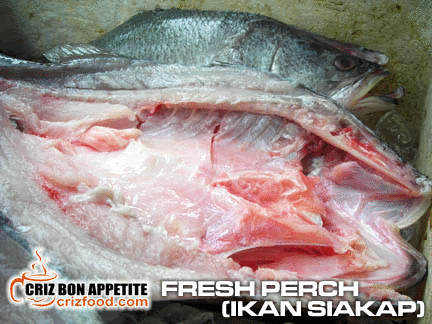 While waiting for the fish to be grilled, we also ordered some satay to try out. Although we were still quite full from the earlier meal at Restoran Nelayan Kuala Juru, the juiciness and fragrance emitted from the chicken on skewer boosted up our craving for more. The taste of the large sized satays were great and it was only at 60sen each.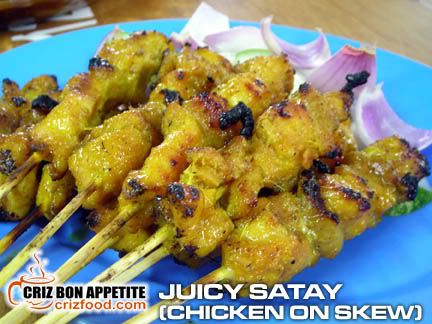 The restaurant will also have Kerang Bakar (Grilled Cockles – RM5/plate) but we did not order them as we were scared of food poisoning after seeing how cockles were harvested. 😛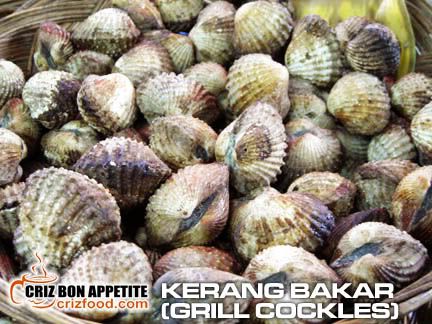 Since the villagers highly recommended the Mee Udang (Prawn Noodles – RM10) and Mee Goreng Udang (Fried Prawn Noodles –RM10), we decided to order a plate of each. The difference between this restaurant and the one at Restoran Nelayan Kuala Juru was the use of different species of prawns. Restoran Nelayan Kuala Juru uses Udang Rotan (Cane Prawns – thicker shells) whereas Warung Pak Su uses Udang Kertas (White Prawns – paper thin shells).
I found the prawns here to be fresher compared to the ones down at Restoran Nelayan Kuala Juru but somehow the noodles were not up to my expectation. Both the fried and soup based noodles tasted kind of sweet without the taste of prawns in them. They tasted just like those you can get at any tea time Malay stalls except that here you will have huge cooked prawns being nicely decorated on the noodles. Luckily, the fresh prawns complimented the noodles or else it would be a total disappointment. My preference would still be those delicious prawn taste enriched noodles at Restoran Nelayan Kuala Juru.
It would be easier to reach the restaurant if you know your way to Auto City. As you come to the Juru Interchange, you would pass through 3 traffic lights to reach Auto City. At the last traffic light at the T-junction (McDonald's), turn left and drive all the way up Jalan Perusahaan/Jalan Tok Kangar until you have reach a traffic light at Jalan Juru (Map A), turn right into Jalan Juru (Juru Villa Show House) and drive all the way until the end. You would pass through a few sign boards of the district on your left namely Kampung Sekolah Juru (Map B), Bagan Nyior (Map C), and a sign board showing direction to Sungai Sembilang and Kuala Juru (Map D). At the T-junction (Map E), turn right and you will see the restaurant just on your left (Map F). You can click to enlarge the two maps below for a clearer direction.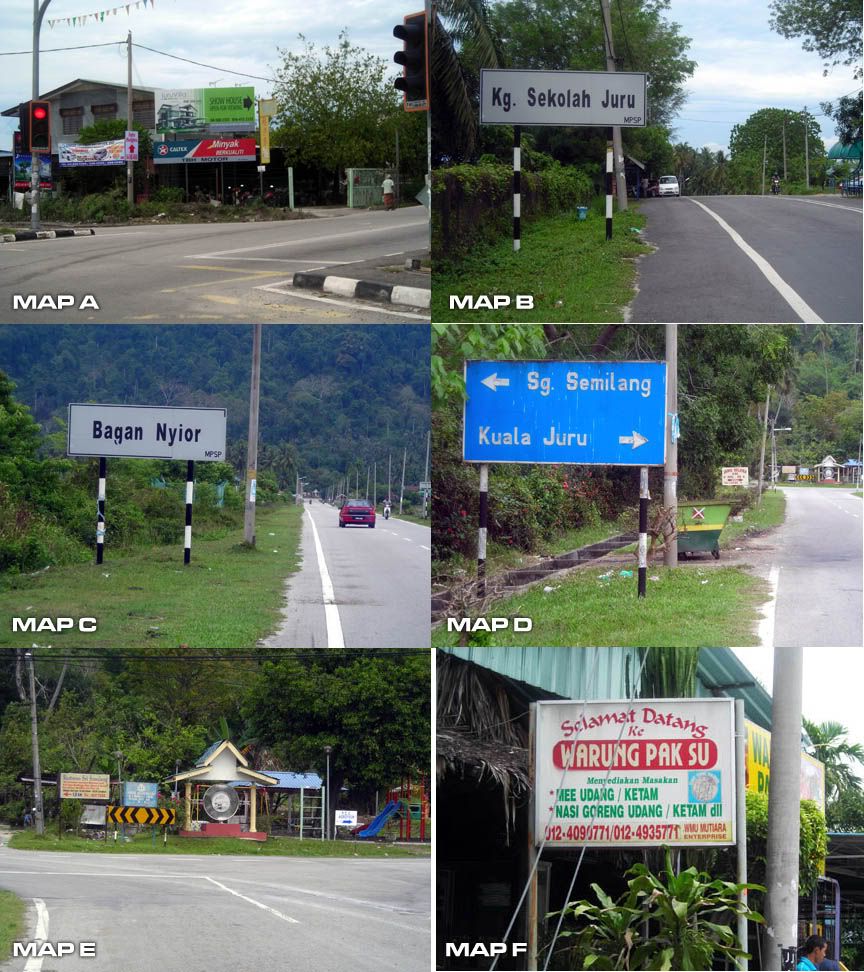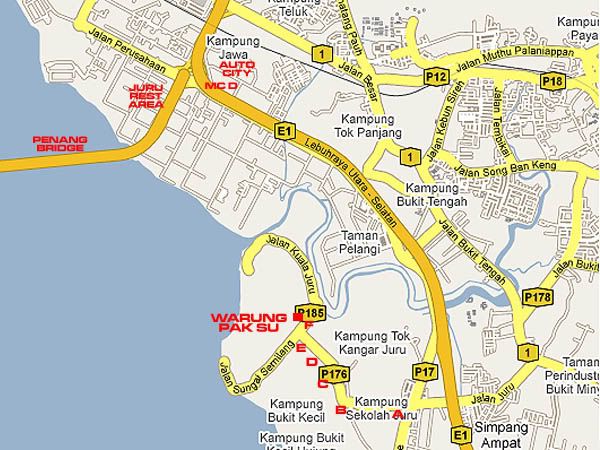 Name: WARUNG PAK SU MEE UDANG
Address: 385, MK12, Bagan Nyir Juru, SPT, 14000 Bukit Mertajam, Penang, Malaysia.
Opening Hours: 12.00noon-10.30pm (Closed Thursday)
Contact: 012-409 0771, 012-493 5771
GPS: 5.326817, 100.414767
RATING:
Ambience: 7/10 (1-4 cheap, 5-7 average, 8-10 classy)
Food Choices: 8/10 (1-4 limited, 5-7 average, 8-10 many choices)
Taste: 7.5/10 (1-4 tasteless, 5-7 average, 8-10 excellent)
Pricing: 8/10 (1-4 cheap, 5-7 average, 8-10 expensive)
Service: 8/10 (1-4 bad, 5-7 average, 8-10 excellent)