George Town, Penang is truly a food paradise when it comes to having multiple choices of cuisine to suit the palate of locals as well as tourists. The wide exposure to channels such as the Asian Food Channel has brought about a huge change in the cooking methods of street food vendors. More and more of them are investing hugely on proper kitchen equipments by the thousands to serve diners with the best ever cooking solutions for the best taste. One such person is Encik Mohd Hilmey Ibrahim, an entrepreneur with a long history of burger making. He's the brainchild behind the barely few weeks old Hero Burger Bakar, located within the Astaka Stadium Bandaraya premises along Jalan Perak, Penang.
So what's the difference between Encik Hilmey's burger compared to the rest? Obviously, it's his homemade beef patties and specially marinated boneless chicken drumsticks, all with his secret recipes. Secondly, it's his method of cooking. The beef patties are BBQ grilled on cooking grids over high heated lava stones while his meaty chicken fillets are skillet grilled. Thirdly, it's a sloppy burger where you would have dressings such as black pepper sauce, cheesy sauce, chili sauce and mayonnaise splattered all over the juicy grilled meats for all orders. Lastly, it's the egg… runny egg with the semi cooked yellow yolk oozing out to provide that extra creamy richness on your burger.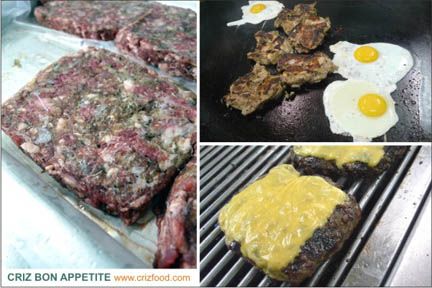 Most of the diners here would opt for a combination of beef and chicken. Do try out their Double Trouble (RM14.50nett). The set would come with the usual burger bun laced with romaine lettuce, tomatoes, capsicum and onions topped with one BBQ grilled beef patty, one grilled chicken, 2 pieces of cheese and 2 semi cooked eggs. Of course, the black pepper sauce, cheesy sauce, chili sauce and mayonnaise would be on each burger ordered. Alternatively, you can also custom make this set with less one egg and one cheese for RM12.50nett.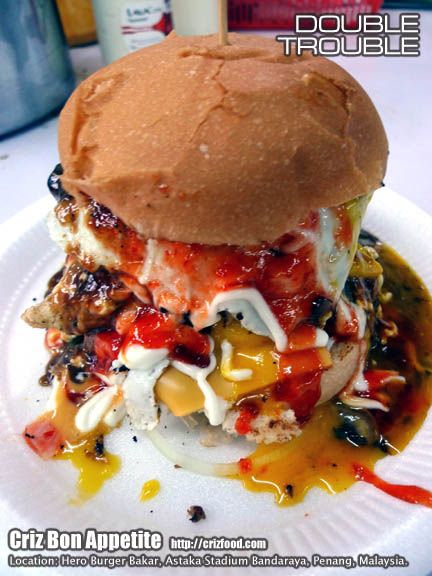 For non beef eater, there's always the Duo Boneless Chicken Special (RM14.00nett). This set would have two pieces of grilled chicken, topped with a piece of cheese and a semi cooked egg. This order would also have the standard 4 dressings.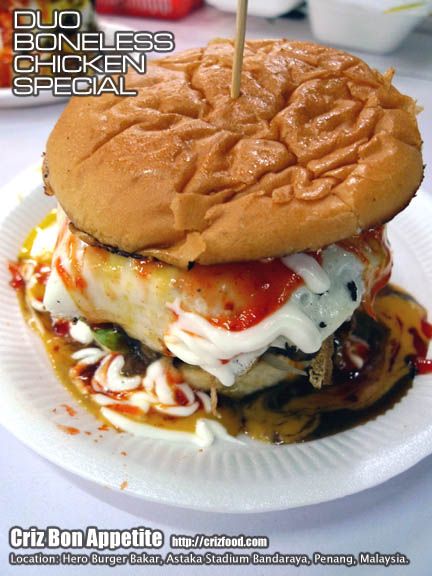 For a lighter meal, you can have the Solo Boneless Chicken Burger (RM7.00nett) with the standard 4 dressings.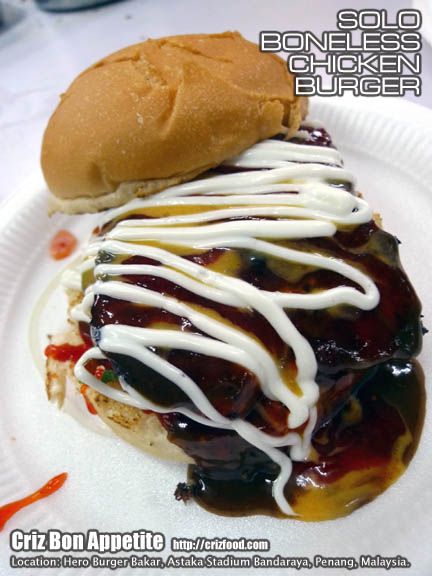 Alternatively, you can have the Solo Boneless Chicken Burger Special with Cheese & Egg (RM9.00nett) with the standard 4 dressings.
For those who love to have only the lighter version of their delicious herb packed beef patty, you can opt for their Solo Beef Patty Burger with Cheese (RM7.50nett) with the standard 4 dressings.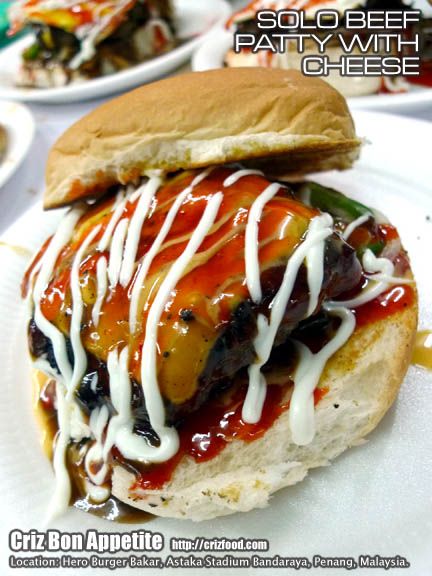 You can also try out their Solo Beef Patty Burger Special with Cheese & Egg (RM8.50nett) with the standard 4 dressings.
Here's a quick reference with what they have in their menu and the pricing you would be expecting. Please click to view a larger size.
The taste for the burgers here was quite good to my liking, although I usually do not quite like my dish to be overdressed and sloppy. The balance of the dressings was quite good, having the nice combination of black pepper sauce, cheesy sauce, chili sauce and mayonnaise. The only few things lacking are the choice of serving dish and food presentation. Styrofoam plates are not the in-trend for a "Going Green" Penang's choice even though it would cut down on washing time. If other choices of firmer serving dishes were to be utilized, then a better food presentation would surely boost up the interest of diners. It could just some fresh green salad or even some fries as side dishes. The beef patty (~170gms each) was superb as it has all the beefy flavors and chunky bites with the necessary herbs and seasonings. The meaty and juicy boneless chicken (~200gms each) was also flavorful but only on the surface. If only they could pierce some holes onto the meat with a multi-spike ice picker, the meat would be able to seep in more flavors from their secret marinates. Overall, their "Burger Bakar" would be quite ideal for those who love to have their burgers in a sloppy wet way.
If you know where the City Stadium is, it won't be hard to locate the food court as it's just next to the Shell petrol kiosk along Jalan Perak. If you are not sure, let me lead you there. If you are coming from Jalan Dato Keramat via KOMTAR, when you see Padang Brown, keep to your left. At the traffic lights (Jalan Dato Keramat/Jalan Perak), turn left into Jalan Perak and keep to your right. Drive on about 100m and you would see a Shell petrol kiosk on your right. Turn right into the lane (Lilitan Stadium) after the kiosk. Find your parking space within the vicinity of the food court located just next to the petrol kiosk.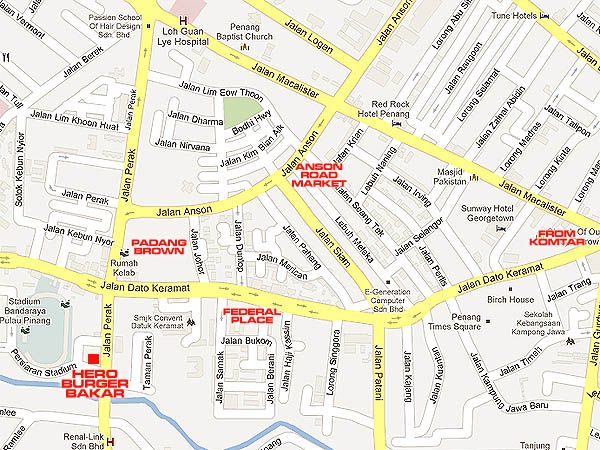 Name: HERO BURGER BAKAR
Address: Astaka Stadium Bandaraya, Jalan Perak, 10150 Penang, Malaysia.
Contact: 011-2642 0334 (En. Mohd Hilmey Ibrahim)
Business Hours: 6.00pm-12.00am (Closed Tuesday)
GPS: 5.411073, 100.315807
RATING:
Ambience: 6/10 (1-4 cheap, 5-7 average, 8-10 classy)
Food Choices: 7/10 (1-4 limited, 5-7 average, 8-10 many choices)
Taste: 7.5/10 (1-4 tasteless, 5-7 average, 8-10 excellent)
Pricing: 7.5/10 (1-4 cheap, 5-7 average, 8-10 expensive)
Service: 7/10 (1-4 bad, 5-7 average, 8-10 excellent)