Note: This restaurant has ceased its operation.
Yesterday marked another great gathering for the Penang floggers as we had our 5th Penang Floggers Gathering. This time, it was Japanese cuisine at Jurin Express aka Jurin Japanese Restaurant located within the notable mall, Gurney Plaza. At a specially arranged RM50 nett per pax deal, we had more than we had bargained for with everyone going home feeling contented.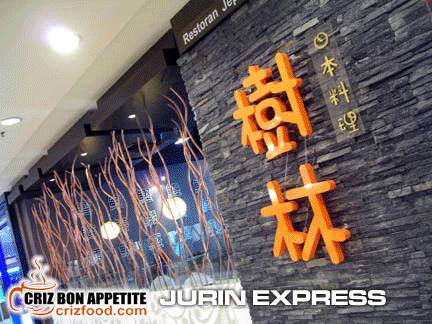 We had free flow of Hot or Cold Honey Green Tea. The beverages were thicker than the normal ones as they were specially prepared for us with loose green tea leaves instead of those in sachets.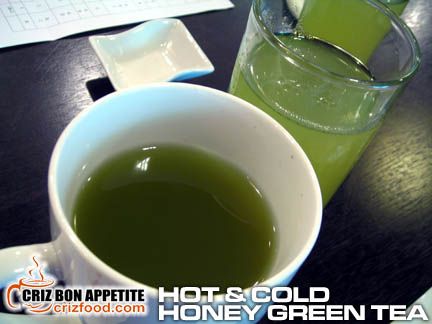 The meal started with 3 types of appetizers. The first was Tempura Kani. The dish had crabstick (kani kama) sushi rolls coated with tempura and deep fried until golden brown, topped with sweet soy sauce and garnished with some herbs and chili flakes.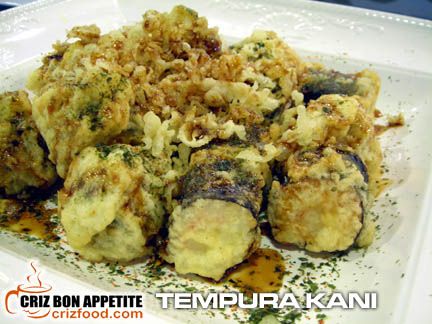 Next was the Sushi Combo with a colorful array of sushi rolls. It was simple but very filling.
The last of the appetizers was the Sushi Fried Maki. This version was a bit different as it had nori rolled sushi in vinegar rice. These were then topped with some mayo and ebiko (shrimp roes).
The specially arranged main meal consisted of 4 options.
Set A: Ginmutsu Teriyaki (Deep fried cod fish in sweet sauce), Chicken Ban Ban (Boneless fried chicken chunks served with Japanese sauce and mayo), Ebi Tempura (Deep fried shrimps in batter), Yaki Tamago (Sweet omelette), Garlic Fried Rice and Miso Soup.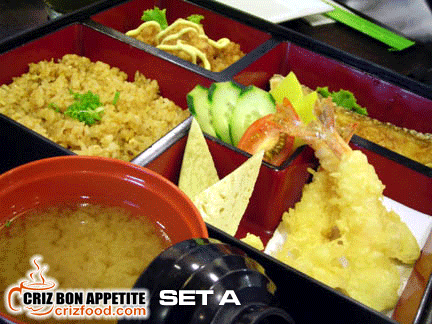 Set B: Salmon and Tuna Sashimi, Unagi (BBQ Japanese eel), Tamago Kikurage (Black fungus with chilies), Yaki Tamago (Sweet omelette), Garlic Fried Rice and Miso Soup.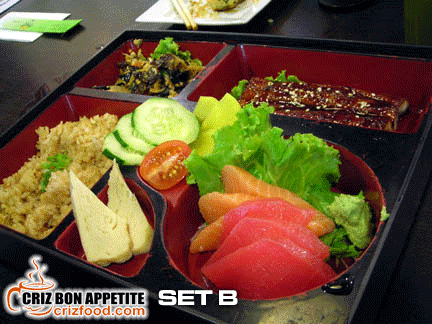 Set C: Salmon and Tuna Sashimi, Spicy Salmon (deep fried and topped with spicy sauce), Kakiage (Deep fried shrimps, squid and vegetables in batter), Yaki Tamago (Sweet omelette), Garlic Fried Rice and Miso Soup.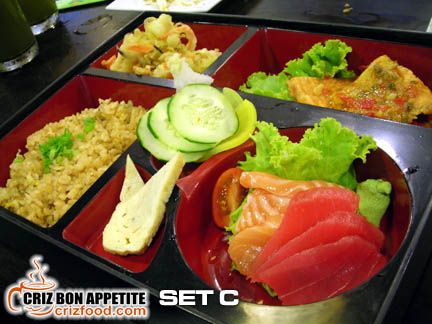 Set D: Karubi Beef (Stir fried beef with onions), Nama Ika Teriyaki (Grilled cuttlefish in teriyaki sauce), Karaage (Deep fried soft shell crabs), Yaki Tamago (Sweet omelette), Garlic Fried Rice and Miso Soup.
A scoop of Green Tea Ice Cream with Red Beans was served as dessert. The ice cream was not as smooth as I had expected and with a mild green tea flavor. On top of that, I would also prefer to have blended red beans instead of the whole ones for that extra smoothness.
We ended the gathering with everyone bring some sponsored gifts home. We had the Vouch Magazine, a bottle of each of Chili Bao and Chili Red, sponsored by Bao Bao Restaurant from Puchong, Selangor, Stuffed You Tiao vouchers sponsored by Te Chang You Tiao Wang from Paya Terubong, Penang and Fried Fish Tom Yam Noodles vouchers by Siong Ho Fish Head Tom Yam Noodles & Porridge, Weld Quay, Penang.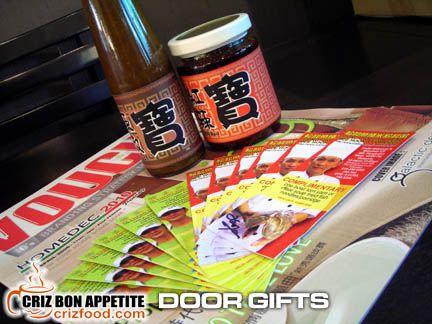 We had a small photography session after the gathering had ended. In presence were Daisy Lee (boss) & hubby, Alan Choong & Amanda Teoh, Eunice, SY, Kelvin Tan, CW Chan, Criz Lai, JK Beh, Cheryl Wee & hubby, Kok Ann, Lay Min, Sam Ong, Gill & Jason and Steven Goh. (Not in photo – Carrie & partner, Lilian Chan & son).
Overall, I found the dishes served here were just average. The restaurant could have served a better quality of fresh seafood, thus less deep fried items for seafood related dishes. Fish cuts were a bit too thin for the value of money paid. The fried garlic rice was normal and lack of wok hei (high heat fragrant) as I believed that it was prepared much earlier before our arrival. However, these few hiccups did not spoil our moods in mingling around with old and new found friends. A special thanks to Jason & Gill for organizing this gathering.
I don't think I would need to describe the way to Jurin Express as most people would know how to get to Gurney Plaza. Just walk towards the new wing of the mall and go to level 2. You would see the restaurant just next to Sushi King.
Name: JURIN JAPANESE RESTAURANT
Address:
170-02-59/60, 2nd Floor, Gurney Plaza (New Wing),
Persiaran Gurney, 10250 Penang, West Malaysia.
Contact: 604-227 7112
Business Hours: 11.30am-10.00pm
GPS: 5.437696, 100.309592
RATING:
Ambience: 7.5/10 (1-4 cheap, 5-7 average, 8-10 classy)
Food Choices: 7.5/10 (1-4 limited, 5-7 average, 8-10 many choices)
Taste: 7/10 (1-4 tasteless, 5-7 average, 8-10 excellent)
Pricing: 8.5/10 (1-4 cheap, 5-7 average, 8-10 expensive)
Service: 8/10 (1-4 bad, 5-7 average, 8-10 excellent)