Just like our Malaysian Nasi Lemak, various versions of ramen are ubiquitous throughout Japan, from small roadside stalls, restaurants to even within 7-Eleven shops. Each region in Japan would offer their unique versions of ramen with their "secret" soup base which might consist of a mix and match of salt, soy sauce, pork bones and fermented soy beans (shio, shoyu, tonkotsu and miso), served with various toppings. With the globalization of the ramen, competitions had found many eateries serving innovative versions of the noodles with peanut butter or coffee infused broth or even making the ramen into ramen burger. However, Menya Miyabi @ Queensbay Mall, Penang, still insist on pepping up their authentic Hokkaido ramen, using mostly imported ingredients, to ensure that diners would get the best ramen experience as how the people of Hokkaido would consume. The flavors of the ramen dishes are so strictly monitored that the big boss (with 4 other ramen chains in Hokkaido) would fly in every quarterly to check on the food quality. A 10% service charge would be imposed on all orders.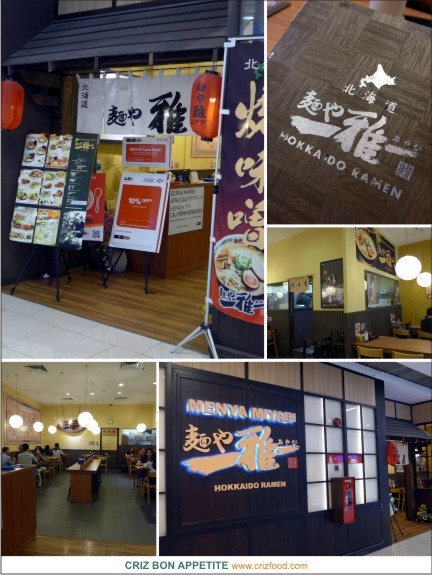 The first dish which was the Hokkaido Chilled Ramen Salad (RM19+), had us all at cloud 9 with its unique combinations of flavors and textures as most of us had never tried out chilled ramen before. With just some al dente textured ice-chilled ramen with some goma mayo dressing, served with sides of hard-boiled egg, julienned chashu, cucumber, buttered corn kernels and tomato slices, it was a simple yet appetizing salad for everyone.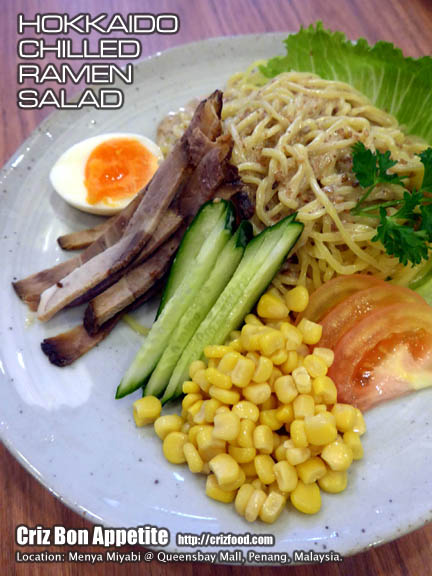 For our main, we had their Signature Tonkotsu Ramen (Pork Broth Flavor – RM23+). Wow! I'm impressed with the rich and creamy broth which was filled with collagen with a light tone of natural saltiness. The ramen dish has slices of nicely braised chashu, served with some wood ear fungus, marinated soft-boiled egg, nori (seaweed) and some light sprinkles of spring onions. It was indeed a hearty bowl of perfect ramen, obvious from the time consuming and tedious processes of slow simmering the choice pork bones.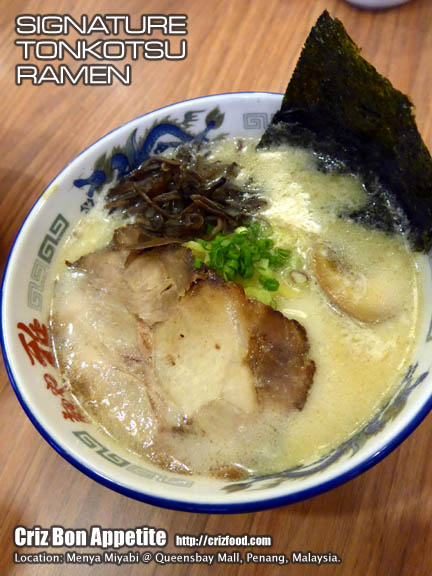 We also tried out their Yaki-Miso Ramen (Fried Soybean Paste Flavor – RM23.50+). The broth was similar to the Tonkatsu Ramen but with some added fried miso paste to give the broth an extra earth flavor. The toppings were somewhat different slightly with bamboo shoots replacing the wood ear fungus as the former. Taste wise, it was indeed the authentic taste of Japan, which was a bit heavier in saltiness.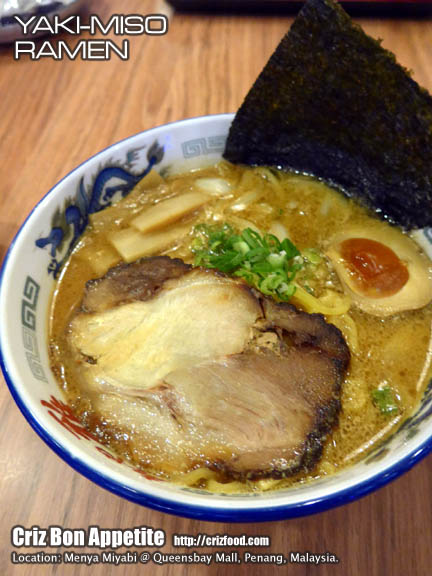 Somehow, the Kara Miso Ramen (Hot & Spicy Miso Ramen – RM24+) tasted superb. Though the broth tasted almost similar to that of the Yaki-Miso Ramen with added chili paste but the overall flavors were quite balanced up with no overpowering saltiness. I guessed raw miso paste was added instead of the fried miso paste which would surely contain more concentrated sodium content. The ramen came with toppings such as chashu cubes, marinated soft-boiled egg, bamboo shoots, salted mustard stems, nori (seaweed) and some chopped spring onions. For spicy lovers, this might be your ramen dish to go for.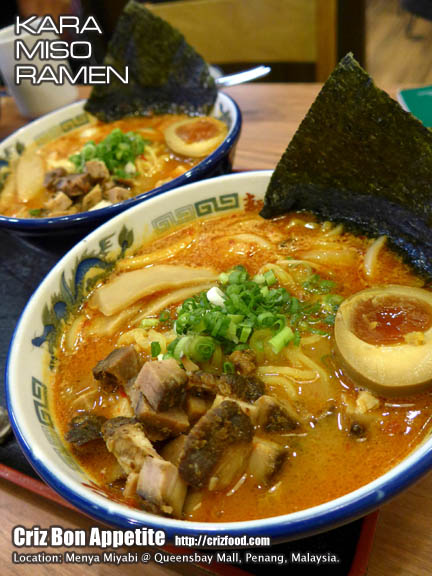 For those who prefer rice over noodles, you can always try out their Katsu Curry (Katsu Kare – RM24+), a steaming hot Japanese rice dish with non-spicy Japanese style curry gravy, topped with a piece of breadcrumbed deep fried pork cutlet and served with some pickled daikon. Now only was I aware that traditional Japanese Curry would be served plain without the addition of potato and carrot bites as I had consumed elsewhere. The most important ingredient in a Japanese kare is to extract the sweetness from the caramelized onions and traditional recipe might just include only onions, flour and oil. From a clarification by my Japanese friend, potatoes and carrots were later added into the recipe to make the filling bulk when rice supplies were scarce during one period of the past.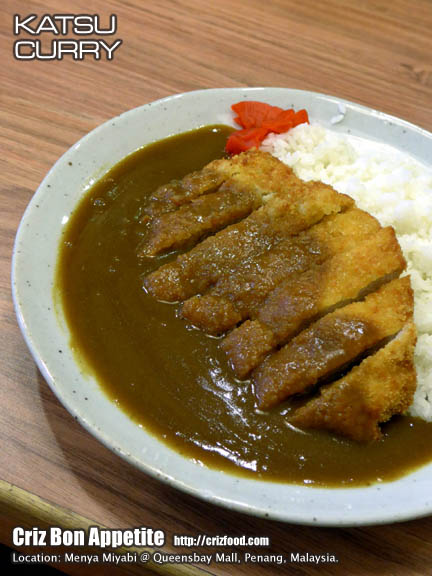 To add on to our orders of ramen, we ordered some Croquettes (Korokke – RM9+ for 2pcs). The potato cakes had a concoction of mashed potatoes, minced meat and some finely chopped vegetables before being coated with panko breadcrumbs and deep fried to perfection. Though the korokke was simple and tasty, I somehow prefer my croquettes to contain more coarsely mashed potatoes such as the Indonesian/Malaysian Bergedil with more bites.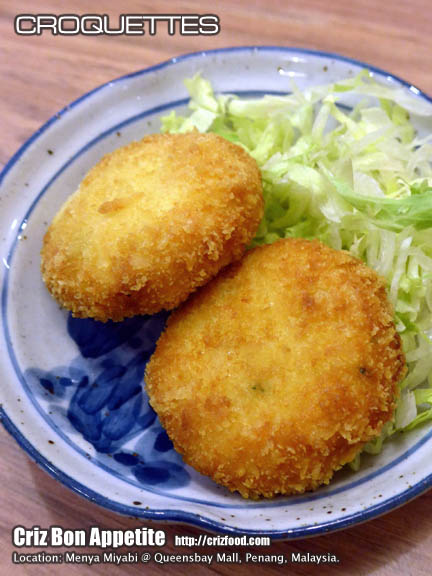 We also ordered some Gyozas (RM12+ for 6 pcs, RM18+ for 10 pcs). Each bite was filled with the nice juiciness from the well marinated minced meat within. If I were not told by the chef, I would not have realized that each piece was machine made. Menya Miyabi is the only Japanese eatery in Penang having that customized machine specially imported all the way from Japan.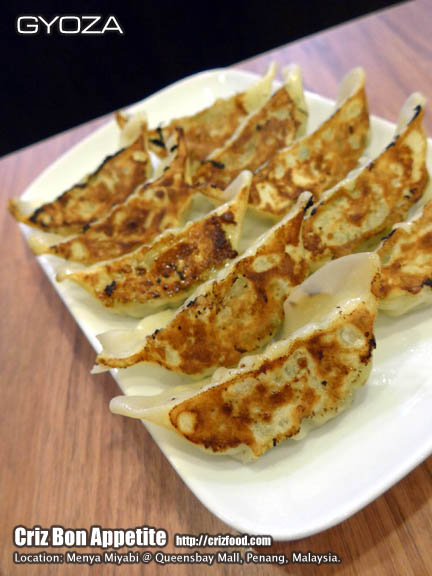 Overall, I quite like the simplicity of the dishes served at Menya Miyabi. It might depend on the taste buds of the locals to accept a more authentic style of Japanese cuisine which would be stronger in flavors. With mostly imported ingredients used in their cuisine, the prices of their dishes are still competitive on the market.
Upon entering the main entrance of Queensbay Mall (Central Zone), turn right and walk towards the North Zone (J.Co, Morganfield, T.G.I. Friday's, Maybank, etc). Take the escalator to Level 1 and you can see Espresso Lab kiosk. The restaurant is just opposite the kiosk on the right.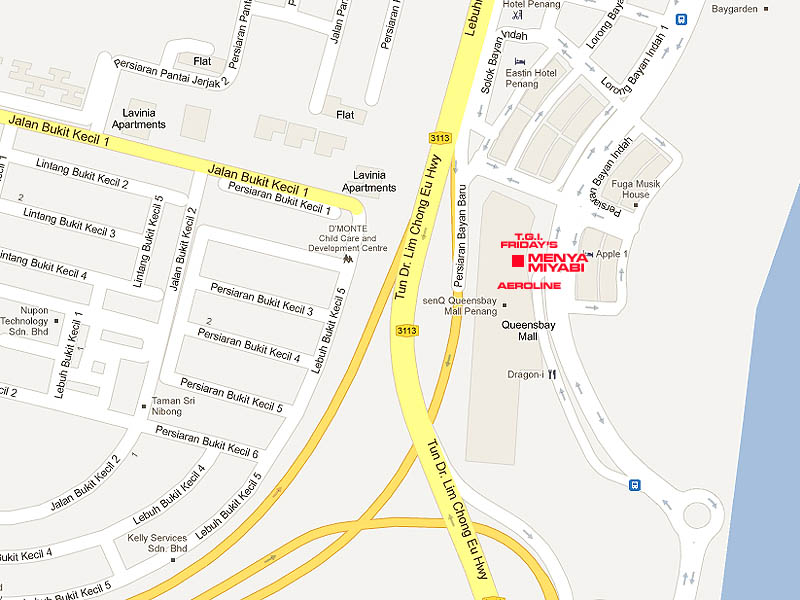 Name: MENYA MIYABI – HOKKAIDO RAMEN
Address: 1F-152, Level 1, North Zone, Queensbay Mall, 11900 Bayan Lepas, Penang, Malaysia.
Contact: +604-645 3811
Business Hours: 11.00am-10.00pm
GPS: 5.334311, 100.306685
RATING:
Ambience: 7/10 (1-4 cheap, 5-7 average, 8-10 classy)
Food Choices: 7/10 (1-4 limited, 5-7 average, 8-10 many choices)
Taste: 8/10 (1-4 tasteless, 5-7 average, 8-10 excellent)
Pricing: 7.5/10 (1-4 cheap, 5-7 average, 8-10 expensive)
Service: 8/10 (1-4 bad, 5-7 average, 8-10 excellent)