When you mention about Starched Noodles (Loh Mee), the first thing you will remember would be those hawker stalls selling this dark starchy broth based noodles at Lebuh Kimberley Kedai Kopi Seng Thor Loh Mee), Jalan Masjid Kapitan Keling (Kuan Yin Theng Loh Mee) or the Jones Road Hainanese Loh Mee. Even most of the local Hokkien Mee stalls have a milder taste of Loh Mee available. Have you ever tried Hokkien Loh Mee (福建滷麵) before? You can try it at Kedai Kopi Hwa Lam located along Lebuh Carnavon.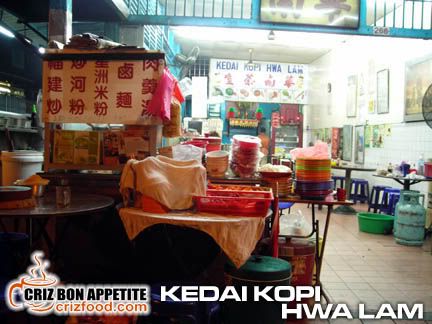 The differences between this unique type of Loh Mee is in the broth as well as in the style it's cooked. Normally, the ones you get from some of the famous stalls in Penang are those with jiggle drained yellow noodles, garnished with options such as pork slices, hard boiled eggs, pork skin, chicken legs, mushrooms, intestines and served with precooked starchy broth. The Hokkien Loh Mee instead has dark starch broth with black vinegar in it and each bowl is cooked individually in a wok with egg added in the broth, yellow noodles, prawns, fish, fish cake slices and cabbages. A one-person bowl would cost you RM3.80, two-person bowl at RM7.50 and 3-4 persons bowl at RM12. Here's how my medium bowl of Hokkien Loh Mee looked like.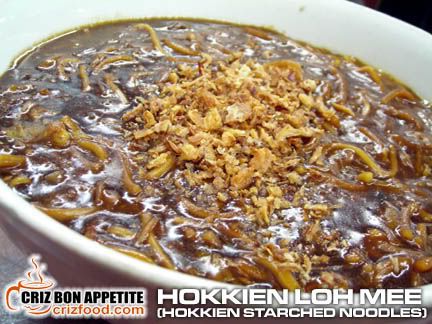 If you are a person who loves to have black vinegar in your dishes, this version of Loh Mee would suit you well as the taste is rather unique. The prawns and fish fillets I had in the bowl were fresh and the noodles still maintained its chewiness without any hint of lye water. The dish simply blended in well with the specially prepared chili sauce.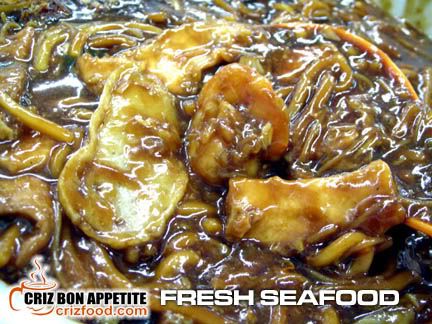 Another Hokkien dish that you do not see selling in most hawker food courts nowadays can also be found in this coffee shop. It's Bak Kee Soup (Starched Pork Soup – RM5/bowl). The bowl of Bak Kee Soup was filled with lots of cabbages and chunks of large starched pork slices.
What matters most in a good bowl of Bak Kee Soup would be in the bones enhanced stock combined with the sweetness of the cabbages and starched pork slices. The soup here tasted good with a little sprinkle of white pepper.
Making your own bowl of Bak Kee Soup would not be hard at all if you know which tender part of pork you should use and also the right combination of seasoning for your pork slices. The lady owner was polite enough to show the whole processes (minus the secret recipe of course :P). Here's a short video of the whole cooking processes.
What else do you think Penang is famous for? It's nutmeg (豆蔻) right? You can get many types of by products from the miraculous nutmeg fruit. Every single part of this fruit, from the flesh, red skin attached to the seed and the seed are of medicinal values. Other than the added flavoring to some of our food, the fruits have been used widely by the locals as remedies to countless of internal and external treatments such as wounds, burns, sprains, bruises, earache, headache, fever, sore throat, food poisoning, shingles, colds, flu, hepatitis, mononucleosis, fungal infections, yeast infections, acne, skin diseases, heart diseases, blood disorders, kidney problems, digestive problems, ulcers, periodontal diseases, nerve disorders, malaria, fatigue, etc.
Most of the coffee shops over in Penang have the precooked nutmeg syrup for either hot or cold beverages. These are normally bottled with preservative and some brands could be real sweet. Thus, it would not be so ideal for those who are concerned with their health. The nutmeg beverage would come in reddish brown color (RM1.20/glass). Alternatively, you could get the rarely found Fresh White Nutmeg Juice with Salted Plum (RM1.50/glass) right here in Kedai Kopi Hwa Lam. The fresh juice was great. It has the milder taste of freshly blended nutmeg juice combined with the slightly salty and sour taste of the plum. It was simply refreshing!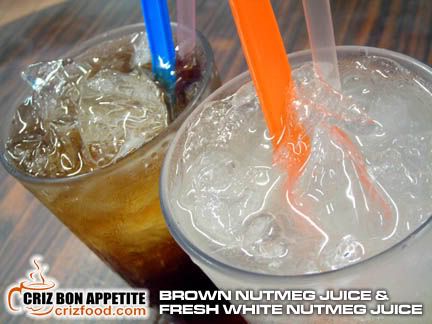 It's really easy to find the shop as it's located just a few shops away from the famous Hong Kong Roasted Duck Rice along Lebuh Carnarvon. If you are coming from Penang Road into Jalan Dr. Lim Chwee Leong (Pacific Komtar/Prangin Mall), turn left into Lebuh Carnarvon and you will see the coffee shop right at the corner of a small lane. Since it's a heavy trafficked road, it's advisable to park your car further up at Jalan Cheong Fatt Tze (formerly known as Lebuh Hong Kong) and walk back to the shop. You can also try out the Belacan (Shrimp Paste) Fried Chicken and Fried Salted Fish Tofu from the shop.
Name: KEDAI KOPI HWA LAM
Address: 266, Lebuh Carnarvon, 10050 Penang, Malaysia.
Business Hours: 5.00pm-12.00midnight (Closed Tuesday)
GPS: 5.414017, 100.332925
RATING:
Ambience: 6/10 (1-4 cheap, 5-7 average, 8-10 classy)
Food Choices: 7/10 (1-4 limited, 5-7 average, 8-10 many choices)
Taste: 7.5/10 (1-4 tasteless, 5-7 average, 8-10 excellent)
Pricing: 7.5/10 (1-4 cheap, 5-7 average, 8-10 expensive)
Service: 8/10 (1-4 bad, 5-7 average, 8-10 excellent)