Penang has many Duck Koay Chiap stalls from Lebuh Melayu, Lebuh Kimberley, Jalan Macalister, Jalan Air Itam up to Lorong Kucing in Pulau Tikus. The one that I like most is still from Lebuh Kimberley. The soup is just right for my taste without too much of bitterness from the herbs that are used in the braising of the duck. On top of that the amount of duck meat given is much more than any of the other stalls I have been to.
On top of the Koay Chiap, you can even order the braised duck just by itself or served with rice or broth. Here are the snapshots of the food.
BRAISED DUCK KOAY CHIAP (RM4-RM6)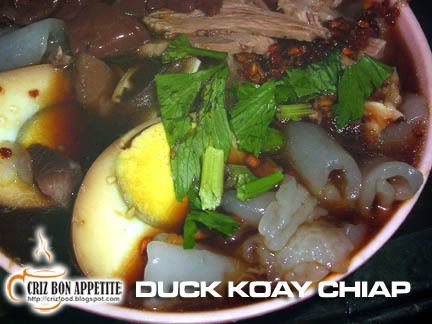 BRAISED DUCK BROTH (RM4-RM6)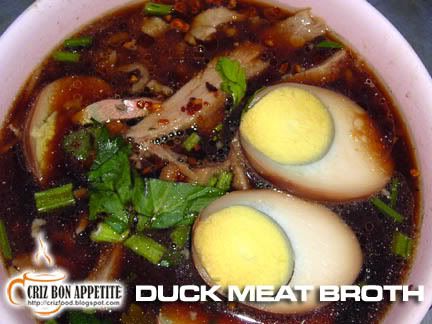 BRAISED DUCK RICE (RM4-RM6)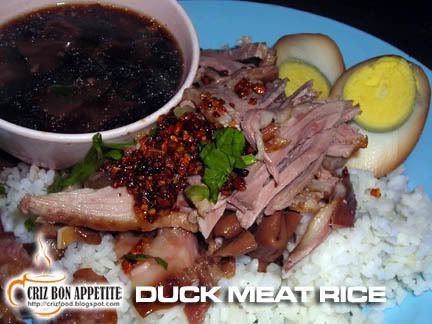 BRAISED DUCK MEAT WITH EGG (RM5-RM6)

As you drive into Jalan Dr. Lim Chwee Leong from Penang Road, turn left in Lebuh Carnavon. Drive further until you see a small mamak stall on your left and turn into that road. That is Lebuh Kimberley. The stall is just further up on your left by the road side.
Name: KIMBERLEY STREET DUCK KOAY CHIAP
Address: Lebuh Kimberley, Penang, Malaysia.
Opening Hours: 6.30pm – 11.30pm (Closed Thursday)
GPS: 5.416200, 100.332717
RATING:
Ambience: 5/10 (1-4 cheap, 5-7 average, 8-10 classy)
Food Choices: 6/10 (1-4 limited, 5-7 average, 8-10 many choices)
Taste: 8/10 (1-4 tasteless, 5-7 average, 8-10 excellent)
Pricing: 7/10 (1-4 cheap, 5-7 average, 8-10 expensive)
Service: 7/10 (1-4 bad, 5-7 average, 8-10 excellent)