You would be surprised that some of the "kopitiam"s (coffee shops) in Penang has become so modernized today that your comfort and cleanliness preferences would always be their priority. One of the recent ones I had visited has some simple menu which would tempt your appetite as well as to allow you some comfort for your business discussions. It's none other than Kopitiam Yue Lai, located along Jalan Argyll in the heart of Georgetown, Penang. Other than the availability of WIFI for your internet convenience, this kopitiam has a very systematic and categorized area for business persons to leave their name cards for that extra publicity mileage. It's so cool!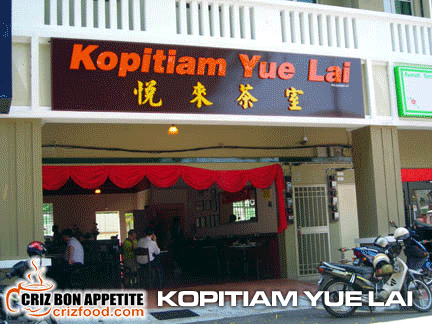 Barely a few weeks old, Kopitiam Yue Lai has some light breakfast and meals without you having to worry about paying the additional taxes. All items are priced nett. You could always enjoy a hot cup of Kopi "O" (local black coffee – 90sen) or a glass of Iced Penang White Coffee (RM1.90) while escaping from the burning heat of the humid weather.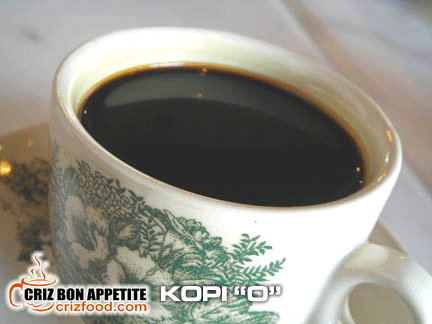 Do you want to have some toasts to go with your beverage? You could try out their Yue Lai Kaya Butter Toast (RM1.20). From the first look, I thought it would be another extremely sweet caramelized coconut jam that you would get from the mamak roti man. It turned out just like what I always wanted to have – a mildly sweetened with fragrant eggy taste kaya. This order was not bad at all.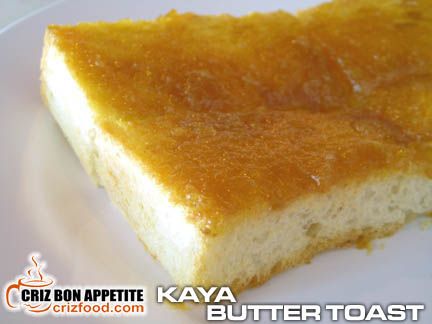 There are also savory version of toasts and sandwiches for you to choose from ranging from mayo egg to mayo tuna. Here's how the Triangle Toasted Mayo Tuna Set (RM2.20) would look like.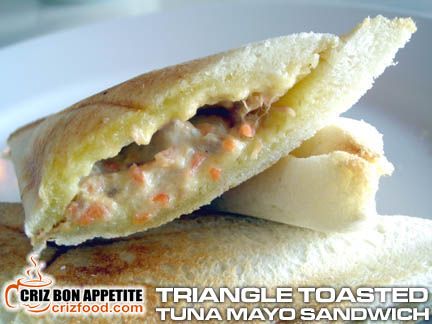 Not enough still for your breakfast? Well, there's always the Half Boiled Eggs (RM1.40 for 2) with a dash or two of soy sauce and pepper to your liking.
There are also some heavier dishes for your lunch such as the nasi lemak (steamed coconut rice), spaghetti and noodles. You could try out the Yue Lai Nasi Lemak with Fried Chicken (RM5.00). This dish would be served with a bowl of rice, some cucumber pieces, half a hard-boiled egg, some deep fried anchovies with peanuts, curry potato and of course with a juicy yet well marinated piece of fried chicken drumstick. This was quite a good bargain for the price paid.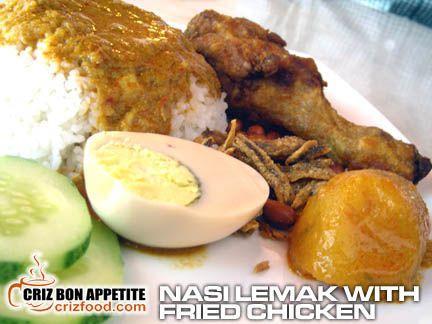 There goes the same for the Yue Lai Nasi Lemak with Curry Chicken (RM5.00). Every side dish would be the same except for the chicken drumstick curry.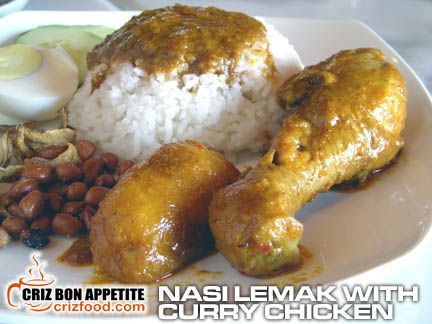 They do serve Hokkien Prawn Mee (RM4.00) too. I was quite surprise to find this local hawker dish here as it would involve a lot of preparation to get a great bowl such as the Hokkien Prawn Noodle recipe I had earlier. Although the bowl of noodle (instant noodle used here) looked quite simple with only two halves of a hard-boiled egg, 3 medium sized prawns with a few strands of water spinach and garnished with some fried shallots, it tasted quite good. It would be better if the kopitiam were to add in a few pieces of chicken shreds or pork slices for more bites.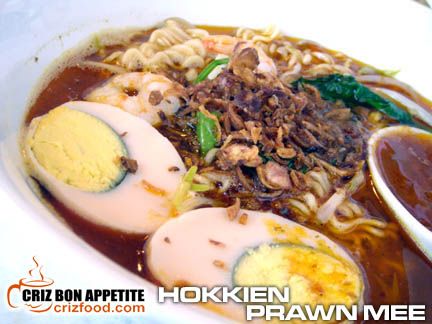 Other than those few dishes mentioned above, there's also the Yue Lai Mee Soup (RM3.50) which was basically your home cooked version of instant noodles. The bowl of noodles came with some cabbages, egg, half a ham and two halves of a sausage. This is another great bargain for all the ingredients given.
Since this kopitiam is still quite new, more delicious dishes and snacks would be added next month onwards. Do check them out for some simple break time food. It would not be hard to find this kopitiam as it is strategically located just behind the Island Girl's School along Jalan Argyll, Penang. As you pass the Jalan Argyll/Jalan Transfer junction, drive all the way towards the end of Jalan Argyll and you would see a newly constructed building on your left. Kopitiam Yue Lai is at the ground floor.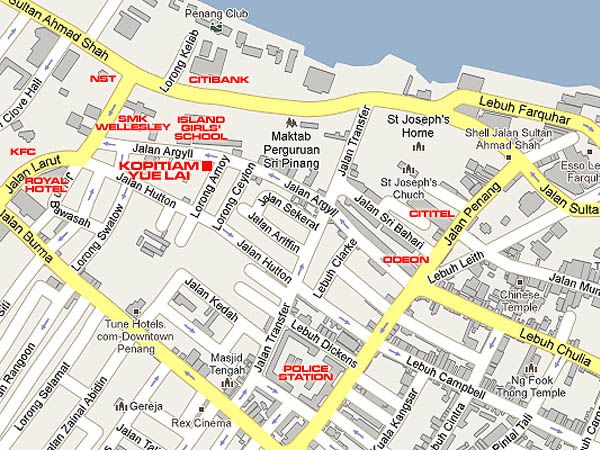 Name: KOPITIAM YUE LAI
Address: 203-G, Jalan Argyll, 10050 Penang, West Malaysia.
Contact: 604-226 0181
Business Hours: 8.00am-6.00pm (Closed on Sunday)
GPS: 5.422347, 100.328613
RATING:
Ambience: 8/10 (1-4 cheap, 5-7 average, 8-10 classy)
Food Choices: 6/10 (1-4 limited, 5-7 average, 8-10 many choices)
Taste: 7/10 (1-4 tasteless, 5-7 average, 8-10 excellent)
Pricing: 6/10 (1-4 cheap, 5-7 average, 8-10 expensive)
Service: 9/10 (1-4 bad, 5-7 average, 8-10 excellent)