You might get an 8-inch pizza anywhere throughout the world but I won't think you could get any 8-inch halal burger from anywhere in Malaysia except at Zul's Burger in Penang. At Encik Zulkifle's humble little corner stall located right towards the end of the Kompleks MPPP Lebuh Nipah (opposite Kayu Nasi Kandar Penang), you could find a variety of burgers and hot dogs in super huge size. All would come with custom ordered buns which I have yet to see from any other street burger stalls in Penang.
The most impressive of all the burgers would be the super huge 8" Diameter 3-Tiers Giant Burger (RM30nett) which would be big enough to feed 2-4 pax.
Just look at how big it was compared to my friend's hand.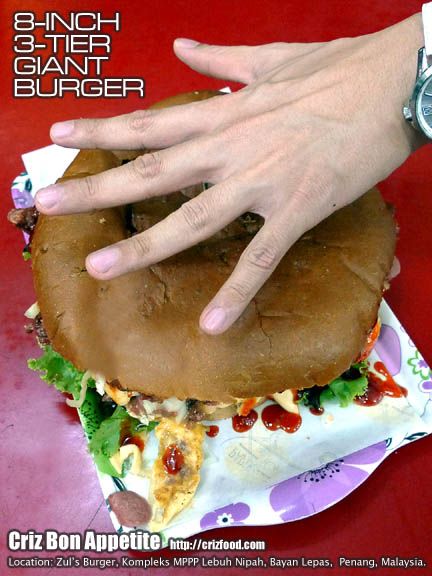 In between the 3 tier potato bun like texture burger would be 5 meat patties (chicken and/or beef), 5 chicken sausages, 5 eggs and 5 pieces of cheese, topped with lots onions, mixed vegetables, lettuce, mayonnaise, baked beans, black pepper sauce and chili sauce.
All eyes were on the burger as we were wondering how we could gobble down such a huge size. It was truly an oozy experience for us. Taste wise, the burger was just like any other common burgers except for the size. All the meat patties and sausages were slightly cut up and pan fried on the skillet with the eggs prior to being evenly spread out on the buns.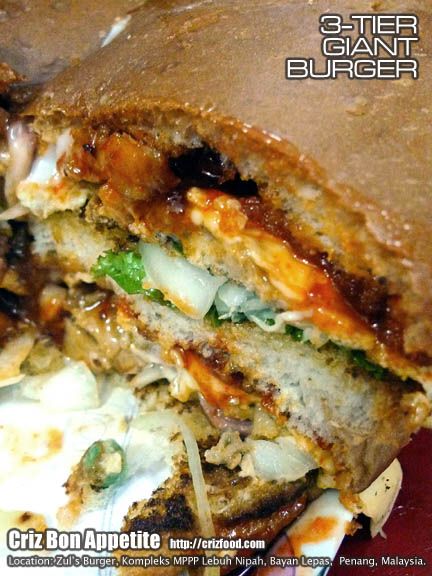 Effective 11 April 2012, it would be another tough challenge for many as the burger diameter size would be increased to 11 inches (RM30nett). Not only would it be the biggest halal burger, it would be the biggest burger in Malaysia with the nearest competitor being Euro Deli group of restaurants for their 9 inches Matterhorn (non halal) burger. The filling would be the same as the former 8 inches burger.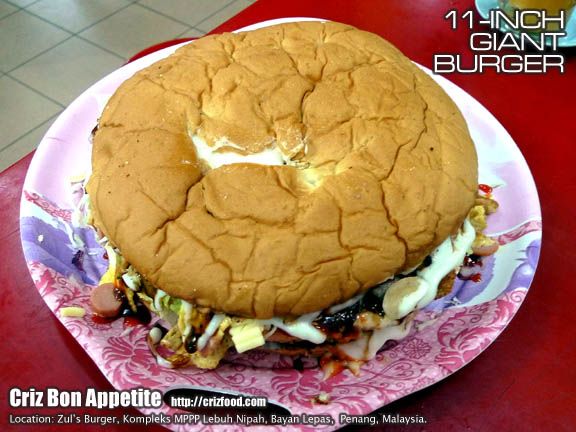 Another version of this giant burger would come in 7 inches by 12 inches rectangular shaped bun (RM30nett), another unique size and shape I have yet to see anywhere in Malaysia. I presumed it's the only one in Malaysia too. The filling for this version would also be the same as the 8" burger.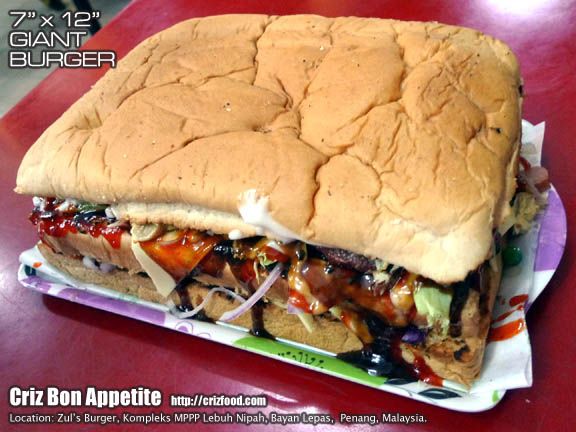 The rectangular giant burger weighed about 1.6kg (total weight 1913gms minus plate weight 286gms). It was heavy but not as heavy as the Matterhorn burger which would be about 2.75kg in weight (1.5kg meat patty plus 1.25kg of bun and vegetables). If you can't finish this burger, don't even think of winning the Matterhorn Challenge with a RM100 cash reward.
Well, creamy and sweet cakes for birthdays may be gone with the birth of this 11" giant burger. Won't it be great to have one giant 11" Birthday Burger Cake (RM30nett) instead? 😛
For those FaceBook users, there was also a burger named after the famous social network site – the FaceBook Burger (RM10nett).
The burger had 3 burger patties (chicken or beef or mix) with 3 eggs, a piece of cheese and vegetables. It was also another tall and filling burger for many.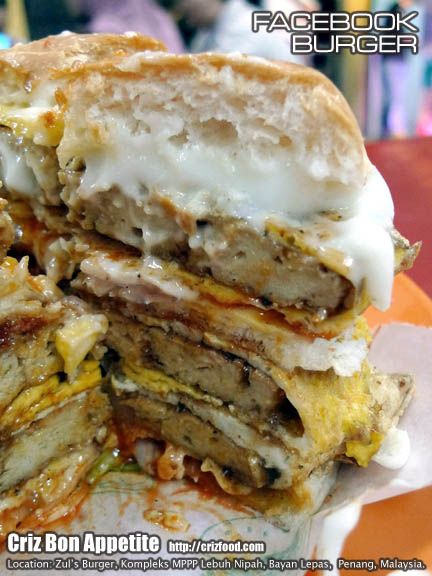 We also had the longest Chicken Hot Dog (RM10nett). The custom made bun had a foot long sausage with onions, mixed vegetables, lettuce, mayonnaise, baked beans, black pepper sauce and chili sauce. At least this hot dog was still within my consumable size.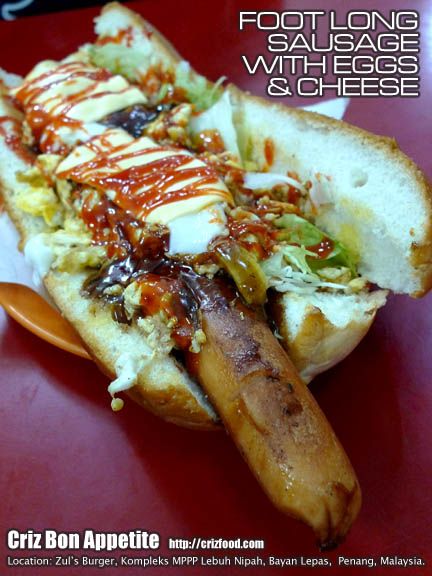 Just a comparison on how long this hot dog was can be seen at the photo below.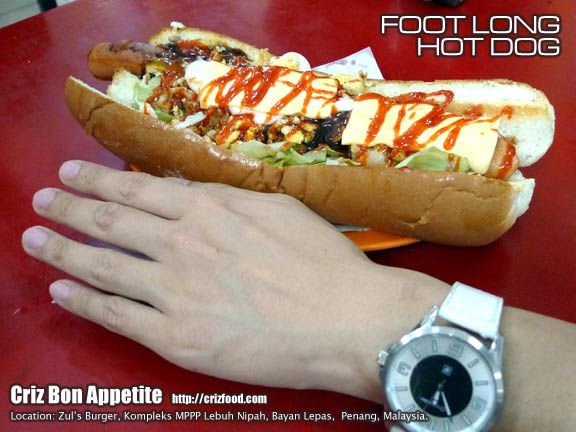 Here the man, Encik Zulkefli Bin Hassan, who had started the huge craze amongst the Penangite ever since his opening on 23 October 2011. He had vast experiences dealing in food businesses from Vietnam to Thailand. He's well versed in Vietnamese language too~ 🙂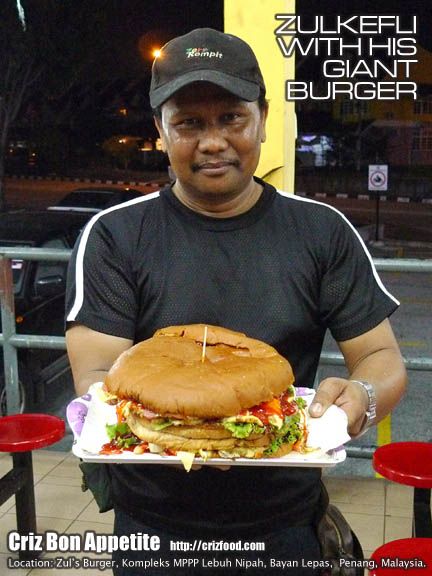 There are more items available here such as rabbit burger, lamb burger as well as fish burger. You can click on the menu below for a clearer view.
Overall, the items served here were of a slightly above average taste and texture. No doubt the portions were super huge out of the norm but there are still rooms for improvements in term of taste. The usage of the chili sauce was a bit too overpowering for those who could not savor too spicy stuff. Their self concocted mayonnaise and black pepper sauce also needed some extra tweaking for a more flavorful "kick". Instead of the Anchor brand "light" cheese, they should consider using another brand for more cheesiness. Their most important task would be on the balancing of the sauces for the right bite. I found the giant burgers and long hot dogs to be a bit too oozy wet to my liking. I love the nice sauce balance just like the way my food were presented to me at one of my regular street burger stalls down at Georgetown Penang.
Note: If you visit the place too late in the night (after 10.00pm or so), you might not have any drinks to go with your food. Just walk to the convenient store next to Kayu Nasi Kandar to purchase your drinks.
Zul's Burger Penang is located just opposite Kayu Nasi Kandar within an isolated Malay food court named Kompleks MPPP Lebuh Nipah. If you are driving up towards Bukit Jambul via Jalan Yeap Chor Ee/Jalan Bukit Gambier, just take note of the USM traffic lights. Immediately after the traffic lights, take note of the 4th traffic lights (1st traffic lights to Taman Perkaka/USM, 2nd traffic lights to Bukit Jambul/Equatorial Hotel, 3rd traffic lights to Taman Lip Sin/Super Tanker Food Court, 4th traffic lights to Kayu Nasi Kandar/The CEO – Penang's first smart office). At the 4th traffic lights (Jalan Bukit Gambier/Lebuh Nipah 5), turn left into Lebuh Nipah 5 and drive until the T-junction (Lebuh Nipah 5/Lebuh Nipah). Turn right into Lebuh Nipah and take the first right turning into Lebuh Nipah 7 (as stated in Google map but Kayu address is stated as Lebuh Nipah whereas opposite The CEO address is stated as Lebuh Nipah 5~ A bit of confusion here~ LOL!). Take note that there's a left turning into the Kompleks MPPP Lebuh Nipah. Drive until the end and you'll see Zul's Burger Penang at the last corner lot next to a residence house.
Name: ZUL'S BURGER PENANG @ KOMPLEKS MPPP LEBUH NIPAH
Address: 30Y, Kompleks MPPP Lebuh Nipah, Sg. Nibong, 11900 Penang, Malaysia.
Contact: 012-578 8771 (En. Zulkefli Bin Hassan)
Business Hours: 7.00pm-2.00am
GPS: 5.335989, 100.293376
RATING:
Ambience: 7/10 (1-4 cheap, 5-7 average, 8-10 classy)
Food Choices: 7/10 (1-4 limited, 5-7 average, 8-10 many choices)
Taste: 7/10 (1-4 tasteless, 5-7 average, 8-10 excellent)
Pricing: 7.5/10 (1-4 cheap, 5-7 average, 8-10 expensive)
Service: 8/10 (1-4 bad, 5-7 average, 8-10 excellent)