For those who had attended family functions such as matchmakings, weddings and birthdays at Loke Thye Kee Restaurant in the late 1920s, you can now rekindle those memories at the newly refurbished and renovated building after more than 8 decades. There will be a maximum seating capacity of 118 pax at the restaurant with an additional seating capacity of 80 pax at the rooftop terrace. Loke Thye Kee, which in Hainanese means "House of Happiness", resembles the architecture structures of a Chinese "Love Boat", traditionally served Hainanese Chinese and Western Cuisine. Today, Loke Thye Kee Restaurant serves Malaysian cuisine from the different ethnic origins, namely Malay, Chinese and Indian with an occasional twist of Hainanese and Western dishes. The pork-free restaurant would be managed by their appointed Malaysian chefs, led by Chef Azlin (Head Chef), Chef Lim (Hainanese cuisine), Chef Effendy (Pastry Chef). All their dishes are pork-free and they are in the process of applying for 'Halal' certification.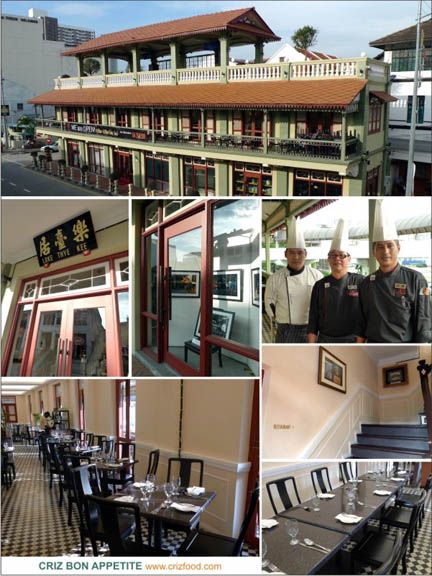 The restaurant would have ala carte dishes and set menus for lunch and dinner daily except on Mondays. They would offer signature Malaysian dishes from the different ethnic origins such as Malay, Chinese and Indian cuisine, with a selection of Hainanese cuisine. You can check out their menu below.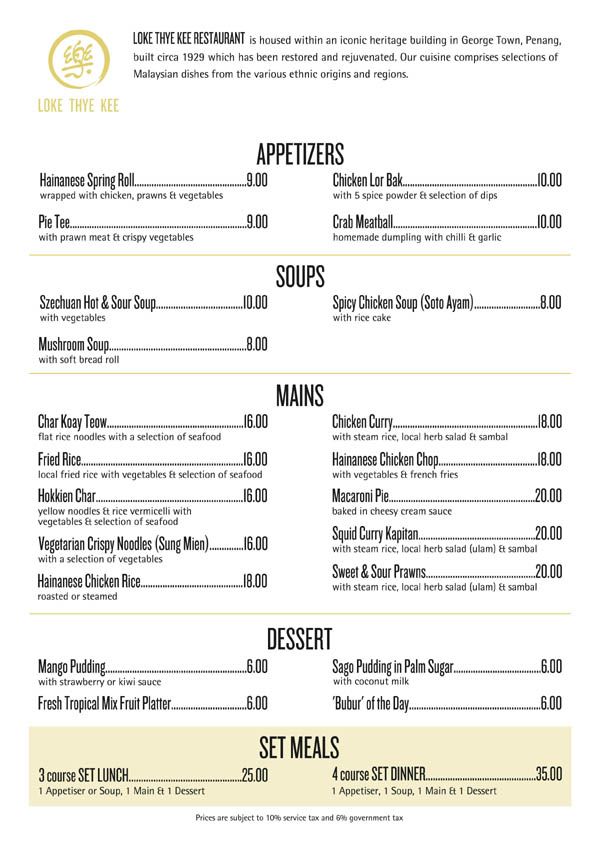 Some of those items in the ala carte/set dishes would include some Hainanese dishes such as the Hainanese Chicken Rice, Hainanese Chicken Chop, Macaroni Pie and more. The Hainanese Chicken Rice is one of the hot selling dishes in the restaurant as the preparation to get the dish served can be real tedious from the steps to prepare the fragrant fully flavored rice, getting tender meat until the concoction of the many condiments. Do check out this dish.
On the other hand, they have the Hainanese Chicken Chop. Flavor and texture wise, it was a fine dish. However, it was not as authentic as I would have preferred. The chicken meat was over coated with batter instead of a mildly breadcrumbs coat and the gravy served was practically brown sauce, a far differences compared to the traditional sweet onion based gravy. The gravy should actually consist of rich chicken stock, a bit of tomato ketchup (optional), HP sauce, Worcestershire sauce, oyster sauce, sugar and pepper to taste and thickened with some corn flour. Of course, there would be presence of onions, tomato slices and green peas added in to pep up more sweetness and some freshly cut deep fried potato wedges served. I do hope the kitchen would get the dish to be as authentic as it should be.
The Macaroni Pie on the other hand was also not as authentic as it should be. Something seemed to be missing on the bi-colored crust. The white and yellow (egg white and egg yolk) crust somehow tasted rather eggy without some presence of vanilla essence to pep up some flavors. Moreover, the filling itself was "too instant". It practically has some macaroni, chicken ham, button mushrooms, some diced onions, cream sauce and herbs. It tasted more Western than the Hainanese style which uses spices such as cinnamon bark, cloves and star anise instead. Again, this dish would need more tweaking from the kitchen.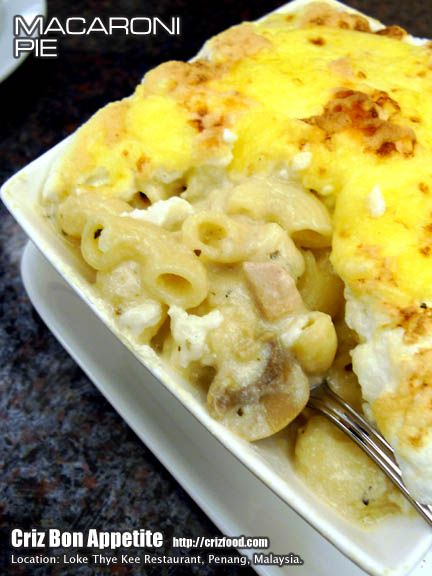 Loke Thye Kee Restaurant would also provide diners with a taste of Malaysia within the nostalgic surroundings with their weekend buffets. I would want to share with you how a typical Saturday Malaysian Buffet would look like. We would start with the cold dishes and salad section. You would find items such as mussels, prawns, cold cuts and some ready pepped up Nyonya/Malay salads (kerabu).
On the hot/main dishes section, you would expect to try out items such as herbal soup, steamed rice, yong chow fried rice, crispy noodles, fried chicken, barbeque chicken, braised lamb, assam prawns, braised duck with yam (or ark), seafood thermidor, steamed fish, assorted vegetables and deep fried tempura vegetables.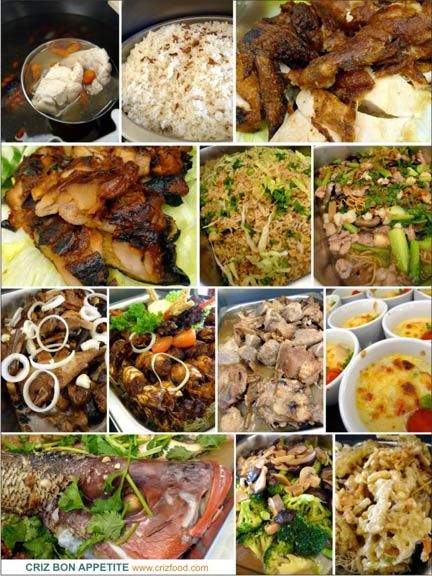 At the dessert section, you would expect some cakes, puddings, local kuih-muih, bubur kacang, ice cream and coffee.
There will also be some hawker fares at the action counter such as ice kacang, hokkien mee and rojak.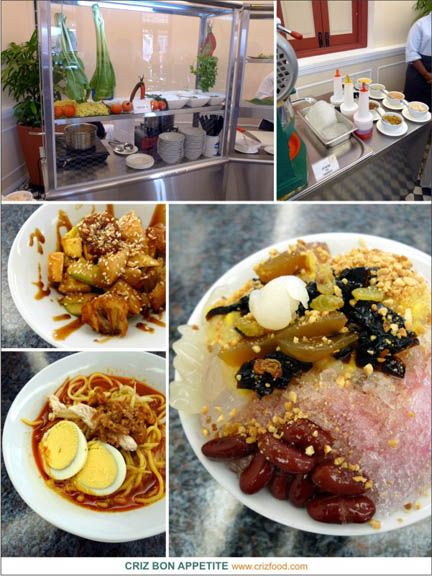 What most people are not aware of is that there's a rooftop terrace with 360° view of George Town, most notably the 65-storey Kompleks Tun Abdul Razak (KOMTAR), constructed in 1974. Other than the option to dine on the rooftop, there's also a bar up there serving both alcoholic and non-alcoholic beverages, snacks and cakes from 11.00am until 11.00pm daily (except Monday). The rooftop area would be quite an ideal place to chill out with family and friends, have a small gathering party or even office function since it can fit up to 80 pax. It's also a great place to watch football on TV.
You can check out the Rooftop Terrace menu here: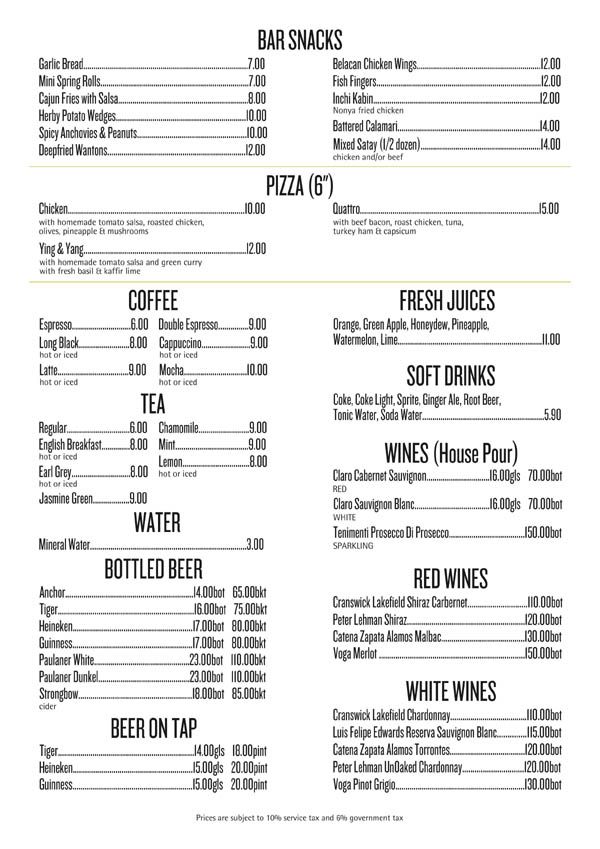 Overall, the dishes served here can be real value for money with so much different spread of seafood, meat, poultry, desserts and hawker dishes. However, there are still some rooms for improvements for more options on Malaysian cuisine throughout the whole nation.
Here's the summary of the promotion and opening hours.
Tuesday-Sunday: 11.00am-11.00pm (Last call 10.30pm)
Ala Carte Menu/Set Lunch/Set Dinner
Saturday Malaysian Buffet Dinner: 6.30pm-10.30pm
RM60++ (adult)/RM30++ (child)
Sunday Buffet Brunch: 11.00am-3.00pm
RM28++ (adult)/RM14++ (child)
Rooftop Terrace Bar: 11.00pm-11.00pm daily (except Mondays)
Getting to Loke Thye Kee Restaurant & Bar is rather easy as it's located just at the junction of Jalan Penang/Jalan Burma. There are ample parking spaces beside and behind the restaurant which can be accessed through a small lane via Jalan Transfer.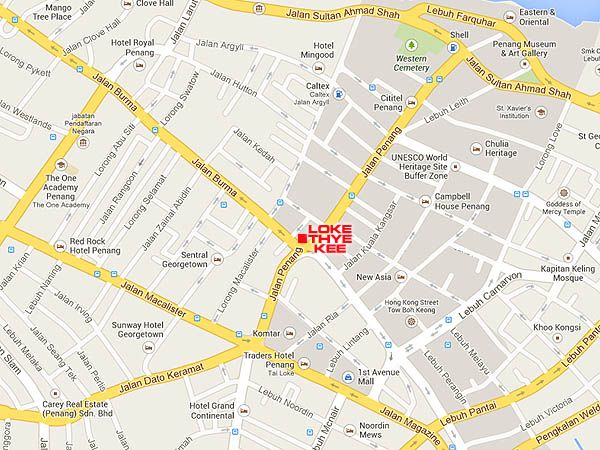 Name: LOKE THYE KEE RESTAURANT & BAR
Address: 2 Jalan Burma, 10050 George Town, Malaysia.
Contact: 604-264 1919
Business Hours: 11.00am-11.00pm (Closed on Monday)
GPS: 5.416996, 100.329916
RATING:
Ambience: 8/10 (1-4 cheap, 5-7 average, 8-10 classy)
Food Choices: 8/10 (1-4 limited, 5-7 average, 8-10 many choices)
Taste: 7/10 (1-4 tasteless, 5-7 average, 8-10 excellent)
Pricing: 8/10 (1-4 cheap, 5-7 average, 8-10 expensive)
Service: 8/10 (1-4 bad, 5-7 average, 8-10 excellent)