Note: This restaurant has ceased its operation.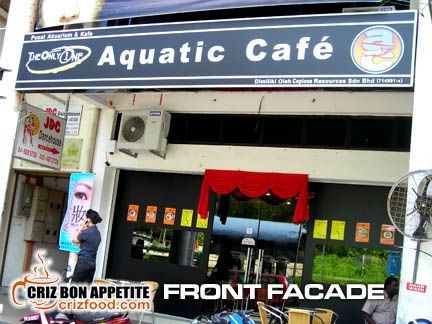 The concept of having little fish to treat your dead skins had boomed in the past few months with more and more fish spa shops mushrooming throughout the whole of Penang. What many might not know is that there's another evolved kind of fish related business, the first ever concept, started in Penang barely a month ago. What do you think of the concept of dining with fish then? Let us look into this newly open café, brainstormed by a fish breeder cum Arowana Club Penang member, George Liew, who had named his shop as the Aquatic Café.
Even before you enter the café, you would see two tanks of his prized arowanas and mahseers (ikan kelah) being proudly displayed at the entrance. Don't you think the golden arowana looks beautiful? A fish with these marking and color could fetch thousands in the aquarium fish market.
Upon entering the café, there were rows of aquariums on both sides of the dining area. Baby arowanas, baby mahseers can be seen swimming actively in the specially constructed build-in aquariums.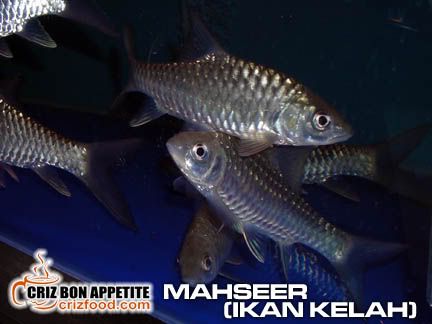 I was there to check out the food menu recently. The first dish that was served was the Aquatic Nasi Lemak (steamed coconut milk rice with side dishes – RM7). The set has two juicy pieces of curry chicken, some potatoes, half an egg, some crackers, peanuts and their specially prepared sambal ikan bilis (anchovy curry), presented with a few thinly sliced cucumber and tomato. This is not a bad dish actually as the curry chicken was not too spicy and the sambal ikan bilis blended in well with the steamed coconut milk rice. Even a kid would be able to consume this dish. The only problem is that the peanuts could be a bit hard for my consumption.
Next one the table was the Aquatic Cheese Baked Seashells Pasta (RM9). You can opt for chicken or beef. The dish was served with a large amount of seashells pasta, topped with the pasta gravy and garnished with some parmesan cheese. The dish had some sweet after taste. Maybe I'm used to consuming more fresh ingredients with minimum sugar intake. I hope the boss would add in some pasta carbonara recipes as there would be more choices for people who does not consume tomato puree.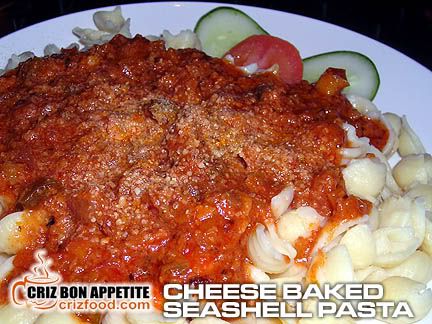 They also serve Aquatic Home Made Pies (RM8.50) with a choice of Mushroom Chicken, Black Pepper Chicken and Curry Chicken gravy, all accompanied with some French fries and greens.
This is the amount of meat and gravy you would get for your Mushroom Chicken Pie (pastry not shown here).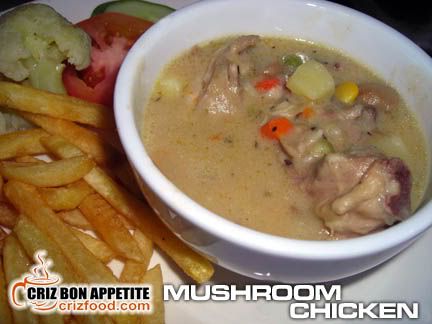 Your Black Pepper Chicken Pie (pastry not shown here) won't look much different as the above as it had some black pepper sprinkled on it. I prefer this than the above choice.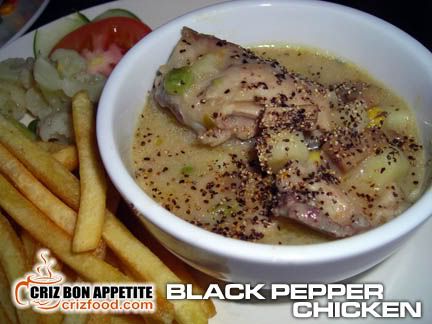 You could also savor the Aquatic Cheese Baked Dory Fish (RM9), served with French fries and greens as well.
There are more items in their menu which I did not try out such as the Aquatic Sandwiches/Toast (RM3.50), Aquatic Chicken Curry with Toast (RM5.50), Aquatic Tuna Cheese Melt (RM4.50), Aquatic Garlic Bread (RM3), Aquatic Home Made Pizza (RM4.50/RM8.50), Aquatic Fish & Chips (RM9), Aquatic Spaghetti Bolognaisse (RM9) and Aquatic Chicken Spaghetti (RM9).
There also have their own brand of coffee (The Only One) in their beverage menu such as Cappuccino, Latte, Vanilla Latte, Caramel Latte, Hazelnut Latte, Irish Cream Latte, Mocha, Flat White Coffee, White Coffee, Aquatic Black Coffee and Hot Chocolate. These all have low sugar content. Thus, quite suitable for diners who are healthy conscious and the pricing is cheap. Hot (RM2.50-RM4), Cold (RM3-RM3.50) and Blended (RM3.50-RM5). If you are not a coffee lover, you can opt for their Mango, Orange or Lychee Juices – Cold (RM2), Blended (RM2.50) Can drinks are at RM2.50 each. Prices for all the above are at net price.
Overall, the food served here can still be improved, considering that they are only in the market for just a couple of weeks. Their beverages price could be a crowd puller. All the drinks are much cheaper than those franchise F&B Cafes around town. Moreover, it is not a bad place for anglers and fishing enthusiasts who would like to sit around, while admiring the beauty of the arowanas and mahseers swimming about. This cafe has WIFI access facility available too. It would also be an ideal place for families to bring their kids along to dine in here. Most of the fishes displayed are also up for sales. Some of the prized arowanas could fetch quite a high price too.
The café is just diagonally opposite the Te Chang You Tiao Wang stall which I wrote about earlier. If you are coming from Jalan Air Itam (near Kek Lok Si Temple) towards Jalan Paya Terubong, you would pass by SJK (Cina) Kong Ming 2 on your right and then East Coast Seafood Restaurant on your left. Keep to your left and drive on until you had reached the Lintang Paya Terubong/Jalan Paya Terubong traffic lights. Turn left and then left into the service road (which is a one way street). Try finding a parking space further up as the café is just on your right next to a Nasi Kandar shop.
Name: AQUATIC CAFE
Address: 1228-P, Jalan Paya Terubong, 11060 Penang, Malaysia.
Contact:
604-827 6973, 012-433 6724 (George Liew), 016-473 5129 (Seng Wei)
Opening Hours: 12.00pm-11.00pm (Closed Monday)
GPS: 5.393019, 100.276342
RATING:
Ambience: 7/10 (1-4 cheap, 5-7 average, 8-10 classy)
Food Choices: 7/10 (1-4 limited, 5-7 average, 8-10 many choices)
Taste: 7/10 (1-4 tasteless, 5-7 average, 8-10 excellent)
Pricing: 6/10 (1-4 cheap, 5-7 average, 8-10 expensive)
Service: 8/10 (1-4 bad, 5-7 average, 8-10 excellent)