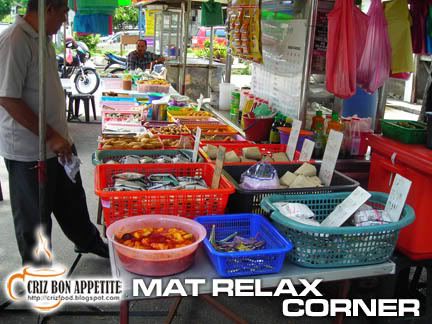 Still remember when I was posting up the "
Idris Karipap Ayam & Daging
" review? I did mention a hawker stall down in Jalan Jones (Jones Road) selling many different types of Kuih Melayu. In fact, there have almost 80 types of modern and traditional Malay kuih (Malay desserts), noodles and rice to fill up your appetite. They call themselves the Mat Relax Corner – a place you can enjoy your favorite local delicacies while seeping in their thick creamy Teh Tarik. The good news is that you could try out any 5 different kuih at merely RM2. Unless there is a price tag on the tray, each item would cost you only 40sen. The cheapest in Penang!
For the last 12 years, they have been there along Jalan Jones and Jalan Kelawei junction selling those yummy desserts. People from all walks of life would gather there for breakfast or afternoon tea. You could even see some in ties sealing some deals there. Surprised right? You can start savoring their food as early as 6.30am but my recommendation would be after 3.00pm as that would be the ideal time for more hot steaming items being displayed on the tables. Here are some of their yummy kuih-muih.

As I always love to consume salty items rather than sweet things, I would like to recommend their Popiah Goreng, Cucur Bawang and Udang, Roti Sumbat Sambal Ikan Bilis and some of their tasty rice and noodles. You can even add in their Sambal Tau Kua if you would like more ingredients in your food.
Finding Mat Relax Corner would not be hard as it is strategically located at the junction of Jalan Jones and Jalan Kelawei, next to the Pulau Tikus UDA Flat. I would advise you to find a place somewhere before the stalls as the place would be high in traffic.
Name: MAT RELAX CORNER @ JONES ROAD
Address: Jalan Jones, 10350 Penang, Malaysia.
Contact: 017-429 5082 (En. Aziz)
Opening Hours: 7.00am – 8.00pm (Close Saturday & Sunday)
GPS: 5.431094, 100.315347
RATING:
Ambience: 4/10 (1-4 cheap, 5-7 average, 8-10 classy)
Food Choices: 9/10 (1-4 limited, 5-7 average, 8-10 many choices)
Taste: 8/10 (1-4 tasteless, 5-7 average, 8-10 excellent)
Pricing: 5/10 (1-4 cheap, 5-7 average, 8-10 expensive)
Service: 7/10 (1-4 bad, 5-7 average, 8-10 excellent)