Who would want to join me for tea? We can have some Green Aliens from Mars and a cup of Old Town White Coffee? Most people have not seen this so called fortune buns as they can only be found in one "Pasar" in Plaza Perbandaran Taiping, Perak (Taiping Bowling Centre is at Level 3). What are they called? They are called Huan Chu Leng (Potato Dragon in Hokkien dialect). Some will call these buns Mee Koo (Steam Tortoise Buns) as the texture for the Huan Chu Leng is exactly the same.
Tortoise is believed to have long lives and thus Mee Koo symbolized longevity. Mee Koo were originally made to celebrate birthdays, or given as an offering to the deities and to the King of the Hungry Ghosts during the Hungry Ghost Festival. It usually comes in the shape of a pink tortoise or peach. Sometimes, they do produce yellow ones for the birthdays of deities. You can get them easily anytime throughout the year. It has become a delicacy amongst the locals, whether it is eaten plain, toasted or fried with eggs like French toast.
Some of the Mee Koo are filled with peanuts mixture or lotus seed paste. However in this modern era, these traditional Mee Koo have evolved into something different such as the Huan Chu Leng which is about 14" in length and Pandan flavored. Moreover it has either kaya (coconut egg jam) or red bean paste rolled up inside as fillings, somewhat like Swiss rolls. The Huan Chu Leng also comes in other versions such as the plain white ones with the same fillings or the yellow ones with chocolate. Somehow, I still prefer the Pandan flavored with kaya which is only RM3 each.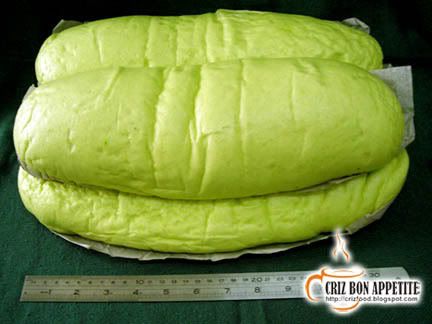 The stall is also famous for its Mini Mee Koo (RM3 for a pack of six) which is a round pink colored bun with a flower design on top. I did not manage to get them but it looked like the photo below but with a much more refined and thin flower designs.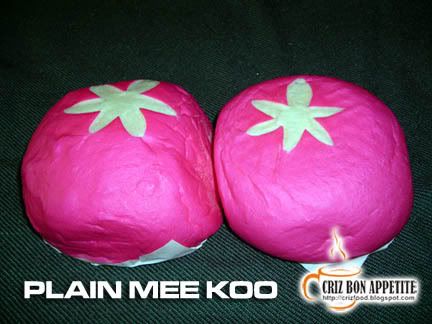 Unless you are familiar with the road into Taiping town, you would be a bit confused with the directions as Taiping has developed very fast within the last few years. The easiest way to find the Mee Koo shop is to use the Simpang way rather than to drive all the way to Kamunting (Lake Garden and Taiping Zoo). As you exit from the Taiping Plaza toll, turn right at the first traffic light. Drive on and you would pass through a few traffic lights before you reach the main traffic light at Simpang.
Turn left into Jalan Taming Sari. Go over the flyover and drive on until you see Bismillah Roti Canai shop on your left. Turn right into Halaman Pasar. Drive on until you reach a cross junction. Turn left into Jalan Kota. Drive on until you reach the second cross junction (CIMB Bank at the corner) and turn right into Jalan Tupai. Drive straight again after you have reach another cross junction. You will see the Taiping Hawker Center on your left. Take the first turning on your right and you will see the Plaza Perbandaran Taiping there.
The roads here are rather messy as many of the roads are one-way. If you are still unsure, just ask for the direction to "Plaza" or "Taiping Bowling Centre". The Hokkien speaking locals would be glad to direct you there.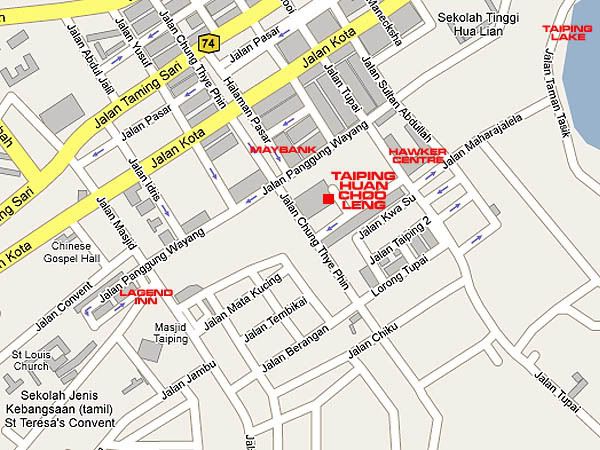 Name: TAIPING HUAN CHU LENG (GREEN MEE KOO)
Address: Plaza Perbandaran Taiping, 34000 Perak, Malaysia.
Contact: 016-4511899 (Mr. Chong)
Opening Hours: 4.30pm – 9.00pm
GPS: 4.849453, 100.741882
RATING:
Ambience: 6/10 (1-4 cheap, 5-7 average, 8-10 classy)
Food Choices: 8/10 (1-4 limited, 5-7 average, 8-10 many choices)
Taste: 8/10 (1-4 tasteless, 5-7 average, 8-10 excellent)
Pricing: 6/10 (1-4 cheap, 5-7 average, 8-10 expensive)
Service: 8/10 (1-4 bad, 5-7 average, 8-10 excellent)