NOTE: THIS RESTAURANT HAS CEASED OPERATION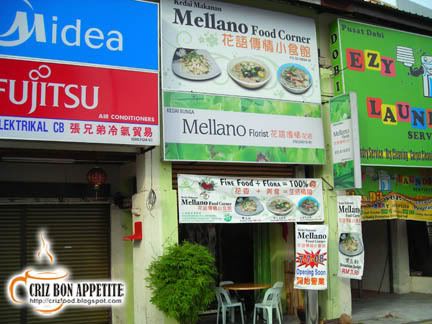 There are many businesses in Penang that had converted part of their business to food business. The latest being the Mellano Florist along Jalan Dato Keramat. What I do not understand is that how could a restaurant have only 3 main dishes and 3 main beverages to serve its customers. Customers would want more choices when dining in. The 3 dishes mentioned are the Broadbean Delight (RM3.50), Glass Noodles in Chicken Soup (RM3.50) and Shanghai Beef Noodles (RM6.00). The drinks are Mango Yogurt (RM2.50), Strawberry Yogurt (RM2.50) and Root Beer Float (not available)
The Broadbean Delight was just some flour cake (somewhat like our koay kak) cut into strips using wavy chee cheong fun knife. It came with some soy sauce, crushed peanuts and some chicken meat. It looked impressive but the taste was totally not Malaysian and not to my taste bud.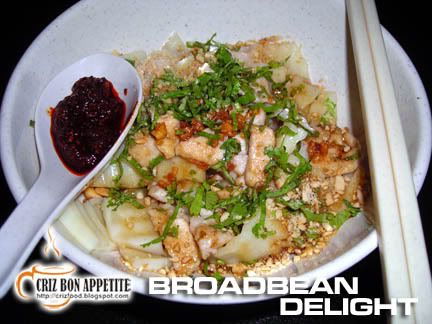 The Glass Noodles in Chicken Soup came with some chicken strips, wood fungus, and 3 chicken balls. The soup tasted real flat for those who do not consume chili powder. It is very Taiwanese style. Not to my liking as well and the portion was real small.
The Shanghai Beef Noodles came with only thinly sliced beef and some intestine. This was again without much taste and no side sauces came with it. The soup in fact was too diluted without the sweetness of bones.
The drinks were normal with the Root Beer Float being not available on the first day of launching. I guessed the owner should look into adding more choices and to ensure the satisfactions of its customers. Overall, it flopped my taste bud totally.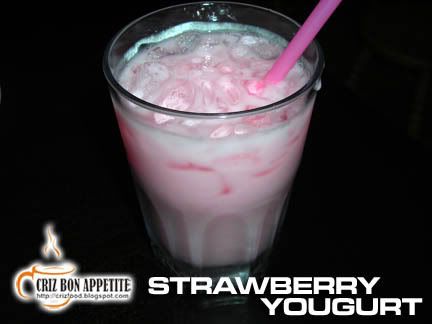 The restaurant cum florist is located just immediately after the Honolulu Restaurant (previously Federal Theatre) along the main road of Jalan Dato Keramat. Parking can be real scare over here even if you are on a bike. So, be prepared to park behind Honolulu Restaurant and walk up to the restaurant.
Name: MELLANO FOOD CORNER
Address: 373, Jalan Dato Keramat, 10150 Penang, Malaysia.
Tel: 604-229 6012, 012-411 6012
Opening Hours: 7.00am – 3.00pm (Closed Wednesday)
GPS: 5.412537, 100.319456
RATING:
Ambience: 5/10 (1-4 cheap, 5-7 average, 8-10 classy)
Food Choices: 1/10 (1-4 limited, 5-7 average, 8-10 many choices)
Taste: 4/10 (1-4 tasteless, 5-7 average, 8-10 excellent)
Pricing: 5/10 (1-4 cheap, 5-7 average, 8-10 expensive)
Service: 6/10 (1-4 bad, 5-7 average, 8-10 excellent)