Note: This restaurant had ceased its operation and in its place is a new bak kut teh outlet.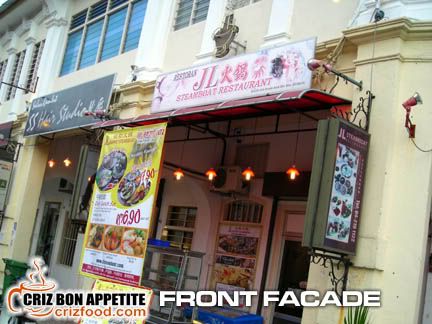 The management of JL Steamboat Restaurant had individually invited some of us recently to try out their food. Instead, we ended up having a group review. It was actually a fun gathering with the wacky companies of some of our Penang floggers which consist of Steven, Buzzing Bee, Jian, Allen Ooi and Mary Teo. The place was rather cozy with soft music and yet dimly light cubicles. It would be a bonus for those people who love to dine in privacy. Each table would come with an electronically temperature control hot plate which you do not see much at many steamboat restaurants.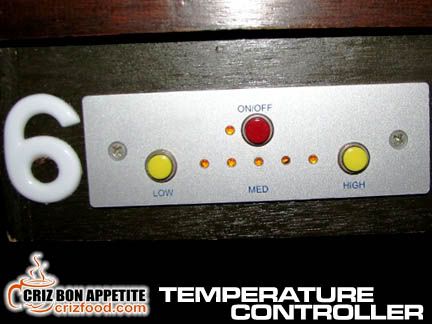 When reaching the entrance of the restaurant, you would see a worker cooking up varieties of delicious meaty and seafood grills. The aroma flowing through the air got me hungry while waiting for the rest to arrive. I guessed this was one way to stop everyone from coming out of the restaurant smelling like a barbequed item. What else would you expect from an air conditioned restaurant right? LOL! Moreover, it was the management's special treatment to ease its customers from getting splattered with greasy substance. You can see quite a variety of meats and seafood on the spread, including teppanyaki seafood skewers.
Upon entering you can see rows of other items meant for steamboat consisting basically a lot of meat and fish "balls", some meat and intestines, mushrooms and seafood.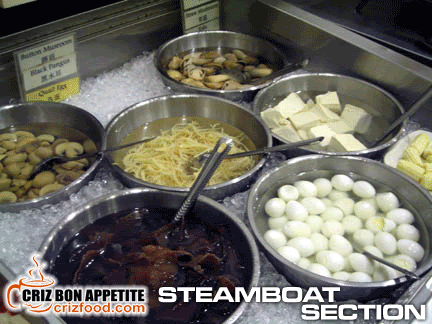 One top of these, there would be some choices of noodles such as glass noodles, rice noodles, emperor's noodles (王帝麵) and instant noodles. Other than fresh chicken eggs, there were also some vegetables such as Chinese cabbage, Cameron lettuce, cabbage and water morning glory (water spinach, kangkung, 蕹菜). I found one major vegetable ideal for steamboat missing here – the vitamin A rich crown-daisy chrysanthemum leaves (tang oh, 茼蒿). Maybe the vegetables were not in season then. Were they not or was it due to not many people liking the pungent smell? I won't know for sure. The restaurant could also consider adding in some bundled spring onion stalks to widen the spread.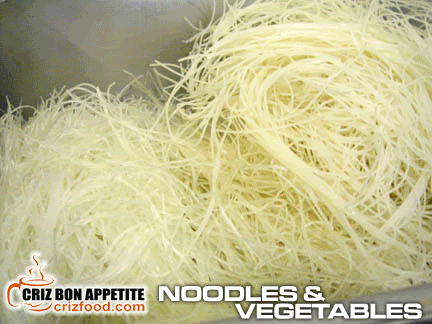 Prior to starting the meal or waiting for your other guests to arrive, you can have the option to start off with some basic side dishes. They may include dishes like fried rice, fried noodles, fried chicken wings, nuggets or fish cakes.
We started off the meal with two of the four available steamboat stock, clear chicken soup and fish soup. The chicken soup was thick and nice except towards the end it became a bit too salty. So was the fish soup which was served to us with a few slices of ginger to cut down on the fishy taste. The restaurant should have had someone around to ask us if we would like to dilute the saltiness with some boiling water but no one did that. If they were to look into providing better service, at least they should look into this aspect of getting feedback from us. Of the two, I loved the fish stock more.
The next batches of stocks were the herbal soup and tom yam soup. The herbal soup was nicely brewed with the right amount of herbs. There were some hints of wolfberries and ginseng roots and the taste was beautiful until the end of our meal. The fragrance and slight bitterness from the soup base would be ideal for those herbal soup lovers. Unfortunately, the tom yam soup was not up to my preference. It was too mild for my taste bud. It lacked the pungent taste and fragrance from some lemongrass stalks. I guessed I'm so use to the tom yam soup I had at Village Café.
If you were to ask me to rate my preferences, it would be the fish soup, herbal soup, chicken soup and tom yam soup. My note to the management on the aspect of healthy dining would be to maintain the soup as natural as they can as most of the pre-processed items on the buffet spread already had the saltiness, preservative and sweetness in them. Even the sugar levels in the free flow chilled green tea and lemon tea were a bit too much for most of us there. A non sugar and hot beverage item such as Chinese tea would be a great addition.
When it comes to sauces for steamboat and grills, I would say they have a great selection of pre-packed and homemade sauces. We had many choices such as tomato sauce, chili sauce, Thai chili sauce, soy sauce with bird's eye chili, garlic oil, fresh chopped garlic, sate sauce, sambal udang tumis, Thai spicy green sauce and even Sukiyaki sauce specially meant for the teppanyaki skewers and grills. The sambal udang tumis which was somewhat like the curry mee chili paste, with added pounded dried shrimps remained my favorite.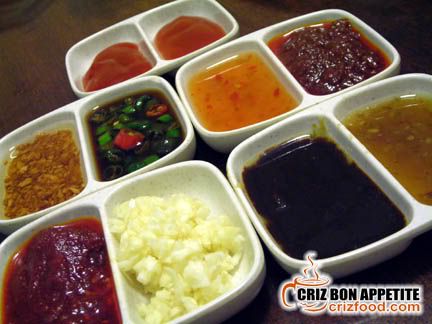 Can you guess how much we ate that night? Frankly, we did not really eat that much as there were more ladies than men (even included my paying god-bro). We only had these for the 4 different soups.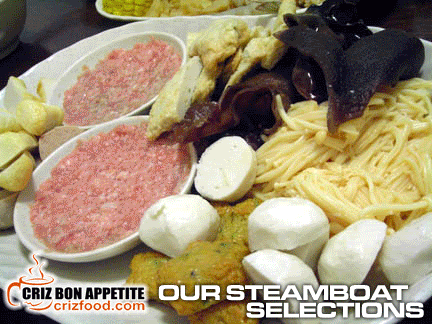 On top of that, these grilled items were served to us almost continuously.
Although most of us are stuffed that night, we still did not forgo the dessert section. With the beautifully twisted marshmallow on a skew and finger biscuits waving at us, welcoming us to dip them into the chocolate fountain, who could resist the temptation? There were also jellies, fresh fruits and black glutinous rice dessert.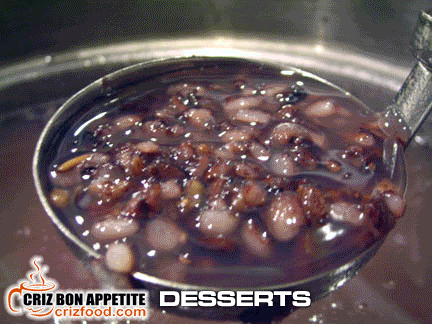 That was not the end to our enjoyment on top of our endless jokes and hilarious moments. All of us went back to our childhood years playing "masak-masak". LOL! You can see some of us dripping saliva while trying to make something out from our "play dough". Everyone wanted to have a hand in making their best decorated ice cream with the few different flavors of ice creams, chopped pickled cherries and rice candies. The results – everyone came up top… in their own category. LOL! Here are some of the masterpieces.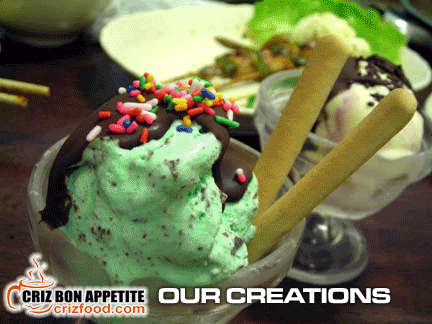 Their over 100 variety of picks buffet is at RM17.90nett (adult), RM14.90nett (senior citizen) for only lunch time from Monday to Friday. As for dinner and weekends, it would be at RM21.90nett (adult), RM16.90nett (senior citizen). Children would get to enjoy the buffet at RM8.90nett at all time and it's free for children below 3 years old. Presently, they are still having their set lunch promotion (since April 2009) priced at RM6.90 which is inclusive of free flow of drinks and a dessert. You can click on the flyer below for a clearer view or check out www.jlsteamboat.com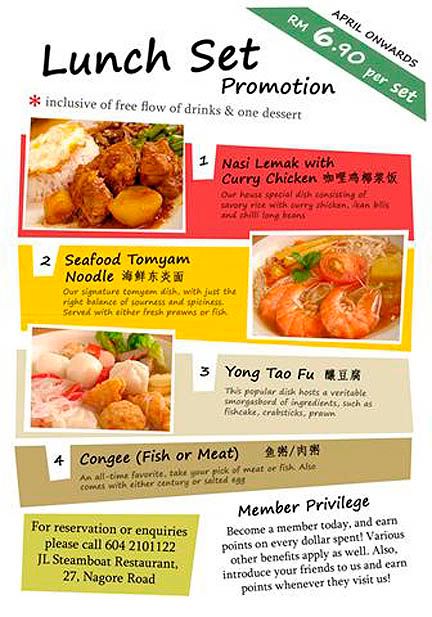 Finding JL Steamboat Restaurant won't be hard as it's located within Nagore Place (nearby New World Park). Find your way down Jalan Burma and keep a look out for the red paint splattered designed Tune Hotel building on your right. Immediately after that would be the New World Park food court. Watch out for the 2nd junction on your right after that. Turn right into Jalan Nagore and drive until a cross junction (Jalan Bawasah/Jalan Nagore). You can see the restaurant on your right (next to Sugar Dynasty Food Delight corner lot) after the cross junction. Parking could be quite limited here during lunch time and you should have lots of loose change too as the parking meter would go on until midnight. If you do not want to have the hassle of driving around finding a free space, I would recommend that you park your car within the New World Park parking lot and walk up to the restaurant.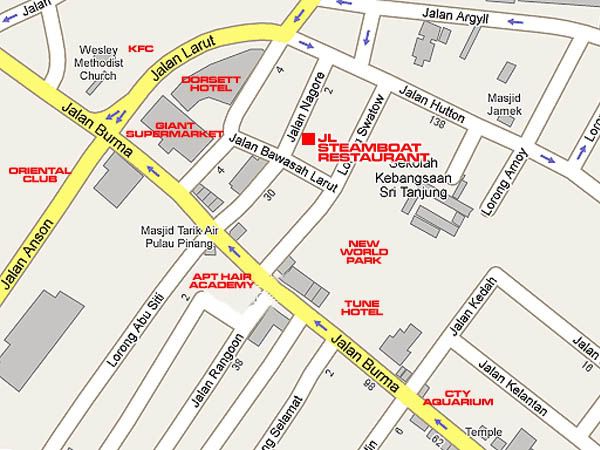 Name: JL STEAMBOAT RESTAURANT
Address: 27, Jalan Nagore, 10050 Penang, Malaysia.
Business Hours: 11.30am-3.00pm, 5.00pm-11.00pm
Contact: 604-210 1122
GPS: 5.421251, 100.326202
RATING:
Ambience: 7/10 (1-4 cheap, 5-7 average, 8-10 classy)
Food Choices: 8/10 (1-4 limited, 5-7 average, 8-10 many choices)
Taste: 7/10 (1-4 tasteless, 5-7 average, 8-10 excellent)
Pricing: 7/10 (1-4 cheap, 5-7 average, 8-10 expensive)
Service: 7/10 (1-4 bad, 5-7 average, 8-10 excellent)