I can still remember vividly more than a year ago when I was asking my friends what they would want to drink in a restaurant and they would reply "Anything" or "Whatever". Those were what Out Of The Box Pte. Ltd. (Singapore) and Tongee (KL) Sdn. Bhd. stormed the market with in early 2008. One consisted of different flavored tea whereas the other consisted of different flavored fizzy drinks. The thrill lies in what you would get in the can. You would have to open up a can of "Anything" or "Whatever" to find out the flavor yourself. This is a genius way to promote a product right? Well, the same goes for our dinners after years of having the same type of food in Penang. Where to eat? No idea! Hey! That's a great place to dine now – No Eye Deer! Let's go! 🙂
Since you now know you can only get your "Anything" or "Whatever" in any of the 7-Eleven outlets, why not head up to the first floor of Prima Tanjung to get your "No Eye Deer"? The restaurant has been there for many years serving a nice array of unique fusion meals that would tempt and spoil anyone's desires to have a great dining experience. With a cozy ambience, soft background music and great artistic displays of the proprietor, Ken Low, this restaurant would be ideal for those who love to dine in style.
So, what's cooking in the kitchen of No Eye Deer? What came out on our dining table was a surprise as all the time many of us had perceived that this was a total Western cuisine restaurant. We were served Beef and Chicken Laotian Laksa (RM12.80+/bowl). These two were their signature dishes. Each bowl would come with springy firmed rice noodles, richly flavored in the stock from the respective meat choices and topped with bean sprouts and basils. Of the two options, I loved the beef dish better as the tender beef slices gave the spicy and piquant soup base a richer taste. Thumbs up!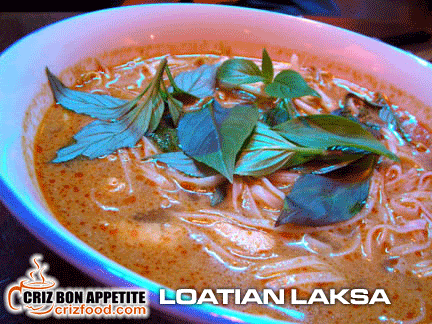 This was followed by the Soup of the Day – Pumpkin Soup (RM7.80+). This was something unique as the sweetness of the blended pumpkin, herbs and cream, garnished with some croutons was good.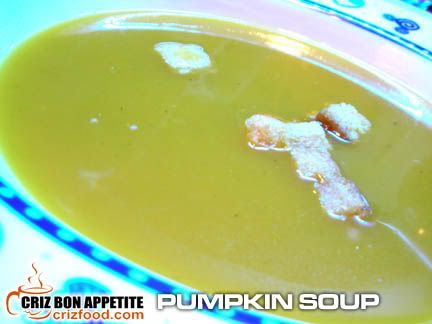 The next dish which was the Pan Grilled Sea Bass with White Sauce (RM19.80+) was presented with tangy white sauce and served with fresh crisp salad and mashed potatoes. The fish was done perfectly as it had a bit of charred taste while maintaining its juiciness. The white sauce was wonderfully prepared too as it had just the right creaminess and blended in real well with the double scoops of homemade mash potatoes which were marvelous.
We then had the Jumbo Vienna Sausage (RM15.80+) which consisted of two smoked cheddar stuffed chicken sausage served with mash potatoes and salad. The gravy for this dish was just right as it was not so salty when taken with the slightly salty cheese filled sausages.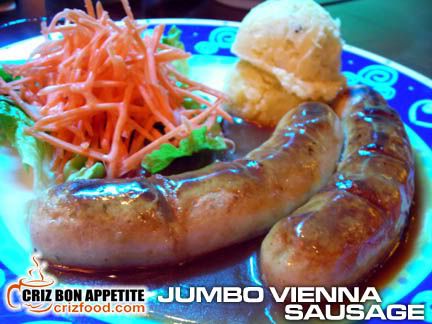 Chicken Parmigiana (RM18.80+) was next. This Italian styled chicken fillet was served with freshly stewed tomato and Mozarella cheese. It had mash potatoes and salad as side dressing. I would advise you to consume this chef's recommended dish soonest possible as the moist from the stewed tomatoes would eventually soil it swiftly. With so many of us taking photos, it did turn soggy but the taste was still great for those who love the sweetness of fresh tomatoes.
No Eye Deer has many surprises for its patrons daily as the Special of the Day was the Meaty Beef Pie (RM16.80+) which was served with golden French fries, fresh crisp lettuces and a cup of their specially prepared gravy. The crust was nicely baked and the gravy was delicious with the tender beef chunks. My only complain was that the ingredients used were a bit too strong and it overpowered the natural taste of the beef chunks within. Maybe the restaurant should consider looking into this by having the meat more towards the savory taste than being so sweet.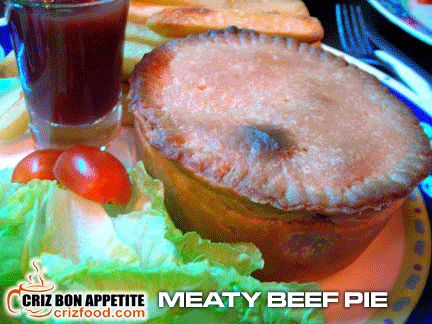 Their Traditional Grilled Steak (RM29.80+) which had char-grilled tender beef steak, served with traditional rich brown gravy, homemade mashed potato, broccoli and carrots, looked so burned and was drowned in a pool of gravy but the look can be deceiving. It was darn delicious as the meat was tender and juicy. The only comment I had was that there were too much of diluted gravy on the meat. I hope the chef would thicken the gravy more as it tasted quite normal and it did kill the fragrance of the char-grilled steak a bit.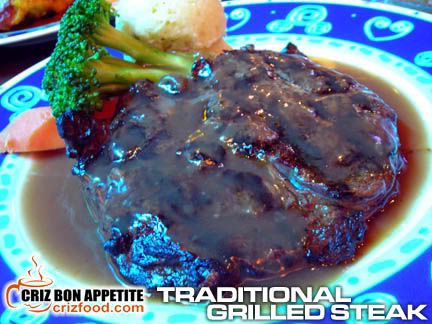 I thought those were all since I was not the one who ordered the dishes when a gigantic Caveman Platter (RM68.00+) was presented right in front of me. Gosh! It was meant to serve 3-5 persons! The dish had a mixed platter of char-grilled lamb, chicken kebabs, chicken sausages, chicken wings and pepper lamb sausages. Although served with some gravy, I found most of the items rather dry to my liking. Maybe I'm not a fan of barbeque stuff. But the pepper lamb sausages kept me eating more. They were unique as I had not seen them being served anywhere around town before. Anyway, this dish would be great for those who love lots of meat in their diet.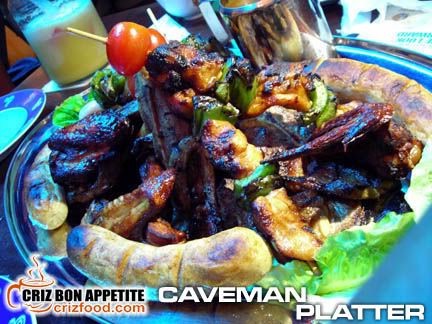 The meal finally ended with a dessert – Coffee Jelly (RM5.80+). This dessert was voted as the Best Jelly in Malaysia by readers of 'The Star' Newspaper dated 23rd March 2008. The Japanese jelly was mildly flavored with coffee and was served chilled in some mixture of fresh cream and syrup with some sprinkles of cocoa powder. It was remarkably wonderful for coffee lovers like me.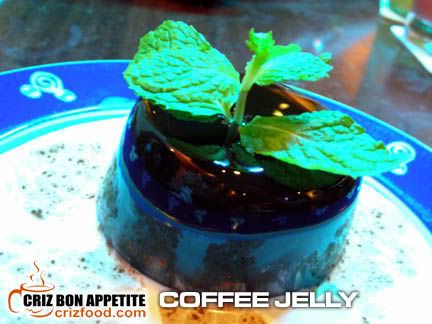 The restaurant also had a unique way to serve scoopful of ice creams in a cone – the Upside Down Ice Cream (RM4.80+). It had two scoopful of Vanilla ice creams served on a plate with a cone upside down and sprinkled with a generous amount of chopped roasted peanuts and glazed with some melted chocolate. This dessert would surely be great amongst kids.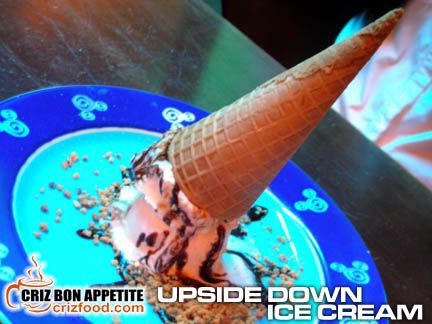 Choosing your beverages here can be real interesting as the beverage would come in many unique names. We had Drama Queen (RM8.80+) – glamarous smoothie of pink guava and pineapple with sour plum, Wacky Wizard (RM8.80+) – delicious & wacky smoothie of mango yoghurt and pineapple and also Chunky Monkey (RM8.80+) – rich and delicious banana smoothie with ice cream and chunky peanuts. All the beverages had their own specific uniqueness in taste and presentation.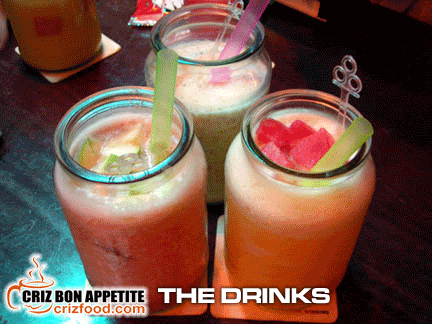 Please take note that all prices would be subjected with a 10% service charge. The restaurant would be easy to spot as it's located at level one above the 7-Eleven Prima Tanjung outlet, facing the direction of Island Plaza along Jalan Tanjung Tokong. There would be ample parking space surrounding the multi-level shop houses.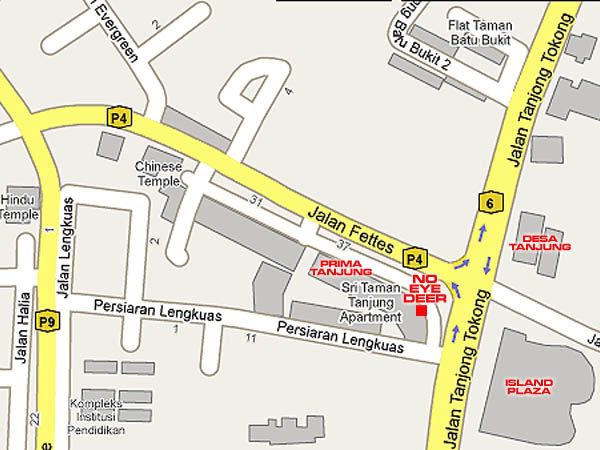 Name: NO EYE DEER RESTAURANT
Address: 98-1-26, Prima Tanjung, Jalan Fettes, Tanjung Tokong, 11200 Penang, Malaysia.
Contact: 604-899 0488
Business Hours:
6.00pm-11.00pm (weekdays), 12.00noon-11.00pm (weekends), (Closed Tuesdays)
GPS: 5.450906, 100.305169
RATING:
Ambience: 8.5/10 (1-4 cheap, 5-7 average, 8-10 classy)
Food Choices: 8.5/10 (1-4 limited, 5-7 average, 8-10 many choices)
Taste: 8.5/10 (1-4 tasteless, 5-7 average, 8-10 excellent)
Pricing: 7.5/10 (1-4 cheap, 5-7 average, 8-10 expensive)
Service: 9/10 (1-4 bad, 5-7 average, 8-10 excellent)