Note: Palm Village Cafe has relocated to Ivory Plaza, Jalan Bukit Gambier, Penang, under another name – AB Cafe. This relocated restaurant has also ceased its operation in 2010.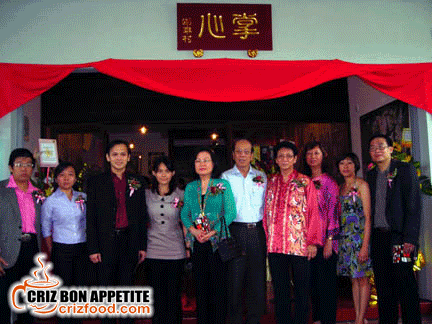 A few of us were invited to the official opening of one of Penang's newest restaurants named Palm Village Cafe located in the upcoming Lembah Permai business area of Tanjung Bungah this morning. The whole concept behind the restaurant would be that of a homely cooked food with a casual dining experience surrounded with paintings of the various lifestyles through time.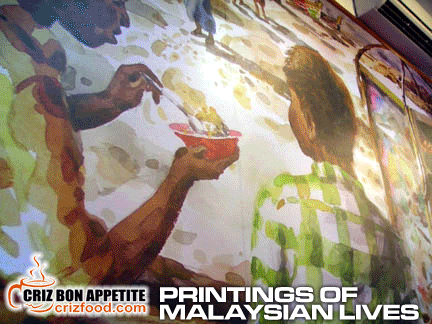 Who do you think would qualify to show beautiful paintings to get the right feel of those nostalgic moments? It's none other than that of our own local artist, Choh Kiat Siong? Mr. Choh, voted as the top 15 most outstanding youth in Kedah, is a seasoned watercolor artist who had spent all his life time painting the past and present of our local scenes. He had received many awards and recognition locally and was much loved in the republic of China for his uniqueness to bring out the lifestyles of the Malaysians in paintings. I would think the restaurant had the greatest privilege to get his signature signed live on the scene.
Are you curious to find out the type of food you would get from this restaurant? It is basically a place to hang out for families, friends, workers and students from the surrounding area. They have food ranging from simple and light breakfast meals such as toasts and soup, ala carte poultry, seafood and vegetable dishes to go with rice for groups, rice and noodles, finger food, ice cream and cakes to pamper your craving for some delicious homemade tea time snacks. On top of these wonderful meals at an economical price for everyone, there are also some combo meals available. There are also family combo meals from as low as RM10. The best part would be by adding an extra RM2.80, you could get an additional drink and a dessert per each combo meal ordered.
Some of the unique and recommended food here would be their Palm Village Curry Chicken, Fried Fermented Bean Curd Chicken, Asam Pedas Rice/Noodles, Curry Chicken Wan Than Mee, Chinese Cruller Salad, Tiramisu Cake and many more. I would try them out another day in full review and elaborate more on the food details as well as to provide photographs at a later date.
If you know where the Penang TAR College is, if would be easier to find the restaurant. If not, try finding your way from Jalan Burma and drive all the way up using Jalan Mount Erskine until you see a Hindu temple on your left. It's almost near to the Jalan Fettes traffic light. Drive straight on and you would see a Y junction. The right lane would lead you to Pepper Estate. Keep to your left and use the winding road up towards Vale of Tempe. Towards the end of the winding road, you would see houses on both sides of the road. Drive on until you see the first junction on your left (Lebuh Lembah Permai 1). Turn left and drive all the way up until your see some shop houses on your right. Turn right into the service road (Lebuh Lembah Permai 4) and drive to the other side of the shop houses and you would see the restaurant located prominently on your right. Blue Reef Restaurant and Annabelle's Place are just a few shop houses away from the restaurant.
Name: PALM VILLAGE CAFE
Branch Address: 28, Lebuh Lembah Permai 4, 11200 Penang, Malaysia.
Contact: 604-890 0320
Opening Hours: 11.00am-10.00pm
GPS: 5.454192, 100.290298