NOTE: THIS CAFE HAS CEASED ITS OPERATIONS
If you are looking for a place where you can savor great food with rich and quality ingredients, you should take note of the latest Western and Asian fusion restaurant in Penang. Opened barely two months ago on 22 December 2008, Louis Café had impressed its customers with its wide arrays of dishes. Most of the dishes served are the own concoctions of their few experienced chefs. Thanks to Lingzie for arranging this gathering yesterday as some of us were able to review on their food quality, taste, flavor and ambience. I would say this is a cool place for group meetings, family functions and a romantic evening for love birds with their averagely lighted atmosphere.
Let's start the food introduction in proper sequence. Salads were first and we were served with three different varieties – Our House Rules Organic Salad (RM15), Classic Caesar Salad (RM18) and Scallop Salad (RM20). The Organic Salad was filled with lots of fresh greens and a mixture of apple cider, olive oil, some herbs and a hint of chopped lemongrass. This would be a great appetizer for those who love crunchy greens but I find the dressing a bit sour to my liking. Maybe a pinch of salt and some raw brown sugar might help pep up the flavor. The Classic Caesar Salad was loaded with lots of fresh greens, fried bacon bits, salmon strips, mixed herbs and garnished with grated Parmesan cheese and toasted croutons. I simply love this salad as it was rich in flavors except that I would prefer the croutons to be oil fried instead. The Scallop Salad was indeed another irresistible choice. On top of the fresh greens, the seared fresh scallops still maintained their juiciness. The searing definitely brought out the flavor in the scallops and with the special apple salsa sauce. This salad was one of the best I had tasted for ages. It even had some chopped onions, tomatoes, apples and chives for that extra bite.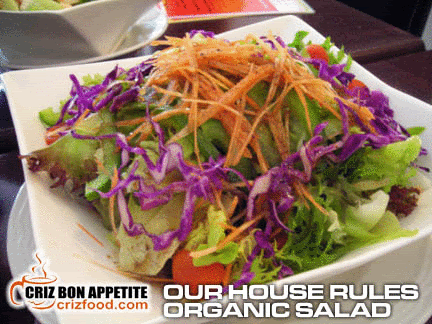 The next set was the soup served with some dinner rolls. We had the opportunity to try out some of the existing as well as newly created soup. There were all together 5 varieties which included Italianese Wild Mushroom Soup (RM10), Pumpkin Soup (RM9), Cream of Broccoli (RM9), Cream of Cauliflower (RM9) and Cream of Tomato (RM9). All the soups were creamy and tasty in their own ways. Except for my favorite Pumpkin Soup which came with some toasted almonds slices garnishes, I personally find that these could be further improvised by adding some bites into them such as toasted wild mushroom slices, oil fried croutons, chopped tomatoes as all the ingredients were blended too fine.
We were then served with another 8 main course dishes such as the Vegetarian Cutlet (RM15.90), Classic Fish Cordon Bleu (RM25), Sirloin Steak with Red Wine Sauce (RM28), Grilled Lamb Chop with Peppercorn Sauce (RM22), Grilled Lamb Chop with Brown Mushroom Sauce (RM22), Beef Tenderloin with Peppercorn Sauce (RM38), Pan Seared Salmon Steak with Dijon Sauce (RM30), Red Snapper with Cream of Tomato Pulp (RM25) and Baked Stuffed Chicken with Brown Mushroom Sauce (RM20). The Vegetarian Cutlet was unique as it came in the shape of a leaf. It was made from a mixture of buttered mashed potatoes, carrot dices, chopped onions, corn kernels, chopped broccoli, mixed herbs, coated with breadcrumbs and fried to perfection. This would be a great dish for those who like to have a meatless meal. The Classic Fish Cordon Bleu was another hit amongst us. Instead of red snapper fillet, Pacific dory fillet was used. The combination of the fresh fillet with filling such as ham and cheese, was so well balanced that it was gone within minutes. The Sirloin Steak with Red Wine was also a dish that got us drooling as the air flown Australian Striploin maintained its juiciness and tenderness after being grilled medium rare. The red wine sauce complemented the whole combinations perfectly.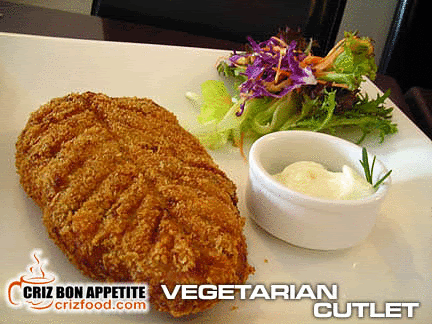 The Grilled Lamb Chop came in two flavors – Peppercorn Sauce and Brown Mushroom Sauce. Most of us preferred the latter as the former had a rather strong pepper taste which overpowered the natural lamb flavor. The Beef Tenderloin with Peppercorn Sauce was also nice except for the strong peppercorn sauce as mentioned. The Pan Seared Salmon Steak with Dijon Sauce was also nice combination except for the fillet which I personally find a bit too thick to allow whatever marinates to seep deeply into the meat. The Red Snapper with Cream of Tomato Pulp was grabbed up real fast too. The freshness and smoothness of the red snapper fillet blended in well with the accompanied creamy tomato pulp sauce. The Baked Stuffed Chicken with Brown Mushroom Sauce was another cool dish as the chicken thigh fillet had a whole cheese sausage stuffed inside, breaded and baked until golden. The brown mushroom sauce combined well with this dish.
On top of the main courses, we also had Spaghetti Arrabiata (RM16), Fettucine Carbonara (RM16) and Spicy Chicken Tortilla (RM15.90). The Spaghetti Arrabiata was nice for those who love a spicier version. I personally find the herbs and ingredients were a bit too spicy and over rich in flavors. The Fettuccine Carbonara was my favorite as it had lots of bacon slices, ham strips, chopped onions, sautéed garlic, buttered wild mushroom slices, mixed herbs, cream and grated Parmesan cheese which made the whole combination perfect. Instead of the fettuccine pasta, linguine pasta was used and this made each mouthful even smoother and flavorful. Spicy Chicken Tortilla was a surprise to us as it was not stated in the menu. The filling was marvelous as the chicken pieces and potatoes were mildly spiced with some curry spices and curry leaves. Each bite left us yearning for more.
Since all of us were fully stuffed by the café's management (Thanks to Ms. Teoh), I managed to try out one of the desserts which was the White Fungus with Ginkgo Nuts (RM5). The dessert was marvelous as the soup was mildly sweetened with red dates and rock sugar. The ginkgo nuts were cooked just right and the white fungus still maintained their crunchiness. You can also opt for their other desserts such as Bird's Nest at RM45 per bowl or the Herbal Snow Jelly at RM10 per bowl.
Overall, we enjoyed ourselves dining in the café. With the great Penang Floggers there, it was even more fun and exciting. There would be a 5% service tax applicable to all the meals ordered but you can always check with the proprietor, Ms. Teoh, for group discounts if you would want to hold some functions. Tour groups are always welcome. On top of the Ala Carte dishes as mentioned above, the café do have a different Set Lunch menu daily which consist of appetizer of the day, choice of main course, choice of beverages and free flow of ice cream at only RM18.90+. Set Dinners are also available with an additional soup of the day and the option to choose between beverages and fresh cut fruits at only RM26.90+. Moreover, they also have finger snacks such as Fried Chicken Wings, Deep fried Squid Balls, French Fries, Potato Wedges and Deep Fried Calamari Rings from as low as RM6. If you fancy some local hawker fares, you could also look into their Asian menu which has Seafood Singapore Bee Hoon, Seafood Fried Rice, Thai Seafood Tom Yam Bee Hoon Soup, Seafood Hokkien Char, Seafood Hor Fun, Seafood Ramen and BBQ Pork Ramen (between RM8-RM12).
Finding the restaurant would be easy but not prominently noticeable as it's situated along a row of pre-colonial houses along Jalan Argyll. The best way to reach the café would still be from Upper Penang Road. Coming in from Jalan Sultan Ahmad Shah into Upper Penang Road where Hotel Continental, Hotel Malaysia, Cititel are, drive onwards until you see Veenai Odeon Cinema on your right. Turn right into the road, that's Jalan Argyll. Drive on until you have reach the cross junction (Jalan Transfer/Jalan Argyll). Drive across Jalan Transfer and you would see the café just a few houses away on your left (directly opposite Mingood Hotel).
Name: LOUIS CAFE
Address: 161-C, Jalan Argyll, 10050 Penang, Malaysia.
Opening Hours: 11.00am-11.00pm
Contact: 604-228 7729, 012-470 1666 (Ms. Teoh Chua Tee)
GPS: 5.421778, 100.330472
WIFI: Yes
RATING:
Ambience: 9/10 (1-4 cheap, 5-7 average, 8-10 classy)
Food Choices: 8/10 (1-4 limited, 5-7 average, 8-10 many choices)
Taste: 8.5/10 (1-4 tasteless, 5-7 average, 8-10 excellent)
Pricing: 8/10 (1-4 cheap, 5-7 average, 8-10 expensive)
Service: 9/10 (1-4 bad, 5-7 average, 8-10 excellent)
Attended Floggers:
Criz Lai of Criz Bon Appetite
Lingzie of Lingzie's Tummy Treats
CK Lam of What2See Online
Huat Koay of PenangTuaPui
Rebecca of The Nomad Gourmand
Steven Goh of Steven Goh dot com
Allen Ooi of Yummy Station
Gill & Jason of Gourmet Garden
Carrie of Cariso Delicacies Corner
Mary of Food Paradise
Bee of Buzzing Life
Mr. Lee of Kwong Wah Yit Poh