The Eastin Hotel Penang held a charity dinner entitled "Don't Just Play Play, Give Away Also" in aid of the Tun Sardon Foundation (Yayasan Tun Sardon) at the Grand Ballroom yesterday. This is in line with the hotel's philosophy of sharing their success with the less fortunate. The event began with an entertaining drum performance, followed by speeches by the Executive Chairman, Dato' CP Tan and Chairman of Tun Sardon Foundation, Dato' Mohd Rizal Al-Amin bin Tun Sardon. In between the 4-course dinner, we had performances by the Penang Cheshire Home, a string quartet by Digital Music, games session with Ah Beng and King Kong, lucky draw prizes such as a 4D3N cruise to Phuket and Krabi on board Superstar Libra, Venessa Diamonds pearls and Danai Spa treatment vouchers.
Upon entering the ballroom, everyone was served with free flow of Fruit Punch as a welcoming drink. The drink had orange juice combined with grenadine syrup. Just look at those neatly folded yellow napkins in the shape of Phua Chu Kang's famous yellow boots. Aren't they cute?
We started with an appetizer namely the Seafood Terrine, Grilled Mussel served with Pickled Carrot, Beet Root Puree and Sun-Dried Tomato Essence. It was light and yet refreshing to start off the meal. There were some bits of salmon found in the flavorful terrine. The grilled mussel went well with the rest of the condiments, namely the pickled carrot slices which had some hints of sugar and lime juice.
The Creamy Pumpkin Soup with Pine Nuts was something I enjoyed most. It had a creamy and natural sweetness with a slight touch of herbs. The added pine nuts complemented the dish further with some nutty bites. It was a perfect dish.
Next on the list was the main course which consisted of Baked Chicken Stuffed Horseradish Topped with Tomato Basil Jam, Shitake & Lentil and Orange Emulsion with Asparagus. Since it was a stuffed chicken breast meat, I had expected the texture to be on the dry side but the tomato basil jam with some drips of orange emulsion gave the dish an aromatic and flavorful bite. The sautéed shitake mushrooms with lentils was something rather unique. It had an earthly yet nutty flavor. Unfortunately, it was a bit dry to my liking. Some additions of cream and butter or just some nice gravy would have done the side dish more justice.
We ended the meal with a simple Classic Tiramisu with Clear Vanilla Sauce and some coffee/tea. The dessert was light and fluffy and I love it. The clear vanilla sauce was rather mild to go with this dessert.
Of course the best was saved for the last. We had a grand entrance by none other than the multi-faceted comedian, singer and actor, Mr Gurmit Singh aka Phua Chu Kang. He started the show by having some easy games on stage with some volunteered diners. You would hear many funny jokes from him too.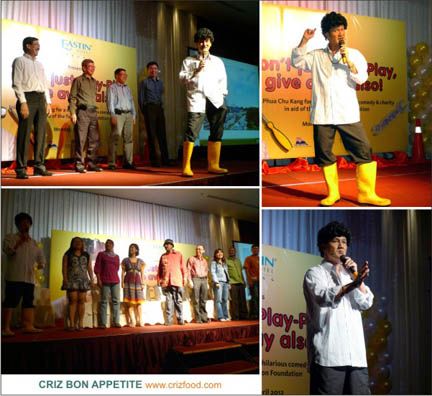 Well… this Gurmit Singh sure gave us a nice surprise by rendering a few cool ballads. Who would have expected that this Singh can sing so well? He has a great voice indeed. Here are some videos on his singing skills.
He was so comical when he invited 4 persons from the crowd as his background dancers. They have to follow all his dancing steps. Hilarious!
The charity dinner ended with a short autograph and photography session with Gurmit Singh.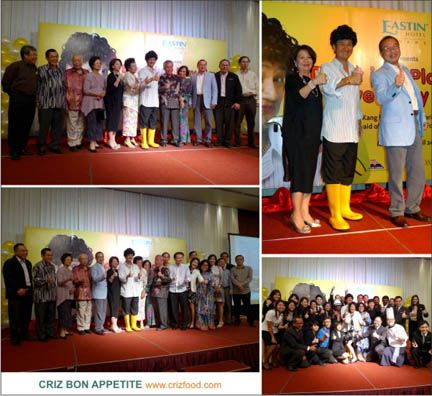 I was lucky to get his autograph too. 😛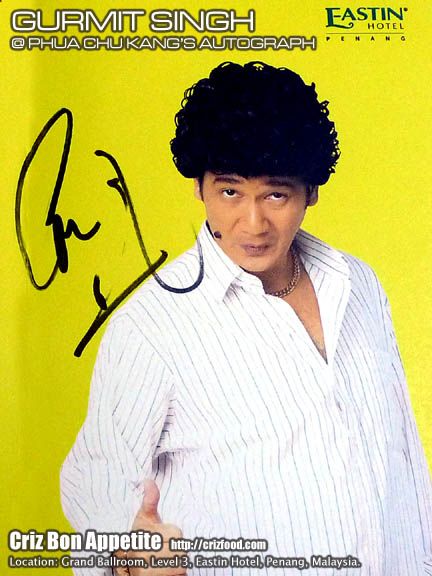 Thanks to the Eastin Hotel Penang team who had put in the extra effort to fly in Gurmit Singh for a great experience for Penangites and at the same time make the lives of the less fortunate more bearable through this charity event. A job well done! 🙂
Eastin Hotel, Penang is located just next to Queensbay Mall. If you are coming from Georgetown towards Bayan Lepas Free Trade Zone via Bayan Lepas Expressway, do watch out for the Pulau Jerejak signboard (leading to Pulau Jerejak jetty). Ignore the turning and drive on to the next left junction. Turn left into Jalan Aziz Ibrahim and drive on until you a roundabout. Turn 3 o' clock and drive on until you see a big Eastin Hotel signboard at the first right junction. Turn right and drive on. Park your car at the basement car park. Take a lift to the third floor and you would see the Grand Ballroom where the charity event would be held.
Name: EASTIN HOTEL PENANG
Address: 1 Solok Bayan Indah, Queens Bay, 11900 Bayan Lepas, Penang, Malaysia.
Ticket Purchase: 604-612 1111
Event Date: 23 April 2012 (Monday)
Event Hours: 6.30pm-9.30pm
GPS: 5.33643, 100.306345