NOTE: THIS RESTAURANT HAS CEASED ITS OPERATION IN LATE 2012
One of Penang's newest premium food and beverage hub venues would be at Precinct 10, just next to Island Plaza along Jalan Tanjung Tokong, Penang. A contemporary restaurant named Chez Weng, another brainchild outlet of Chef Weng, has opened up for business with the same concept and essence as its predecessor, Cassis, at Bellisa Row, Penang. The name Chez Weng actually has an in-depth meaning in French. It depicts that of the home or business place of Weng, thus the little heaven of the down-to-earth Chef Weng. The restaurant promised a simple, spacious and yet sophisticated ambience to soothe all moods from having a casual dining experience to indulging some drinks with the companies of family and friends. There would also be a band playing on occasional nights.
Set lunch (RM38++ to RM58++) and set dinner (RM48++ to RM88++) would also be available daily. Both meals would have either a salad or a soup, a main course of your preference, a dessert and coffee or tea. As for the Ala Carte menu, you can start off with cold or hot appetizers, soups, salads, pastas, pizzas, mains, steaks (with an option for 2 side dishes and a sauce of your choice), kid's menu and desserts. Beverages would range from coffees, teas, juices, a few brands of mineral water, beers and wines.
We started the meal with Fresh Bread and Dukkah (RM16++). The fresh bread looked quite similar to that of the pita flat bread but was herbs induced. It was served with a mini bowls of Extra Virgin Olive Oil and Dukkah, a Middle Eastern nuts and spice blend. We had a fun time peeling the bread, dipping into the olive oil and then into the Dukkah for a new nutty experience. It was indeed nice but my preference would still be bread with Hummus like the one I had during Sigi's Arabian Night 2011. At least, this combination would be more smooth flowing to the mouth and suitable for those elderly diners.
We also had some appetizers such as the Serrano Hams (RM22++). The paper thin sliced Spanish pride pork ham which has been cured for at least a year was served with thinly sliced fresh pear, manchego cheese, young watercress leaves and with a dash of black pepper. To me, the ham slices was a bit dry and combined with the sheep's milk made Spanish manchego cheese, it had that waxy after taste. I would surely prefer some goat's milk made feta cheese soaked in olive oil for this combination.
The next appetizer was the Prosciutto (RM22++). The Italian version of dry cured ham slices, Prosciutto or sometimes known as Parma Ham were saltier and had more moisture than the former. It came with rock melon slices, parmesan cheese, rocket salad, a dash of extra virgin olive oil and black pepper. This combination surely fair better in my opinion compared to the former appetizer.
We also had some pizzas made from all the freshest ingredients available on homemade pizza dough. The first that came out was the Portobello Mushroom, Garlic Confit, Truffle Oil Pizza (RM35++). The earthly flavors from the mushroom, combined with a tad of saltiness from the sliced garlic confit, generous sprinkles of fresh herbs and grated parmesan cheese was pizza perfect. Even the homemade tomato puree spread complemented each ingredient well. I would say this was one of my favorites.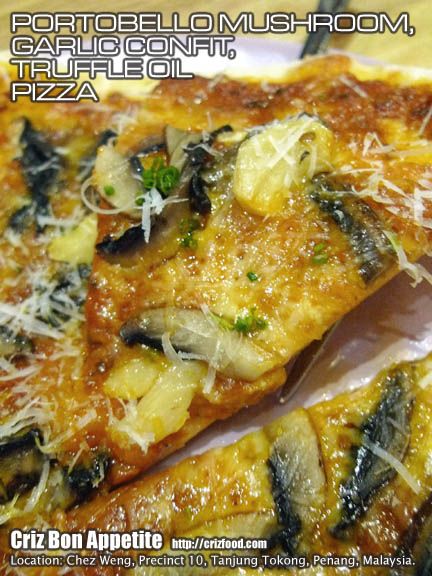 The next pizza was the Pepperoni & Cheese Pizza (RM35++). You can never go wrong with beef pepperoni and cheese. It was simple and yet fulfilling.
We also had the Tomato, Basil & Mozarella Cheese Pizza (RM35++). If you love more sweetness from tomatoes, this would definitely be one pizza to look out for. Since cherry tomatoes were in season, and to have these cute little fruits on the pizza was awesome. Each bite truly gave me a squirt and juicy sensation in the mouth. I love this pizza a lot too.
Last but not least, the Prosciutto, Pear, Rocket Salad and Parmesan Cheese Pizza (RM35++) was presented to us. The saltiness for the Prosciutto hams, the fruity flavor from the sliced pears, the freshness from the garnished rocket Salad and the cheesiness for the parmesan cheese blended in real well, except that I would surely prefer my fruit toppings to be a bit juicier.
We had quite some great options for main course. We started off with Duck Confit (RM38++). The chef did a great job in roasting the duck drumstick to perfection. Not only was the golden brown crisp on the skin beautifully done, the meat itself was tender and juicy with some mild seasonings. The smoked sausage was also delicious. The meat was served on some mashed potatoes and some blanched broccoli. The combination of the remaining duck juices and orange juice gave that unique tanginess to the overall flavors. The only setback was that the mashed potatoes was done too fine compared to the more coarsely done ones I preferred.
The Atlantic Salmon (RM38++) was presented quite uniquely too. The salmon fillet was well pan grilled to maintain the freshness and moist within. The fillet was then topped on a mixture of mashed potatoes with chives and garnished with some stir fried spinach. These were served with beurre blanc or white butter which had some twists of lemon juice and white wine. At some point, the combination of taste had some "laksa" aftertaste. It was a totally different experience for all.
Pork Belly (RM38++) was served next. This dish got me curious as I was quite amazed at how the chef managed to get rid of the porky scent and at the same time managed to keep the meat so tender and juicy. Initially, I thought it was cooked the pressurized method until I clarified with the chef. The meat has gone through a process called sous-vide, where the meat has been vacuum plastic packed and cooked in low temperature heated water for more than 48 hours. Wow! That was one method I had not applied in my own cooking. It was genius! The meat had the skin removed and seared to brown the fat and to keep the juice within. It was presented in thick slices on mashed potatoes and served with stir fried spinach with raisins and red wine syrup.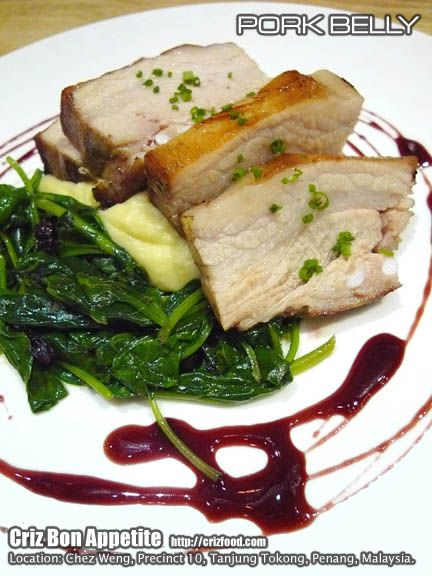 Another awesome dish would be the Australian Rack of Lamb (RM68++), served medium rare. The portion was just right and the meat was tender as it should be. The flavors were great with some hints from rosemary and anchovy juice. The rack was served with some sautéed zucchini and coarsely grated potato cake. Beautiful!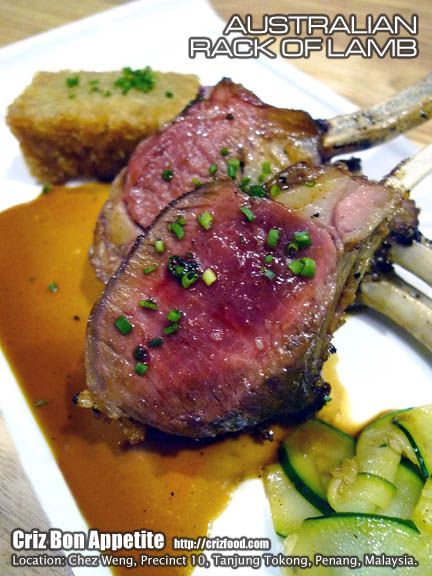 We also tried out the US Black Angus Tenderloin (RM88++ – 200gms), served medium rare as well. It was served on some mashed potatoes, blanched broccoli and red wine syrup. The flavorful marinates combined with the tender and juicy meat made this dish, the dish to yearn for just for anyone. It was perfect!
The next dish was one dish that I had heard about a lot through some of the foreign food channels but did not have the opportunity to try it out. It was the Squid Ink Aglio Olio with Seafood (RM38++). The usage of fresh herbs, garlic and chili flakes in extra virgin olive oil with the al dente of the pasta made this dish a must try. Combined with the flavors of the seafood, it was another delicious dish. Somehow there was this distinctive fragrant and salty taste that pepped up the overall flavors. I could be wrong but it tasted like there were some pickled salted garlic cloves added in. Moreover, there was one mystery to be solved here. Why the squid ink spaghetti tasted just like any other pasta without the distinctive flavors from the squids? After much clarification from the chef, the mystery was solved. Although the chef has the Spain imported thick and sticky squid ink available, the rich sea brine tasting sauce was not suitable for the status of corporate diners. I tried out just one drop of the sauce and it got my tongue stained for more than 3 hours! Can you imagine having black lips, black teeth and black tongue if you were to attend a meeting after having a plateful of the delicious pasta with squid ink? That would be a joke for all~ LOL!
We ended up the dinner with what they have on their dessert section on the menu. Firstly, it was the Orange Vanilla Crème Brulee (RM16++). The tangy with a tint of vanilla flavors on the crème brulee was perfect to end a meal. It had a thin layer of torch burned caramelized candy on the surface.
The next dessert was the Banana Strudel with Peanut Butter Ice Cream and Chocolate Sauce (RM16++). I love the way they rolled up the phyllo pastry just like how you would get for a mini spring roll. It tasted nice with the accompanied ice cream.
Chocolate Mousse with Marinated Strawberry, Cookies Crumbles & Brandy Sauce (RM16++) was served next. One tiny scoop of the mousse in your mouth and you would know that the cocoa powder used in the dessert was of an imported brand as it was filled with rich chocolate flavor. Taken in together with the cookie crumbles and brandy sauce, it was just heavenly.
Apple pie has always been my favorite as it has that nice cinnamon flavor in it and the next course which was the Apple Pie with Cinnamon Ice Cream & Caramel Sauce (RM16++) was one dessert I would not get sick of. It was wrapped just like the strudel and presented with some sandy caramel sauce. Wonderful!
The last dessert on the menu was the Panna Cotta with Fresh Berries and Chocolate Sauce (RM16++). To me, this was just another of those milk, cream and sugar concocted jelly served with fruits and sauce. It was nothing fanciful but one thing for sure was that the kitchen has made it to the firmness and texture that I would love to have.
Overall, the food served here can be real satisfying if you are a diner who prefers to have your food served right at its original taste. Leave it to expertise of Chef Weng, who had over a decade of culinary skills acquired during his rendezvous years in San Francisco and Western Australia. I quite like the food here as chef did a great job in preparing the dishes with different methods of cooking, thus maintaining the juiciness of the meat dishes while using the most basic and freshest ingredients to pep up the flavors. It was a job well done indeed. Prices of food are still within the acceptance of the public, though a 10% Service Tax and 6 % Government Tax would be imposed on all orders. Thanks to yourfoodreview.com in coalition with myooo.my and the management of Chez Weng for providing me the opportunity to experience such a wonderful restaurant.
Precinct 10 is just next to the Island Plaza along Jalan Tanjung Tokong. If you are coming from town area towards Batu Ferringghi, just take note of the second traffic light (Jalan Tanjung Tokong/ Jalan Fettes/ Jalan Seri Tanjung Pinang). Island Plaza is on your right. Make a U-Turn at the traffic lights and you will see Precinct 10 right after Island Plaza on the left. There are ample parking spaces at the premises. Parking fees would be around RM1/hour. You can visibly see Chez Weng sandwiched in between Oldtown and Snow House on your right.
Name: CHEZ WENG @ PRECINCT 10
Address: 10-C-18 & 19, Precinct 10, Jalan Tanjung Tokong, Tanjung Tokong, 10470 Penang, Malaysia.
Contact: 604-899 9878
Business Hours: 11.30am – 11.00pm (Closed Monday)
GPS: 5.448970, 100.306020
RATING:
Ambience: 8/10 (1-4 cheap, 5-7 average, 8-10 classy)
Food Choices: 8/10 (1-4 limited, 5-7 average, 8-10 many choices)
Taste: 8.5/10 (1-4 tasteless, 5-7 average, 8-10 excellent)
Pricing: 8/10 (1-4 cheap, 5-7 average, 8-10 expensive)
Service: 8.5/10 (1-4 bad, 5-7 average, 8-10 excellent)