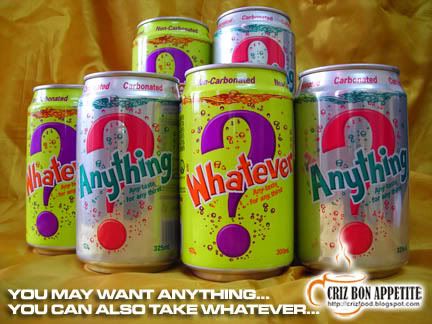 There is something new in the market that will take over the beverage industry by storm in no time. ANYTHING and WHATEVER was launched on 3 June 2008 at Armada Hotel, Petaling Jaya, Malaysia. The idea and creative came from Out Of The Box Pte. Ltd. from Singapore and the beverages are being distributed by Tongee (KL) Sdn. Bhd. in Malaysia.
What makes these products so unique is that you will never know what drink you will be having until you open up the can and test it out. There won't be any more problems in deciding what beverage to have again next time. That's the thrill of getting surprises and I'm sure lots of people would like to try them out.
ANYTHING which is carbonated has six flavors such as Cola, Cola with Lemon, Apple, Fizz Up, Cloudy Lemon and Root Beer.
On the other hand, WHATEVER which is non-carbonated has also six flavors such as Ice Lemon Tea, Peach Tea, Jasmine Green Tea, White Grape Tea, Apple Tea and Chrysanthemum Tea.
I immediately got hold of half a dozen of each when I was at 7-Eleven recently. I just love surprises. It's selling at RM1.80 per can. So far I had the Apple, Root Beer, Jasmine Green Tea and Peach Tea and the tastes met up with my expectations. They were great! What an ideal beverage for parties, picnics, BBQ, etc! I am sure your guest will love all the surprises you are giving them. Presently, you will see the ANYTHING and WHATEVER posters at all the 7-Eleven outlets all across Peninsular Malaysia. You can even get them in Jusco. Within the next few months, I am certain that most cafés, bistros, kopitiams, mamaks and convenient shops will have them available for the public.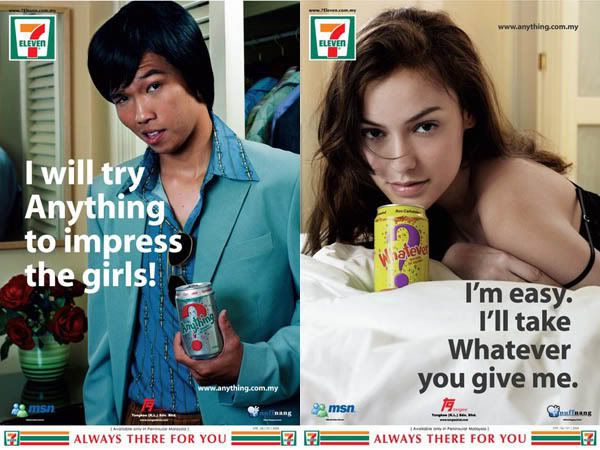 I saw their TVCs and was laughing all the way. Here are the two TV Commercials directed by the acclaimed Mr. Thononchai Sornsriwichai who was a highly awarded director in the world in 2006.
ANYTHING COMMERCIAL:
WHATEVER COMMERCIAL:
Name: TONGEE (KL) SDN. BHD.
Address:
No. 3 & 5, Jalan Segambut Pusat, Segamut Industrial Area,
Segamut, 51200 Kuala Lumpur, Malaysia.
Tel: 603-6253 1111
Fax: 603-6253 0000
Email: jeremy@tongeeklsb.com
Website: http://www.anything.com.my/
RATING:
Choices: 8/10 (1-4 limited, 5-7 average, 8-10 many choices)
Taste: 8/10 (1-4 tasteless, 5-7 average, 8-10 excellent)
Pricing: 7/10 (1-4 cheap, 5-7 average, 8-10 expensive)