With the inspiration from a plant with heart shaped leaves called Sweetheart Hoya, a restaurant known as Sweet Heart Restaurant was established since 2005. Strategically located nearby the hustle and bustle of the Pulau Tikus market, this restaurant surprisingly gives you the relaxing environment with the peace and tranquil one would hardly expect. It's a cool place to be in as the whole theme would be based on their motto "The Fragrance of the Refreshment comes from the Heart". What would be the best way than to present them in edible forms?
The best part of indulging yourself in such a restaurant is that the food served here would be of home cooked styles without any unnecessary flavorings. The dishes would be cooked in the simplest and most healthy way and yet bringing out the best in each dish. Even those fragrant flower tea drinks served there were refreshingly healthy. It's indeed a healthy place for everyone.
Other than their famous dumplings, noodles and impressive set lunch menus, the restaurant has recently cooked up some promotions to cater for the Chinese New Year crowds. A few of the Penang floggers had the privilege to try out the dinner last night. Prior to starting the food tasting for the Chinese New Year promotion, we were given a few types of sauces. There were fried onions, ginger in black vinegar and chili powder in oil meant for the jiaozi and guotie which we would be having later on. On top of that, we were also given some Chinese, Japanese and Siam sauces too.
Lotus Root with Sugar & Vinegar (RM3) was also served as an appetizer where slices of lotus root were marinated in sugar and apple cider vinegar. Apple cider vinegar is believed to be able to lower cholesterol level. This is indeed something different for us.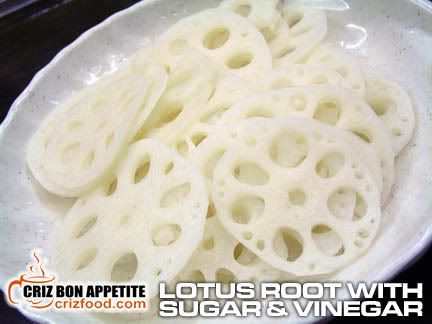 During most Chinese dinners, soup would always be the first to be served. We were treated with Hot & Sour Soup (RM5/bowl). The soup contained 3 types of vinegar, namely black, white vinegar and apple cider vinegar with cube of bean curds, crabsticks, wood ear fungus, pickled shanghai vegetable, chopped chilies, fish maws, beaten egg white and so on. It was indeed appetizing.
Another few appetizers worth mentioning would be their paper rice rolls. We had the opportunity to try out their Prawn Vegetable Rolls (RM7.60), Egg Vegetable Rolls (RM6.60) and Unagi Vegetable Rolls (RM7.60). They were perfect as each roll was filled with freshly sliced vegetables.
There were also the restaurant's in-house specialties such as Fried Bean Curd (RM4.80), Prawn & Leeks Guotie (RM9.60) and Cheese & Chicken Guotie (RM10.80). The Fried Bean Curd was extremely tasty as the inner part has so many ingredients in it. The outer part has the crunchiness of the special batter, making the whole mouthful very delightful. It was great having these with the Siam Chili Sauce provided.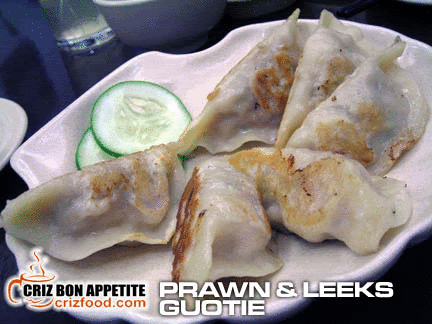 Next on the list was the 7-course Chinese New Year Promotion, which consists of Stir Fry Mixed Vegetables with Mushroom (RMRM16.80), Golden Scallop Dumpling (RM18.80), Fried Prawns with Garlic (RM18.80), Steamed Cod Fish with Bean Curd (RM29.80), Prosperous Year in Malaysia (RM6.80), Snake Squash with Pork (RM11.80) and Sponge Gourd with Pork (RM13.80).
The Stir Fry Mixed Vegetables with Mushroom had some nice and sweet gravy with lots of greens and mushroom in it. Simple but yet it contained great vitamin and minerals to the body. The Golden Scallop Dumpling which has some carrot juice made skin contained a juicy fresh scallop each. The Fried Prawns with Garlic was another great dish as the prawns were mixed with some chopped garlic batter and oil fried to perfection, giving each prawn the fragrant bite. The Steamed Cod Fish with Bean Curd did not let anyone down as some even ordered some rice to be taken with the tasty gravy. The Prosperous Year in Malaysia was actually deep fried chicken wings and drumlets. What made this dish stood out was the smell and taste of sliced Kaffir lime leaves and shallots within the marinated pieces. The Snake Squash with Pork was a rather unique dish for many as most of us had not known the existence of such a vegetable. The taste was somewhat like munching cooked celery minus the strong celery herby taste. The Sponge Gourd with Pork was somewhat different compared to the rest as it was cooked with Angelica sinensis (dong guai or female ginseng). This would be an ideal dish for those who like Chinese herbs cooking.
The meal ended up with noodles, namely Black Jelly Mushroom Fried Noodles (RM8.80), Shredded Pork Noodles (RM7.50) and Ground Pork with Spicy Bean Sauce Noodles (RM7.50). All the handmade noodles tasted great with their own unique tastes, except that the Ground Pork with Spicy Bean Sauce Noodles could be rather pungent for some.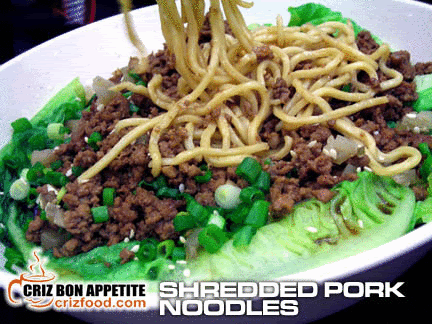 On top of the food, we were also served with two unique combinations of beverages. One would be the Honey Lemon with Aloe Vera (RM6/glass) and sweetened Chamomile & Chrysanthemum Tea (RM4.50/glass). The Honey Lemon with Aloe Vera was lovely as it has cubes of jelly-like Aloe Vera cubes in it. The Chamomile & Chrysanthemum Tea on the other hand was refreshing as Chamomile is believed to be good for the digestive system as well as fighting against fatigue and insomnia. Chrysanthemum has the medicinal value of fighting against flu related viruses.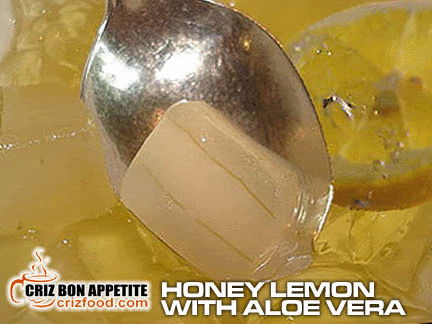 Attended Floggers:
Criz Lai of Criz Bon Appetite
CK Lam of What2See Online (Organizer – Thanks!)
Tam Chiak & Huat Koay of PenangTuaPui
Steven Goh of Steven Goh dot com
Allen Ooi of Yummy Station
Gill & Jason of Gourmet Garden
Carrie of Cariso Delicacies Corner
Mary of Food Paradise
Allie of Heavenly Allie
Bee of Buzzing Life
Reaching the restaurant would be easy if you are coming from Jalan Burmah into Jalan Cantonment. Just drive along Jalan Cantonment until you reach the first left junction (Pulau Tikus Market – Jalan Pasar). Just go further up after this junction and you will see Wisma Kota Kembar – Pulau Pinang-Medan Information and Promotion Centre on the corner lot. The restaurant is just next to this centre.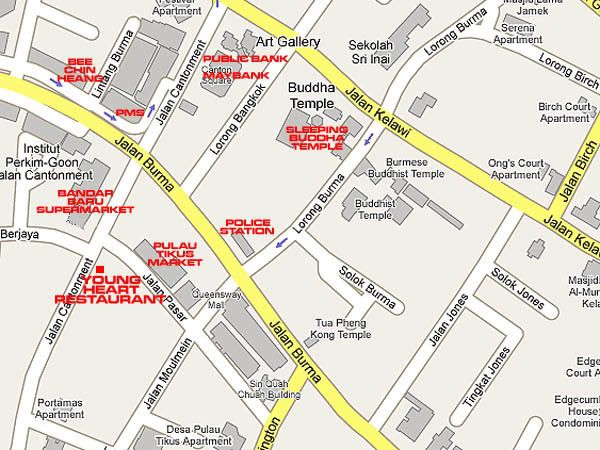 Name: YOUNG HEART RESTAURANT
Address: 44A, Jalan Cantonment, 10350 Penang, Malaysia.
Opening Hours: 12.00noon-10.00pm (Closed Monday)
Contact: 604-228 8084, 016-410 8098 (Ms. Ann Kee)
GPS: 5.430508, 100.311350
RATING:
Ambience: 8/10 (1-4 cheap, 5-7 average, 8-10 classy)
Food Choices: 8/10 (1-4 limited, 5-7 average, 8-10 many choices)
Taste: 8/10 (1-4 tasteless, 5-7 average, 8-10 excellent)
Pricing: 7/10 (1-4 cheap, 5-7 average, 8-10 expensive)
Service: 8/10 (1-4 bad, 5-7 average, 8-10 excellent)