Many of you may not be aware but there is this simple bakery by the name of Wahaha Bakery in Bukit Mertajam, Penang, which had been supplying some great bread and rolls to some of the major health food outlets in mainland as well as on the island for quite some time. What made this bakery outshine in the baking market are some of their unique and trendy creations.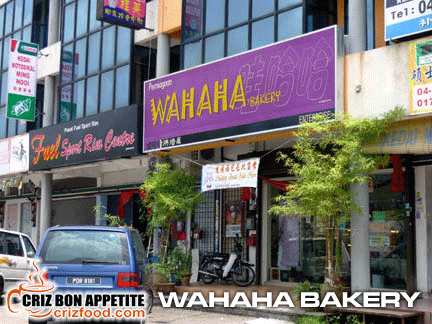 The first thing that attracted me was their bamboo charcoal by-products. Bamboo charcoal has been used as early as in the Ming Dynasty in China for many purposes which include fueling, bedding products as it can emit far infra red rays to help in blood circulation, speed up the metabolism and encourage cell growth, the adjusting of humidity in the atmosphere, air and water purifier such as expelling bad odors, killing bacteria, dietary supplements in improving personal health as well as in beautifying the facial and body skin. Of course there are the bamboo charcoal powder and bamboo vinegar (pyroligneous acid) which had provided many benefits in the world of health and science.
From the above bamboo charcoal powder, you would get some nice and soft Bamboo Charcoal Wholemeal Rolls (RM2.60 for 3pcs) in the shapes of croissants from this bakery. This product has been a craze for some years now as a popular health product especially in Japan, Korea and Taiwan. The product has cleansing properties that would help in blood circulation. The rolls here were lovely as they had the right ashy flavor to my liking. I could even consume them without any spreads of butter, fruity jam or even coconut jam (kaya). At least they do not taste as bitter and charcoal filled as some that I had tried in KL some years back.
The next thing that attracted me was their latest creation – Vegetarian Green Tea Sushi (RM1.50 for 3pcs). The sushi was real cool! It has high quality Japanese seaweed (nori) wrapped around a layer of soft and spongy green tea bread, filled with freshly cut cucumber, carrots and pumpkin floss, with some sushi sauce added in too. This was another unique experience but there's a drawback. It would be better to consume when it is fresh or the moist from the vegetables might make it soggy.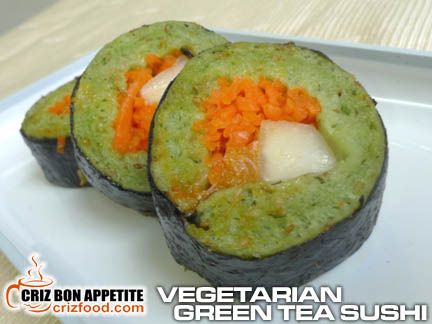 There's also the Green Tea Wholemeal Loaf (RM3.00) that was soft and fluffy. You can take it plain too as there were some sweetened red beans kneaded in them. You can also have the bread slices lightly toasted as an evening snack.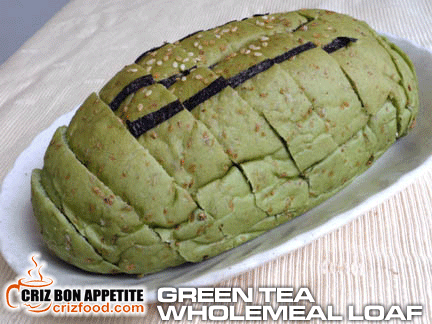 If you think that a loaf of bread would be too much for your consumption, do try out their Black Sesame Wholemeal Rolls (RM2.80 for 6 pcs). Black sesame seeds are high in calcium, iron, copper, magnesium and phosphorus. The copper would strengthen blood vessels, joints and bones, thus is good for relieving arthritis whereas magnesium would support vascular and respiratory health. The calcium would improve your bone health. In Traditional Chinese Medicine (TCM), it's believed that the seeds would promote kidney and liver health as well as to treat constipation and to regulate bowel movements.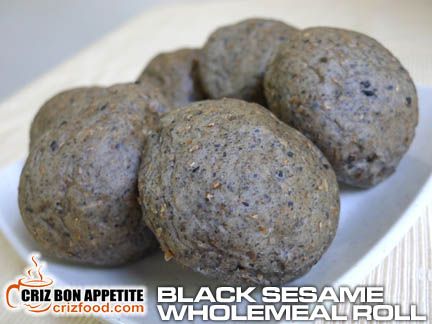 Do you know red has a very high attractive power? I was also attracted by the natural color of the Red Dragon Fruit Cinnamon Roll (RM3.50 for 3 pcs). The red dragon fruit or pitaya is good for those with Type 2 Diabetes as it would help in lowering the blood glucose level. The grounded cinnamon on the other hand would lower the LDL cholesterol level. These fruity flavored soft and delicious rolls had some raisins and sesame seeds added. They were also glazed with some natural honey. I had a real nice tea time.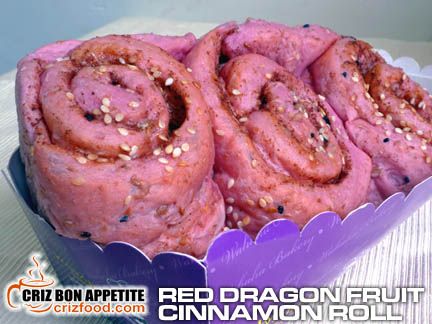 I also had a High Fibre Wholemeal Pumpkin Bun (RM1.80) for tea. The natural sweetness of the pure pumpkin puree within the bun was heaven. The moisture from the filling blended in real nice with the texture of the wholemeal bun.
There were also the Assorted Muffins (RM1.30 each or RM6.00 for 5 pcs – chocolate, blueberry, green tea & black sesame) and Carrot Walnut Muffin (RM1.50 each) that I almost did not have the opportunity to try out. My nieces gobbled them up immediately! Haha! They seemed to be a favorite amongst kids. Well, I love them too as they had the right moist to my liking compared to some that I had tried which were rather hard and dry.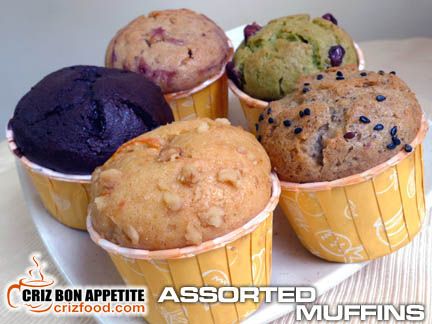 There are also many other products available at this simple bakery which I alone could not cover all but you have to check them out yourself if you happen to be around that area. If you do not intend to go all the way to Bukit Mertajam just to get your healthy bread and rolls, you could always check up some of the outlets below to get some of the products. Make sure you call up first to check on the availability.
Healthy DIY
G-05 Pangsapuri Seri Melur, Jalan Raja Uda, 12300 Butterworth, Penang.
Contact: 012-503 7880 (Jessie)
Kedai Organik Olive Green (opposite Sunshine Bayan Baru)
34 Jalan Mayang Pasir,Bayan Baru, 11950 Bayan Lepas, Pulau Pinang.
Contact: 604-645 2404
Kedai Minuman Nutrisi Healthy Life House (beside Eyewear Shop)
1-G-22, Suntech Penang Cyber City, Lintang Mayang Pasir 3,
Bayan Baru, 11950 Bayan Lepas,Penang.
Contact: 012-431 8805 (SK Tan)
Kafe JenxDan Lifestyle
21 Jalan Chow Thye, 10050 Penang, West Malaysia.
Contact: 604-226 8414, 019-471 9123
If you are coming from Penang Bridge towards Bandar Perda along Jalan Permatang Batu in Bukit Mertajam, keep a lookout for the beautifully designed TNB building within Bandar Perda on your left. Slow down when you reach the traffic lights and turn right into Jalan Padang Lalang. Drive over the railway track and move on until you see the second traffic lights (Mayban is on your right before the traffic lights). Turn right into Jalan Tembikai and drive on until you see another traffic lights (Jalan Tembikai/Lorong Tembikai Satu cross junction). You will see the famous night time Gaik Fong Bak Kut Teh shop on your right. Turn left into Lorong Tembikai Satu and drive on until almost the end and you would see the bakery on your right, third shoplot at the last row of shop houses.
Name: WAHAHA BAKERY
Address:
54 Lorong Tembikai Satu, Kawasan Perindustrian Sungai Rambai,
14000 Bukit Mertajam, Penang, West Malaysia.
Contact: 014-247 0018 (Hoyyee), 012-552 4118 (Mr. Chee)
Business Hours: 9.30am-9.30pm
GPS: 5.358054, 100.448329
RATING:
Ambience: 7/10 (1-4 cheap, 5-7 average, 8-10 classy)
Food Choices: 7.5/10 (1-4 limited, 5-7 average, 8-10 many choices)
Taste: 8/10 (1-4 tasteless, 5-7 average, 8-10 excellent)
Pricing: 7/10 (1-4 cheap, 5-7 average, 8-10 expensive)
Service: 7.5/10 (1-4 bad, 5-7 average, 8-10 excellent)