Roti Canai, a kind of flatbread has become part of the Malaysian meal, whether it is for breakfast, lunch, tea, dinner or supper. The ingredients for the local delicacy consist of plain wheat flour, ghee, egg, salt, sugar and warm water/milk. Everything would be kneaded thoroughly, folded repeatedly and left to proof and rise. The ready dough would then be made into dough balls and coated with butter/oil. Each ball would then be flung until a thin layer is obtained. It would then be folded and cooked on an iron skillet with oil, butter or ghee. The best Roti Canai would be soft and fluffy on the inside while the outside would be flaky and crispy. Normally it would be served with dhal (beans, carrot, and potatoes cooked with coconut milk and spices) or fish curry.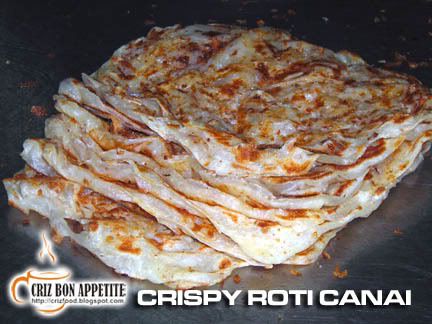 There are also many variations on how a Roti Canai can be served:
Roti Tisu
– The paper thin dough is fried without being folded and served plain or sprinkled with condensed milk
Roti Telur
– The dough is filled with an egg.
Roti Bawang
– The dough is filled with chopped onions.
Roti Planta
– The dough is filled with butter and/or sugar.
Roti Bom
– The dough is filled with butter and condensed milk.
Roti Telur Bawang
– The dough is filled with an egg and chopped onions.
Roti Kaya
– The dough is filled with coconut milk egg jam.
Roti Tuna
– The dough is filled with tuna with mayonnaise.
Roti Sardin
– The dough is filled with sardine in tomato.
Roti Keju
– The dough is filled with grated cheese.
Roti Milo
– The dough is filled with sprinkled Milo powder.
Roti Tampal
– The dough is folded and fried and wrapped with a fried egg
Murtabak Ayam/Daging
– The dough is filled with a cooked combination of a beaten egg mixed with chunks of chicken/mutton, spices and soy sauce. The end product will normally be served with pickled rose syrup onions.
I was down in Port Klang (Pelabuhan Klang) recently and was amazed to find a restaurant having endless stream of consumers (85% Chinese) going for their Roti Canai. The business was so good that you can see SIX workers making the Roti Canai simultaneously. You heard me right… SIX WORKERS! The service there was superb and the Roti Canai was one of the best I have taken so far, crispy and flaky than most of the restaurants I have tried before. Their curry gravy was thick and pungent.
On top of the Roti Canai, they have good fried noodles, nasi lemak (steamed rice with coconut milk served with egg and spicy anchovies) and a wide range of Northern India style of curries to be taken with rice. If you are around that area, you should try them out.
The restaurant is between Taman Chi Leong and Bandar Bukit Tinggi (Malaysia's largest Jaya Jusco is here) within Kawasan 10 of the Port Klang area. If you are not sure, you can ask for directions to Pandamaran Jaya area. If you do not have a GPS, you may have a problem with the road listing as it is quite messy there. Jalan Pandamaran Jaya 62 is actually between Jalan Pandamaran Jaya 18 and Jalan Pandamaran Jaya 99. See what I mean? But it definitely did not stop me from finding the shop. LOL!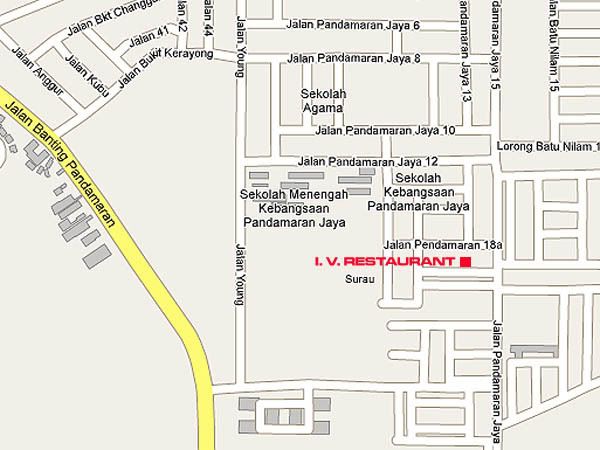 Name: I. V. RESTAURANT (ROTI CANAI PANDAMARAN)
Address:
117, Jalan Pandamaran Jaya 62, 42000 Pelabuhan Klang, Selangor, Malaysia.
Contact: 012-345 3636 (I. V.)
Opening Hours: 5.30am – 5.00pm Daily
GPS: 3.004779, 101.424869
RATING:
Ambience: 7/10 (1-4 cheap, 5-7 average, 8-10 classy)
Food Choices: 8/10 (1-4 limited, 5-7 average, 8-10 many choices)
Taste: 8/10 (1-4 tasteless, 5-7 average, 8-10 excellent)
Pricing: 7/10 (1-4 cheap, 5-7 average, 8-10 expensive)
Service: 9/10 (1-4 bad, 5-7 average, 8-10 excellent)