환영! 환영! Welcome! Welcome! What? I'm in Korea now? Well, not exactly as this was at one of the Korean restaurants in Penang which a few of us had visited not long ago. Carrying the name Sa Rang Chae (사랑채/舍廊居), the food served here was in fact one of the best I had tasted so far. Moreover, the price was very reasonable considering that everything came in large portion. Without much ado, let's jump into the menu and see what would be the food that would make you drool for more.
No matter which Korean restaurant you would pop in, there would always be those mini plates of side dishes and sauce served individually for each diner. There were so many on our table that I had lost count of how many plates in total. LOL! To name some, we had some kimchi, fried tofu in spicy sauce, mixed vegetable strips in mayo, stir fired aubergine (eggplant/brinjal), crunchy anchovies with peanuts, spicy mixed vegetable strips, stir-fry spinach and braised pumpkin cubes. That's quite a lot for starter but I loved every single plate of the side dishes especially the tofu and pumpkin.
The first dish of the day was the Modeum BBQ Set 1 (모듬 – RM150) with choice pieces of beef rib meat, pork rib meat, pork belly, chicken, flower crab, prawns, squids and clams. Boy! I would say I could not stop myself from eating those well marinated pieces of meat and seafood. What was my favorite? BBQ pork belly of course! 😛 To cut down on the oiliness of the meat, a wrap of either lettuce or sesame leaves (깻잎/ kkaennip/Korean perilla leaves) with a dash of the accompanied sauce would be great.
Before we had even finished taking the BBQ, some cold cuts of Jokbal (족발 – RM70) were already waiting for us at the next table. These were actually glazed pig feet meat slices. I was really impressed on the evenly sliced thickness on each piece. The chef was indeed good in his cutting skills. Taken with the accompanied spicy and salty sauce which had some fried dry baby shrimps, the mildly fatty meat just melted into my mouth. It was indeed heavenly good. In fact, the only available size dish was large enough for 8-10 pax.
Along the way came the Japchae (잡채 – RM30), a rather large plate of stir fry glass noodles (당면/dangmyeon/冬粉/tang hoon) with shredded meat, prawns and vegetables. It was garnished with some sliced eggs, chilies and toasted sesame seeds. The base of the sauce had some sweet soy taste and what I like most was the springy texture on the glass noodles.
The next dish was Haemultang (해물탕 – RM80, smaller size available – RM60), a pot spicy hot seafood stew. There were so many types of seafood and vegetables within the pot which included mussels, octopus, squid, prawns, flower crab, scallops, clams, enoki mushroom, some bean curd slices, sliced red chilies, green chilies, bird's eye chilies and red chili paste. This pot of goodness was indeed a fiery pot rather than a spicy pot. However, I loved the dish quite a lot too. The sweetness of the soup from all the ingredients thereafter was superb. It was like having a concentrated "prawn noodles aka Hokkien Mee" with some additional blended red chilies. Thumbs up for this dish!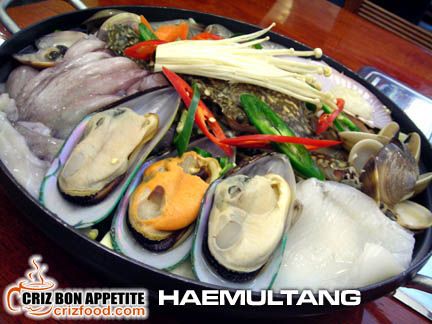 One look at the color of our next dish which was Ojingeo Samgyeopsal Bokkeum (오징어 삼겹설 볶음 – RM30) would surely give you another sweaty sensation. Yup! The next dish was indeed hot and spicy. It consisted of squid strips and pork belly slices nicely stir fried in their in-house spicy sauce. Hot as it may seemed in the beginning, we managed to finish off the whole plate as the squid strips were really succulent and the pork belly meat was amazingly tender. I would advise you to get a bowl of rice to go with this dish to cut down on the spiciness. This would be another great dish for those spicy food eaters.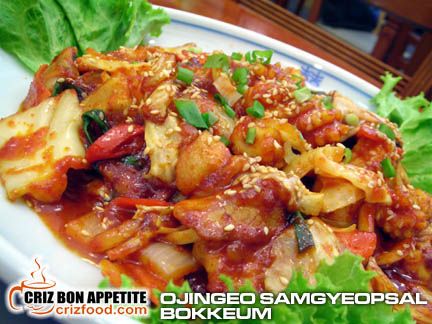 Next on the list was a spicy fish dish known as Agwijjim (어귀찜 – RM80, smaller size available – RM60). Agwi is actually an ugly looking blackmouth angler (sometimes known as monkfish) which was originated from the city of Masan, South Gyeongsang Province. The texture of flesh is somewhat between the softness of a dory fish and the firmness of a giant grouper. The fish was cooked with soybean sprouts with its rich taste and spiciness coming some chili powder, chopped garlic, chopped scallions, soy sauce and a hint of fermented soy beans. This large portioned dish was presented on a bed of lettuce and sprinkled with some toasted sesame.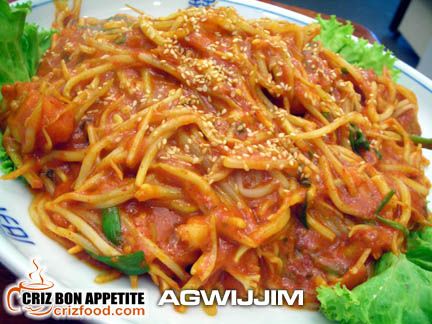 We all loved the next dish which was the Maewoon Kalbi Tang (매운갈비탕 – RM30, smaller size available – RM20). It was actually pork ribs stewed in a hot pot of spicy broth with some glass noodles (冬粉/tang hoon), radish, carrot, potatoes, non glutinous rice cake (garaeddeok/가래떡 or sometimes known as just ddeok/떡), red dates, and chilies of all kinds. Towards the end when all the already thickened broth got absorbed into the springy textured glass noodles, this dish was at its peak. This would be a great dish to opt for if you do not want to have rice.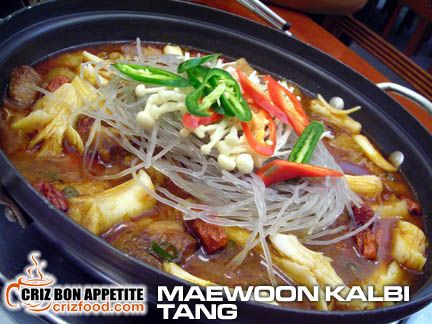 If you still yearn for more hot and spicy Korean dishes, you can always try out their Dakgalbi (닭갈비 – RM50). It had some choice pieces of grilled chicken, slowly simmered with some cabbages, carrots, onions, scallions, sweet potatoes, chilies in some honey sweet and chili spicy broth with a hint of rice wine. I simply loved those juicy and chili spiced up pieces of chicken.
You could also have some Soju (소주/燒酒/Korean Gin – RM25/bottle) to flow down the hot and spicy food. Do check with the restaurant on which brands to recommend. What we had was the Chamisul (참 이슬 meaning "real dew"), a popular soju produced by Jinro (진로 /眞露), the largest manufacturer of soju, based in South Korea.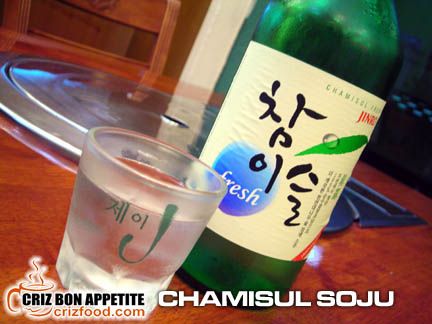 Overall, we had a great time trying out the good food over in this restaurant. It was the best I had in years. I must take this opportunity to thanks Mr. Kevin Kim and his beautiful wife, Mdm. Lim Soo Yeon for bringing such great Korean food to Penang. You might want to pay them a visit to check out on their ongoing promotions or even book a place for your coming Chinese New Year reunion dinner.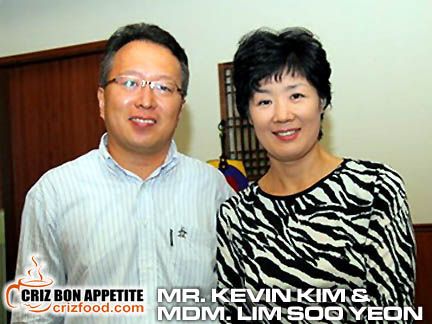 It's easy to find the restaurant as it's directly opposite Penang Chinese Girls' High School (Peng Hwa High School/檳華女子中學) and at a ground floor corner lot within the New Bob Centre along Jalan Gottlieb. If you are still unsure about the venue, drive all the way along Jalan Burma passed Adventist Hospital (on your left) and 1-Stop Midlands Park Centre (on your right) until you see the Jalan Burma/Jalan Gottlieb traffic lights. Turn left and drive on until you see Goodall Food Court. Slow down and turn left into the service road after the food court. Prominent landmark would be the 7-11 shop. Parking can be quite scare during certain period of time. There's always the underground car park within the New Bob Centre for your parking convenience.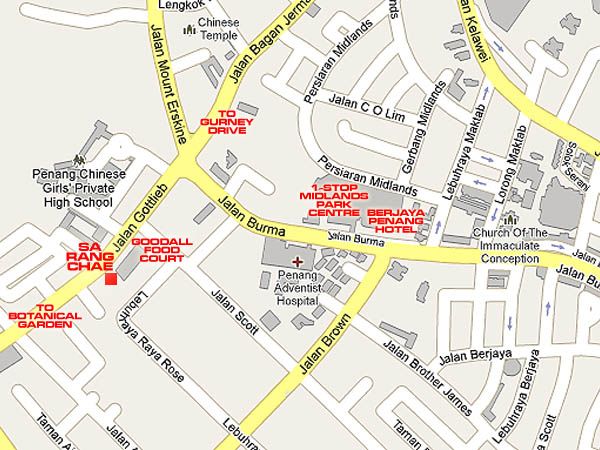 Name: SA RANG CHAE KOREAN RESTAURANT
Address: 11-G-1&2, Jalan Gottlieb (New Bob Centre), 10350 Penang.
Contact: 604-226 3587, 012-468 6700 (Mdm. Lim Soo Yeon/Mr. Kim)
Business Hours: 12.00noon-3.00pm, 6.00pm-10.30pm (Closed Monday Lunch)
GPS: 5.432084, 100.301914
RATING:
Ambience: 8/10 (1-4 cheap, 5-7 average, 8-10 classy)
Food Choices: 8/10 (1-4 limited, 5-7 average, 8-10 many choices)
Taste: 9/10 (1-4 tasteless, 5-7 average, 8-10 excellent)
Pricing: 7.5/10 (1-4 cheap, 5-7 average, 8-10 expensive)
Service: 9/10 (1-4 bad, 5-7 average, 8-10 excellent)
Organizer:
CK Lam & hubby
Attendees:
Lingzie
Huat Koay
Albert Yap
Criz Lai & Johnny Tan
Steven Goh
NKOTB