The name Sakae Sushi is already well known throughout the Asian region since its establishment in Singapore in 1997. Today it had expanded to more than 70 branches in Malaysia (Penang, Perak, Selangor & Kuala Lumpur), Singapore, Thailand, Indonesia, Philippines, Vietnam to as far as China. The menu is ever changing with special theme promotion monthly such as the Anago Promotion for the month of June 2012. Economically priced compared to most of the Japanese restaurants around, it catered to the demands and budgets of locals and tourists alike real well. On top of being the first Japanese restaurant to enrich its sushi rice with Vitamin E, it also flew in fresh supplies of Omega-3 rich Norwegian salmons to ensure the satisfactions of every Japanese food enthusiasts. There are many choices of items available just for anyone, ranging from their Sakae's Signature Sushi & Sashimi, Appetizers, Tempura, Rice, Udon and Soba to simple yet impressive kids' meals.
We started off with a large bowl of Kaisen Salad (海鮮沙拉 – RM16.90++). The tantalizing salad was large enough for the consumptions of 2 persons. It came with refreshing selections of coral green and red lettuces, seaweed, cabbages, cherry tomatoes, broccoli, topped with fresh prawns, tuna flakes, snow crab leg meat, ebiko and dressed with their specially concocted goma dressing. What excelled here was the goma dressing. It had that earthly yet peanut nutty flavor with sesame oil, salad oil, soy sauce, sugar and rice vinegar and mayonnaise being added. It was so appetizing that we had to ask for more dressing to coat every part of the vegetables. Thumbs up!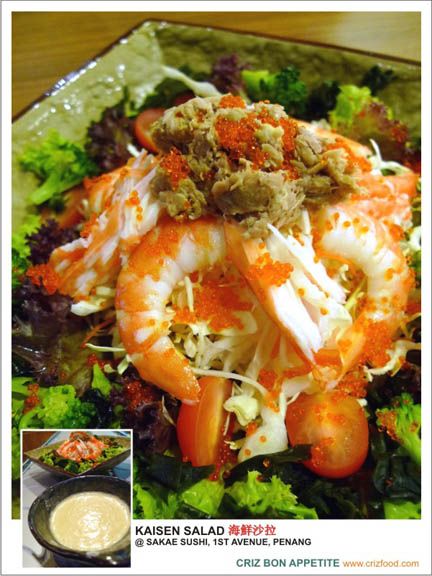 Well, one of my favorite at most Japanese restaurants would be the Chuka Idako (凉拌小八爪魚 – RM7.99++), a marinated boiled baby octopus flavored with mirin, teriyaki, miso, brown sugar, sesame oil, red food coloring with a mix of toasted sesame seeds. The portion served here came with 4 flavorful baby octopuses with a high hint of sesame oil just to my liking.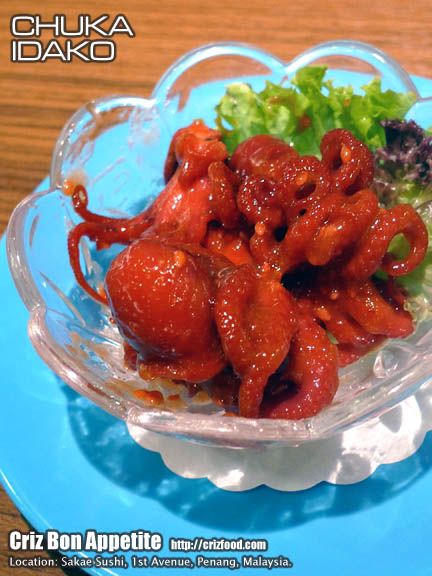 Their Sakae Chawanmushi (榮茶碗蒸 – RM3.99++) was also nice as it had that thick high stock flavors. The dish had chicken, crabstick, ginkgo nut and shitake mushroom slices in the steamed egg and garnished with some vegetarian shark's fin and fresh shimeji mushrooms.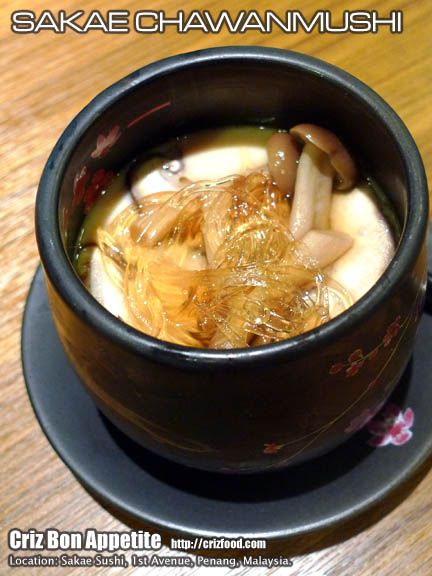 We were introduced to some of the innovative sushi creations and one of them was the Inari Avocado Ebi (稻禾酪梨蝦 – RM7.99++). It basically came with a sweet bean curd skin filled with some sushi rice and topped with some cuts from a whole prawn mixed with avocado and salad dressing plus a battered coated prawn head. The crispy prawn head can be eaten but do watch out for the spike on the head. The creaminess of the avocado blended in well for this combination.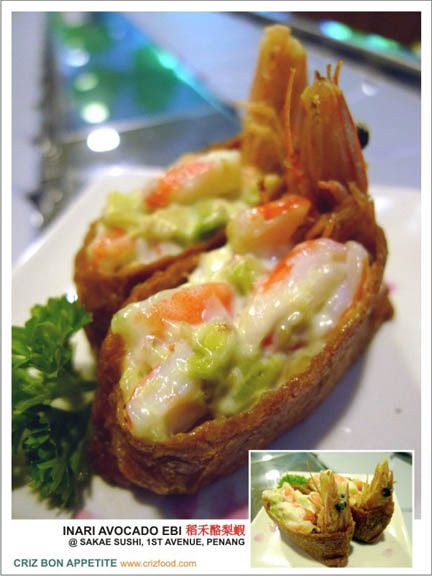 The next sushi which was the Sakae Blossom (榮之花 – RM9.99++) not only impressed us with its intricate design but also on its taste. The maki had cucumber and finely cubed crabstick in mayonnaise wrapped in nori (dry seaweed sheet) and sushi rice, rolled with some ebiko (shrimp roe) and topped with a flower shaped mildly grilled salmon, some mayonnaise and a petal of parsley. The whole combination was so smooth flowing in the mouth. 🙂
Next on the list was the Soft Shell Crab Maki (辣味軟殼蟹卷 – RM5.99++). The maki had cucumber and battered deep fried soft shell crab wrapped in nori (dry seaweed sheet) and sushi rice, capped with sweet bean curd skin and dressed with some spicy mayonnaise. It was not bad but I wished the soft shell crab was a bit crispier.
Another new introduction was the Ebi Crepe (黃金蝦卷 – RM5.99++). This was a totally out of the norm way of making sushi without nori and/or sushi rice. It had some lettuce, egg mayonnaise with slight butter peppery taste and prawn wrapped in a thin layered crepe. It was nice but too Westernized for a sushi.
The next sushi which was the Hana Maki (鮭魚花卷 – RM9.99++) was also one of our favorites. It had a little sushi rice ball wrapped with a slice of fresh and appetizing salmon fillet, topped with some mayonnaise, garnished with some ebiko and a petal of parsley. It was heavenly smooth to the bite.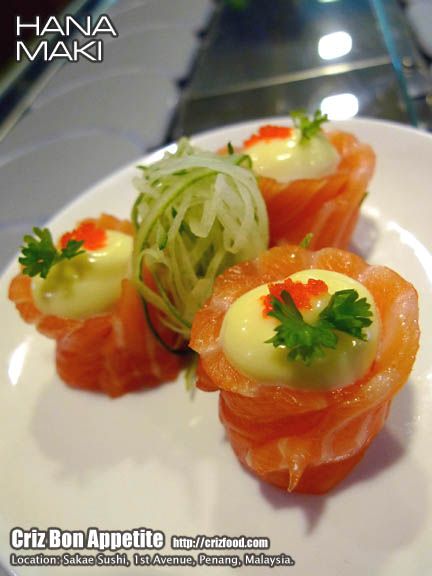 For scallop lovers, there would be the Hotate Mentaiyaki (香烤明太子扇貝 – RM20.90) to savor. It had 4 half shell scallops topped with a combination of cod fish roes (mentaiko/明太子) extracts, mayonnaise and mozzarella cheese and grilled to perfection. With a mild squeeze of lemon juice, it was rather appetizing.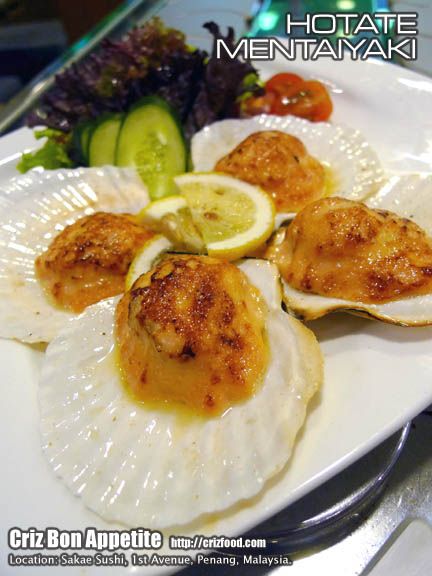 On top of those sushi choices, we were served with Kaisen Pirikara Nabe (海鮮泡菜湯 – RM24.90++), an appetizing hot pot with prawns, scallops, squids, salmon, shitake & enoki mushrooms, tofu, onions, cabbages, leeks, carrots, spinach, kimchi (fermented vegetables of specific kind) and glass noodles. Although the soup had a rather red color, it was rather mild on the spiciness unlike those kimchi soup you would get from a Korean restaurant. It would be great if the restaurant have options for the level of spiciness. Moreover, it lacked some shoyu to pep up the salty flavor for the right balance. Overall, it was still an acceptable bowl of soup, considering that the seafood added were extremely fresh.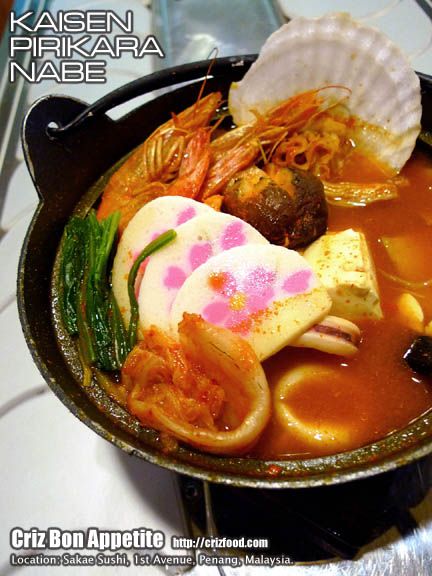 We also tasted out their Curry Udon (日式咖哩雞烏冬麵 – RM12.90++). This bowl had quite a large portion of wheat noodles (udon) topped with a mild curry flavored potato stew like gravy. It has a generous amount of chicken meat, some fish cake slices, cubed potatoes and carrots. Personally, I would prefer to have chunks of chicken drumstick meat for the curry rather than chicken breast meat slices as they were rather bland to my liking.
For those who yearn for some rice, there would always be the bento meals such as the Ebi Ten Jyu (海老天婦羅飯 – RM15.90++). The dish would be served with an onion omelette with sauce on steamed Japanese rice and topped with 3 tempura prawns. I personally found the tempura batter on the prawns to be a bit too thick to my liking, unlike those nice ones I had eaten at Miraku Japanese Restaurant, G Hotel, Penang. Moreover, I had to request for some tempura sauce since it was not provided for this set. At least, the sauce did pep up more flavors for my rice.
Alternatively, there was also the Haru (春 – RM24.90++) which had salmon and chicken teriyaki served with plain steamed Japanese rice, chawanmushi and miso soup. The finely grilled salmon fillet with a salty sweet taste and the flavorful tender chicken pieces with a slightly sweeter teriyaki flavor went well with the rice. Even the chawanmushi and miso soup were up to their standards.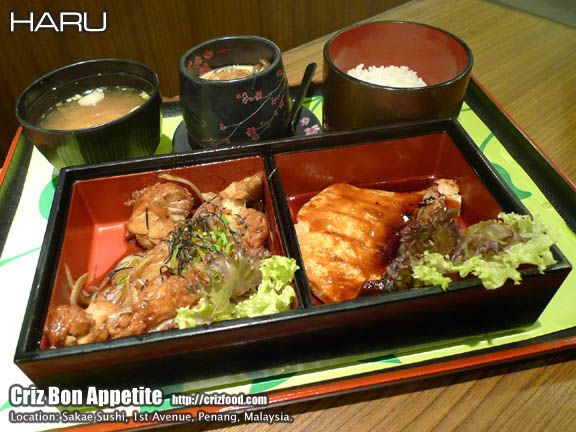 Another new introduction was the Kids' Sushi Meal – Little Sushi Home (RM3.99++). It was a very creative sushi. The triangular sushi which had cucumber and crabstick stuffed nori and sushi rice, rolled in finely chopped parsley, came with a halved breadcrumbs battered scallop topped with some mayonnaise and a petal of parsley. From the side, it really looked like a house. Flavor wise, it was normal.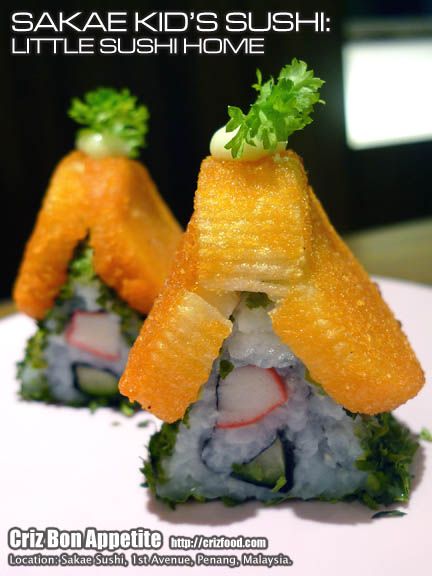 We ended up the meal with a selection of 4 flavors of ice cream, namely Dragon Fruit Ice Cream (RM5.90++/scoop), Passion Fruit Ice Cream (RM6.90++/scoop), Goma Ice Cream (RM6.90++/scoop) and Matcha Ice Cream (RM5.90++/scoop). The Goma Ice Cream had the highest vote for being the best amongst the 4 flavors but I personally preferred the more sourness Passion Fruit Ice Cream as it was a great digestion remedy after such a heavy meal.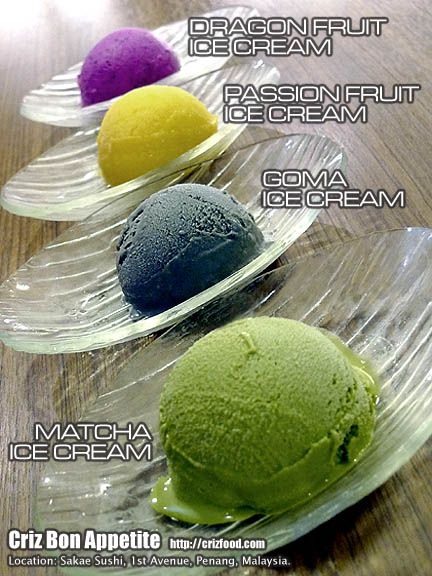 Those who would love ice cream more than just a scoop would surely like the Matcha Parfait (RM13.90++). The parfait would also be available in other flavors such as strawberry and chocolate. The 6-layered parfait had corn flakes as the base, followed with sweet red bean, matcha ice cream, corn flakes, whipped cream and matcha ice cream, garnished with some sweetened red bean, whipped cream, strawberry and a wafer. Price wise, it was more economical than having just one scoop of matcha ice cream at RM5.90++ per scoop.
Overall, those new dishes introduced were better than those common ones I have tasted during many visits. The pricing were also quite economical for diners. Some dishes as mentioned above truly needed that little touch to pep up the flavors further. I hope that more creations would be available soon for those Japanese food enthusiasts. Lastly, I would like to thank Foodsion for giving us the opportunity to try out these new dishes.
There are many branches of Sakae Sushi in Penang but the one we went to was located at 1st Avenue, Penang. Just find your way to the mall, go to Level 4 and you can find the outlet just opposite Carrefour. Alternatively, you can visit the surrounding Penang outlets as stated below or based on the other outstation outlets as shown in their website.
Name: SAKAE SUSHI @ 1ST AVENUE
Address:
Lot 4-16, Level 4, 1st Avenue Mall Penang,
182 Jalan Magazine, 10300 Penang, Malaysia.
Contact: 604-261 2218
Website: http://www.sakaesushi.com.my/
Business Hours: 11.30am-10.00pm (Mon-Fri), 11.00am-10.00pm (Sat & Sun)
GPS: 5.413391, 100.331202
Surrounding Penang Outlets:
Sunway Carnival Mall
UG-28, Upper Ground Floor, Sunway Carnival Mall,
3068 Jalan Todak Pusat Bandar Seberang Jaya,
13700 Seberang Jaya, Penang.
Tel : 604-380 3368
Gurney Plaza
170-03-87/88/89, Plaza Gurney,
Persiaran Gurney, 10250 Penang.
Tel: 04-229 5930
Queensbay Mall
2F-49 Queensbay Mall, 100 Persiaran Bayan Indah,
11900 Bayan Lepas, Penang.
Tel: 604-643 0015
Tesco Tanjung Pinang
Lot G4, Tesco Tanjung Pinang, No.1, Jalan Seri Tanjung Pinang,
Tanjung Tokong, 10470 Penang.
Tel : 04-899 0063
1st Avenue Mall
4-16, Level4, 1st Avenue Mall
No.182, Jalan Magazine
10300 Penang
Tel : 604-261 2218
Auto City
1815-B Jalan Perusahaan, Auto-City,
North-South Highway Juru Interchange,
13600 Prai, Penang.
Tel : 604-508 0268
RATING:
Ambience: 7/10 (1-4 cheap, 5-7 average, 8-10 classy)
Food Choices: 8/10 (1-4 limited, 5-7 average, 8-10 many choices)
Taste: 7.5/10 (1-4 tasteless, 5-7 average, 8-10 excellent)
Pricing: 7.5/10 (1-4 cheap, 5-7 average, 8-10 expensive)
Service: 8/10 (1-4 bad, 5-7 average, 8-10 excellent)