So what's your plan for desserts during this coming Chinese New Year reunion dinner? Well, I'm not planning to have more of those normal cans of longan, lychee or maybe a combination of both with some leong fun grass jelly/cincau) this year. All the preservatives in there could be rather unhealthy. Instead, I would be cooking up something fresh this festive season. Would you like to try out a simple and delicious fruity delight instead? Let me share with you the recipe for my BUTTER SAUTEED ASIAN PEARS (嫩煎黄油白梨).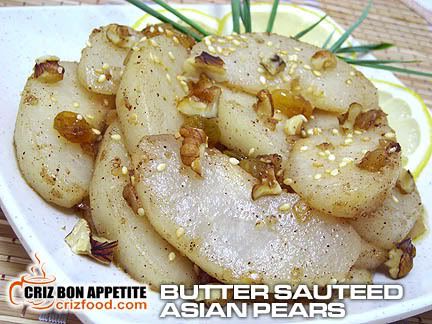 INGREDIENTS:
3 Asian Pears (3" diameter)
1 tablespoon fine sugar
1 tablespoon chopped crystallized ginger (ginger candy)
1 teaspoon grated lemon skin
1 tablespoon lemon juice
2 tablespoon butter
2 tablespoon yellow raisins
1/2-1 teaspoon ground cinnamon (depending on your preference)
2 teaspoons sesame seeds (toasted)
2 tablespoon walnut (slightly crushed)
Pinch of salt
OPTIONAL:
Margarine with pinch of salt (to replace butter)
PREPARATION:
1. Peel and core the pears. Cut a pear into 4 quarters. From each quarter, cut the piece into another 4 slices. You would get a total of 16 thin slices. Remember to soak the pears and cut slices in a bowl of water mixed with one teaspoon of salt to avoid them turning brown when exposed to the air.
2. Heat the butter in a wok and pour in the pear slices. Saute for about 5 minutes on medium fire.
3. Add in the lemon juice, chopped ginger candy, grated lemon skin, sugar, ground cinnamon and sauté until the pear slices are translucent and tender. That would take about 10-15 minutes. You can add in more sugar if you like the dessert to be sweeter and also a pinch of salt if you are using margarine instead.
4. Fold in the yellow raisins, 3/4 of the walnuts and 3/4 of the toasted sesame seeds. Cook for another 5 minutes.
5. Scoop onto a dessert plate and garnish with the remaining walnuts and toasted sesame seeds.
6. You can serve it hot or room temperature cold.

(Serves: 4-5)
YOU CAN CHECK HERE FOR MORE RECIPES.