With the current economy downturn where everyone would be rather careful about their spending (even on food), most people would keep a look out for meals that would be economical and yet fulfilling. One great place would be at Ivy's Kitchen where other than their home cooked food, they do also provide delicious set meals for as low as RM7.50. That would include a glass of fresh fruit juice (any fruit or vegetables as per availability) and a jelly dessert (Soya Jelly with Longan).
Here are an inside look at all the set meals available in the restaurant:
COMBO A: Chicken Rendang (RM9)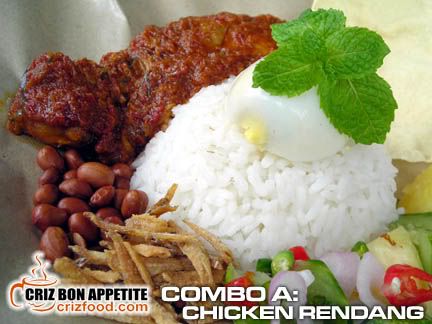 The set comes with a bowl of plain rice served with delicious chicken rendang (dry curry), half an egg, deep fried peanuts & anchovies (ikan bilis), papadam (Indian salty cracker) and mixed cucumber & pineapple salad. The Chicken Rendang was filled with the richness of blended spices and the fragrance from the coconut milk. Cooked almost similar to the style of Ayam Masak Merah (Red Curry Chicken), the chicken drumstick served was tender and juicy and this set got me yearning for more.
COMBO B: Beef Rendang (RM8.50)
The set has the same dishes as Combo A except for the main meat choice, i.e. a bowl of plain rice served with delicious beef rendang (dry curry), half an egg, deep fried peanuts & anchovies (ikan bilis), papadam (Indian salty cracker) and mixed cucumber & pineapple salad. The Beef Rendang was almost similar to the texture and taste of Indonesian Daging Masak Minang (Indonesian Minang Dry Beef Curry) with the fragrance coming from the added toasted grated coconut and blended spices. The cubed beef were indeed tender with all the spices deeply marinated into the meat.
COMBO C: Nasi Lemak (RM7.50)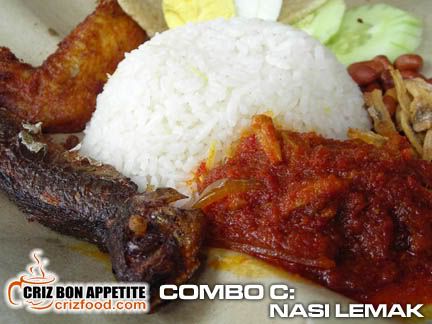 The Nasi Lemak was slightly different compared to the above two set meals. It had some coconut milk added into the rice, together with some chopped ginger prior to cooking. The steaming hot and aromatic rice combined real well with the dishes such as half a hard boiled egg, deep fried peanuts & anchovies, spicy and sour anchovy curry, crispy fried chicken, fish crackers, fried assam fish (it could be tamarind fried sardine, kembong [chubb/Indian mackerel] or selar [yellow tailed scad/ooi boey] depending on availability) and some slices of cucumber. This is a great bargain meal with so many dishes.
Alternatively, you could also replace the fried fish for this set with your own CUSTOM COMBO: Stuffed Fried Cincaru (hardtailed mackerel) at RM9 or RM3.80 per fish as addon. The fish was fragrantly fried with a strong hint of tamarind, blended chili and finely sliced Kaffir lime leaves.
COMBO D: Fried Fish Fillet Noodles (RM9)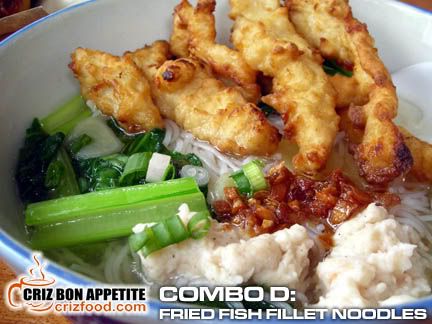 This set is catered for those who would want a non spicy and soup based meal. You will have the options to choose either Cintan mee (instant noodles), bee hoon (rice vermicelli), tang hoon (glass noodles) or porridge, cooked with a generous amount of choy sum (Chinese cabbage), minced chicken balls and topped with crispy batter coated dory fish fillet. The stock used in the soup was indeed flavorful with a hint of sesame oil, garnished with some fried garlic and chopped spring onions.
The abovementioned combos would come together with a glass of fresh fruit/vegetable juice and a dessert (soya jelly with longan).
On top of that, each combo would be entitled for the below addons at a discounted price:
RED BEAN SOUP – RM1 (Normal Price RM1.60)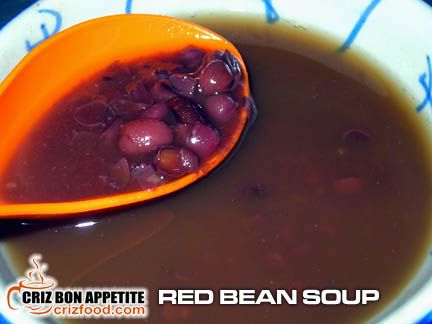 ROJAK (Prawn Paste Caramel Mixed Fruits and Vegetables) – RM2 (Normal price RM3)
There are more side dishes and customized meals available at Ivy's Kitchen. You would have to visit them to check those out but I'm going to share with you some of their sought after dishes.
FRESH GROUPER FILLET PORRIDGE (RM9)
PENANG ASSAM LAKSA (RM5)
POH PIAH CHEE (MINI SPRING ROLLS) – (RM2 each/RM3.80 for two)
Finding Ivy's kitchen would not be hard as it is located just 3 shop houses away from Jemputree at Jalan Burma but the only problem would be finding your way to get into Jalan Chow Thye as the road had recently being converted into a one-way street. There are actually a few ways to get to the restaurant but I will show you the easiest way to reach there with the minimum turns. If you are coming from Jalan Penang into Jalan Burma, drive all the way to the Jalan Larut traffic light (Giant Supermarket). Keep to your right after the traffic light and look out for Neww BT Café. Turn right into Jalan Arraton immediately after the food court. Drive on until you see a junction on your left (Jalan Irrawadi). Turn into the road and keep a watch out for the third road on your left (Jalan Phuah Hin Leong, Jalan Tavoy and Jalan Chow Thye) for Restoran Ros Mawar which is located at the end of Jalan Chow Thye. Turn left into the road and you will see Ivy's Kitchen on the right immediately before Isaribi Tei Japanaese Restaurant. Alternatively, you can drive up to Goodall 2 Café (next to Jemputree) and park your car in the food court's car park and walk to the restaurant.
Name: IVY'S KITCHEN
58 Jalan Chow Thye,10250 Penang, Malaysia.
Business Hours: 9.00am-9.00pm (except Saturday), 6.00pm-9.00pm (Saturday)
Contact: 013-433 7878 (Mr. Tan), 016-433 7130 (Ms. Ivy)
GPS: 5.424715, 100.320686
RATING:
Ambience: 6/10 (1-4 cheap, 5-7 average, 8-10 classy)
Food Choices: 7/10 (1-4 limited, 5-7 average, 8-10 many choices)
Taste: 8.5/10 (1-4 tasteless, 5-7 average, 8-10 excellent)
Pricing: 6/10 (1-4 cheap, 5-7 average, 8-10 expensive)
Service: 9/10 (1-4 bad, 5-7 average, 8-10 excellent)