Do you still remember last year when the FM Radio channel kept on broadcasting where to go for lunch? Well, before they even came out with the idea of banana leaf rice, I have been going quite frequent to this Shusi Banana Leaf Restaurant along one of the famous lanes in Little India. The white hair boss is a friendly person to talk with (provided his wife is willing to cook her mouth watering curries right on time :P).
You can opt for her different styles of cooking which include vegetarian, fish, chicken and mutton curries. The banana leaf rice comes in sets for 3 different vegetarian appetizers and 2 pieces of papadam (wheat crackers) served with hot steaming rice with your choice of curry (vegetarian, fish, chicken and mutton). An average set will cost you between RM4.50 – RM6.00, provided you did not add additional meat dishes. Adding more rice and dhal (potato & bean curry) is free.
We order a set each of the chicken and mutton banana leaf rice and we ate until our hearts' content. The restaurant will also serve you plain iced water on the house but you can always try out the Indian Yogurt Lassi drink. There are also many other options such as tosai, puri, etc to go with your curries.
Going there would not be a problem at all as the shop is situated between Market Street and Chulia Street. As you move along the one-way Penang Street, you can see the shop on your left. As for parking wise, you have to try your luck in finding one along the busy street of Little India.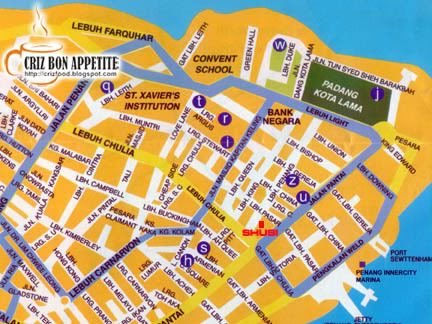 Name: SHUSI BANANA LEAF RESTAURANT
Address: 71 Penang Street, 10200 Penang, Malaysia.
Contact: 6016-476 2944 (Mr. Jaya)
Opening Hours: 12.00noon – 4.00pm and 4.00pm – 9.00pm.
GPS: 5.416275, 100.339583
RATING:
Ambience: 6/10 (1-4 cheap, 5-7 average, 8-10 classy)
Food Choices: 7/10 (1-4 limited, 5-7 average, 8-10 many choices)
Taste: 7/10 (1-4 tasteless, 5-7 average, 8-10 excellent)
Pricing: 6/10 (1-4 cheap, 5-7 average, 8-10 expensive)
Service: 7/10 (1-4 bad, 5-7 average, 8-10 excellent)