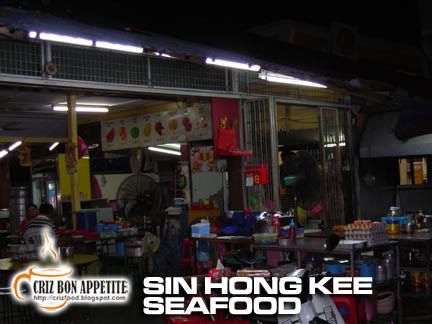 If you like to have lots of seafood dishes at an affordable price, you should make a visit to this small restaurant along Weld Quay area. The food served here are quite nice as they are neither too oily nor over flavored as most of the restaurant along that area. I visited that place not long ago with a friend of mine.
We ordered a bowl of Seaweed Soup (RM4) with lots of fish balls and meat in it. Not bad for the taste except that I find it a bit oily on the surface.
Next on the list was my personal request to the chef – Fried Bean Sprouts (Taugeh) and Pea Sprouts (Dou Miao) with Salted Fish (RM5). The chef did even better than I expected as he added some juicy mushroom slices in the dish. The dish was just nice with the correct amount of crunchy salted fish added.
The Iron Plate Tofu with Minced Pork (RM6) followed. This restaurant presented it in a different way as they laid the base of the hot plate with eggs before putting in the tofu and minced meat on top. Most restaurants would just knock an egg on top of the hot steaming dish before serving.
The best of the rest came last. We were served seven juicy and big Spicy Buttered Egg Prawns (RM19) and that got our appetite to boost up further. What I like about this dish is that the prawns were real fresh and the slightly sweet buttered egg was real crunchy. Most of all, the dish was not too oily and the amount of curry leaves and butter used in the dish were combined well.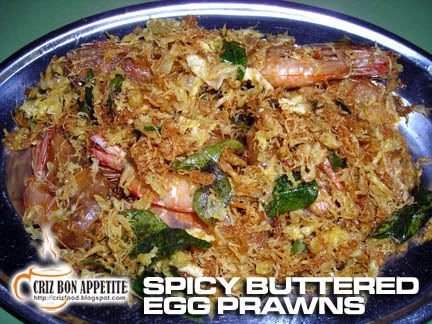 Overall we spent RM40.20 on the food which was inclusive of rice (RM2.40) and drinks (RM3.80). If you are driving from the ferry terminal towards the Jelutong Expressway, the restaurant is just before the Shell petrol kiosk on your left. Do watch out carefully as they have yet to replace their signboard after it was spoiled by a heavy and windy rainfall.
Name: SIN HONG KEE SEAFOOD
Address: 8 Weld Quay, 10300 Penang, Malaysia.
Contact: 604-263 5231
Opening Hours: 5.30pm – 11.30pm (Closed Tuesday)
GPS: 5.413372, 100.340570
RATING:
Ambience: 7/10 (1-4 cheap, 5-7 average, 8-10 classy)
Food Choices: 8/10 (1-4 limited, 5-7 average, 8-10 many choices)
Taste: 8/10 (1-4 tasteless, 5-7 average, 8-10 excellent)
Pricing: 7/10 (1-4 cheap, 5-7 average, 8-10 expensive)
Service: 8/10 (1-4 bad, 5-7 average, 8-10 excellent)