If you are not aware where to get to the best dining and entertainment scenes in Penang, you should take a more serious note now on the SOHO Group's outlets. For over a decade, the Group has provided Penangites with 6 great venues from vibrant restaurants to club scenes, namely SOHO Free House, SOHO Penthouse, SOHO Country House (Auto City), QEII, Chin's Stylish Chinese Cuisine and Chin-Chin Bar. The settings at all the outlets are unique by itself, from a British-style pub with great beer, a relaxing upstairs dining area with colonial style ambience, an old English manor setting with high ceiling, a sea front restaurant overseeing the city's only inland marina, an award winning fine dining Chinese restaurant to a sophisticated bar right next to the Chin's. Recently, the best deals in town are back due to popular demand by the public at 3 of the outlets, mainly SOHO Free House, SOHO Penthouse and SOHO Country House. One main dish would only cost RM7.80nett, with the option to choose from 5 main dishes.
The first option would be the Roasted Herbed Chicken which would be served with mashed potatoes and mixed greens. The taste was quite similar to the one I had at Dave's Deli. You can practically taste the herbs being well seeped into the tender chicken drumstick and the skin still has that little crisp from the roasting. Combined with the brown sauce, the whole dish was quite tasty. The only exception was the mash potatoes as it was a bit too fine to my liking. I would prefer those with some coarse potatoes bits in them.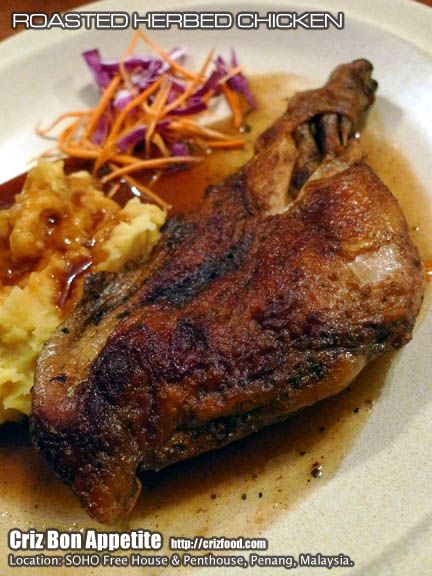 The next option would be the Traditional Shepherd's Pie. You can have either chicken or beef. I tried out the chicken version and found out that the filling was a bit too little compared to the level of the mashed potatoes (which again was too fine). Although the taste had all the necessary fragrance, somehow minced beef would be a better choice as it would be juicier than minced chicken. This dish was served with some peas and greens.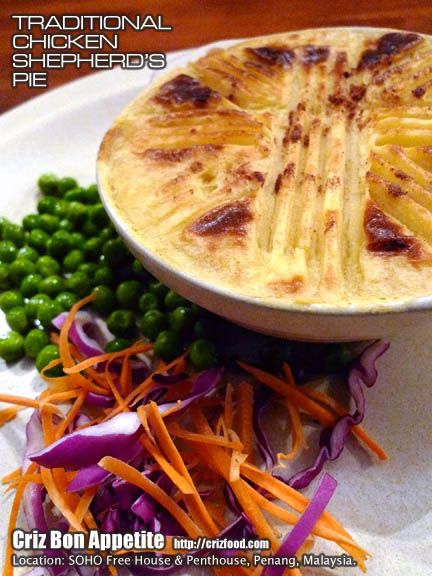 The SOHO Spaghetti as just average as the sauce was a bit too sweet to my liking. I prefer those with fresher ingredients just like the Italian way of preparation. Moreover, minced chicken was used which gave it a more sandy and dry sensation. Alternatively, some added minced pork or a total minced beef would do the dish more justice. Some parmesan cheese granules were served with the dish.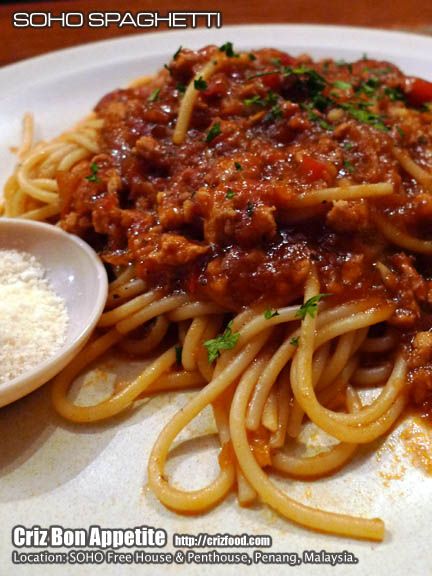 Banger 'n' Mash is basically a pub grub, something easy to cook yet tasty to go along with any beer. Well, it was one large sausage compared to the Bratwurst sausage I had elsewhere. This traditional English dish blended in real well with the gravy which I suspected was some rich onion gravy with some sprinkles of herbs. It came with some mashed potatoes and peas. The chef did a great job of not over grilling the sausage while maintaining the juice within.
The last option would be the Beef Burger. You can either have it with chicken or vegetarian patty. I had tried the Chicken Burger through one of the takeaway but find it to be a bit dry and bland in taste, even with all the ketchup and chili sauce added. Fortunately, the Beef Burger was awesome. There were some hints of black pepper, LP sauce and some herbs being used in the marinating process and the usage of breadcrumbs was just right. Moreover, the amount of fat used was just right to maintain the moisture of the burger. The burger was served with some fries and greens.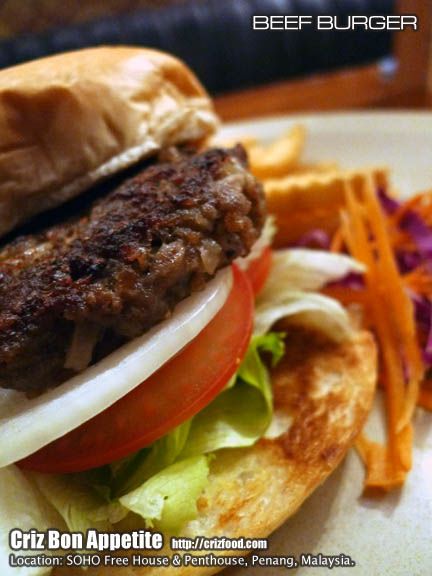 With the concept of being a pub and a bistro, there would never be a shortage of beverages here, regardless of whether it would be a plain glass of juice, beers of any imports and various wines. Currently, they have a 1/2 pint glass draught promotion for Tiger and Carlsberg at RM8.50nett per glass all day long. On top of that, with every RM120 or more of any draught beer purchases on a single receipt, you'll get to redeem a cute mini glass of either Kilkenny, Heineken, Tiger or Guiness as collectible items while stocks last.
If you are driving down from Jalan Sultan Ahmad Shah from City Bayview Hotel, turn left into Jalan Penang after the traffic lights. Drive a bit further and you would the Red Garden Café parking lot. Park your car inside the car park. SOHO Free House & Penthouse is just opposite the car park next to Peking Hotel. Please take note that the car park fees can be quite expensive as it's located near all the night entertainment area. Alternatively, you can drive further up and turn left into Lebuh Muntri to find some empty car parks.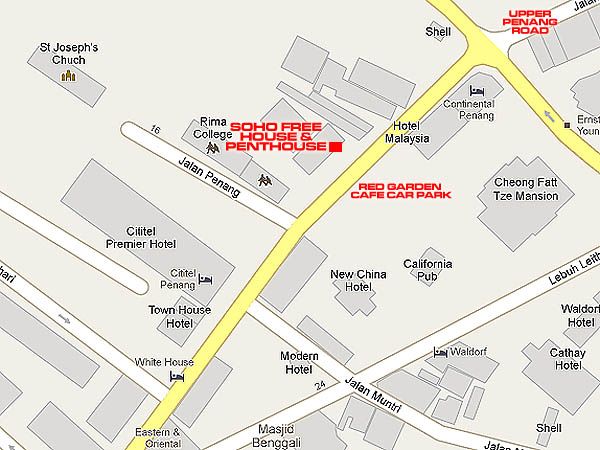 Name: SOHO FREE HOUSE & SOHO PENTHOUSE
Address: 50 (Ground & Upper Floor), Jalan Penang, 10000 Penang, Malaysia.
Contact: 604-263 3331, 604-507 0079 (SOHO Country House, Auto City)
Business Hours: 12.00pm – 12.00am, Beer Hours: until late
GPS: 5.421829, 100.333806
RATING:
Ambience: 9/10 (1-4 cheap, 5-7 average, 8-10 classy)
Food Choices: 8/10 (1-4 limited, 5-7 average, 8-10 many choices)
Taste: 7.5/10 (1-4 tasteless, 5-7 average, 8-10 excellent)
Pricing: 7/10 (1-4 cheap, 5-7 average, 8-10 expensive)
Service: 8/10 (1-4 bad, 5-7 average, 8-10 excellent)