"Melaka and George Town, Cities of the Straits of Malacca" was inscribed as a UNESCO World Heritage Site during the 32nd session of the World Heritage Committee on 7 July 2008. From then on, more and more little restaurants can be seen booming up along the George Town Heritage Trails within the beautiful island of Penang. One of the notable ones opened for business barely two months ago was a nice trattoria manned by a German-Malaysian couple, Tonio Neuhaus and Michele Yim along Lebuh Muntri. Kafe Soul Kitchen Trattoria is the name, food and music is their soul rejuvenating theme.
What made Soul Kitchen a nice venue for some relaxation for families and couples was the simplicity of the layout with great Italian food. Every single item in their menu was personally created by Tonio and his wife fresh from the kitchen. What could be better than having some healthy breakfast to start your day off? One of the most recommended breakfasts would be the Tramezzini (grilled sandwich-RM10) with a choice of salami, mushroom, tuna, turkey ham and gammon ham. You also have another option of choosing your preferred sauce such as roasted balsamic garlic, sweet onions or mustard. Tramezzini with gammon ham and roasted balsamic garlic grilled perfectly between two slices of sesame seeds wholemeal bread was my favorite.
It had been quite some time since I last had scrambled eggs for breakfast. Now I can have them at ease with the availability of two types of scrambled eggs set over at Soul Kitchen Cafe such as Scrambled Eggs with Bacon (RM8) or Scrambled Eggs with Mushroom (RM6). These would be perfectly served with the chef's special magic touches.
What about having something fresh and healthy to inspire your day? Do try out their hot item which was the Yoghurt Muesli on Papaya (RM9). The sweetness of the papaya, the freshness of their homemade yoghurt, combined with the multi bites of the muesli made my day. It was indeed refreshing. What a great way to start my day! 🙂
As for lunch and dinner, there were a few great options. Boy! I can assure you that you would lick the plates dry. Every single dish in the main menu was the chef's own concoctions. He sure knew how to handle pasta well by having the right al dente (firm texture) with every bite. I could not get enough of their Penne Amatriciana (RM19). The freshness and natural sweetness from the tomato puree, onions and some chopped carrots, the nice fragrant from the bacon slices, garnished with some oregano herbs, chopped parsley and a sprinkle of parmesan cheese was awesome! I could have this daily.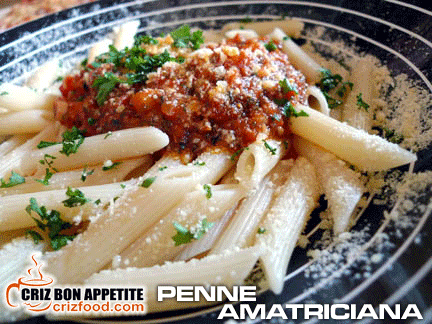 Their Spaghetti Carbonara (RM17) was also unique. Normally what you get elsewhere would be some diluted cream based sauce. The one served here had a cool way of thickening the sauce while maintaining the flavors within. I had egg yolk added in on top of bacon, onions, garlic, herbs and parmesan cheese. Another perfect item I would say.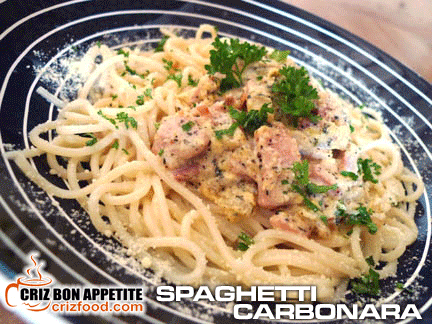 The next pasta dish was also a unique one as it was the chef's secret recipe – Penne Chicken Al Limone (RM19). The ladies would love this well as the dish had some nice sour taste in it and was extremely appetizing. It came with some tender chicken chunks, capsicum, carrot, herbs, chopped parsley, lemon juice and a generous amount of parmesan cheese. This is one combination of pasta that you must not miss out during your visit.
I must admit I can be such a playful kitty cat at times and growing fat is my hobby. LOL! Some do address me as Garfield and guess what's my favorite food? Haha! Of course it's Lasagne (RM19). What could be a more perfect dish for me than having that delicious dish right before of my eyes? In fact, I fell in love with what the chef had cooked up with the perfect combination of fresh ingredients such as tomatoes, carrot, minced pork, herbs, parmesan cheese and a crispy mozzarella cheese based topping. Can I have more for a growing cat chef? 😛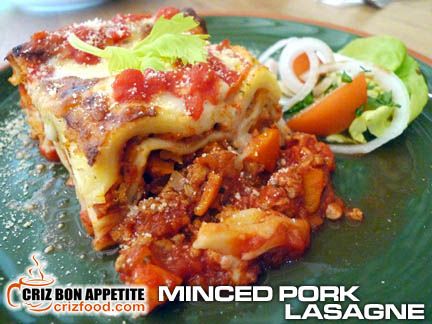 Pizza! I want more pizzas now! That's was my reaction when I visited the place subsequently for more good food. You can have a few options on your pizza such as Pork Salami (RM9), Mushroom (RM8) or Anchovies & Olive (RM7). What I love most was the crispy thin crust that won't be too filling. The pizza was presented in the simplest way with fresh tomato puree, mozzarella cheese, herbs and ingredient of your choice. Do try out the Pork Salami Pizza. I can't get enough of this either.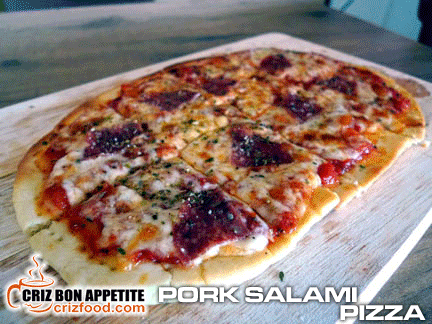 If you need a place with free WIFI for a little discussion, this would be a great place to hang out. You can check out their available cakes for the day. Sometimes, there would be a discounted price on the cakes for each main meal you ordered. The one I had was heavenly and I could be so sure that no other place would provide you with such a nice Tiramisu Cake (RM10). The chef even made his own mascarpone cream for this cake. The cake was soft and fluffy and the cream was so light that it just melted in my mouth. Each mouthful had a strong taste of some sweet wine. What a perfect dessert for any occasion!
You could even get a piece of Moist Chocolate Cake (RM7) to tempt your sweet tooth.
As for beverage, Café Latte (RM6) or Iced Café Latte (RM7) would be mild enough to go with your cakes for tea.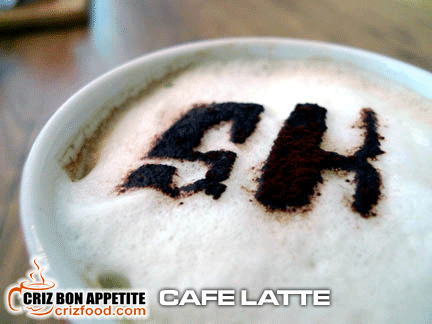 You could even order yourself Papaya Orange Smoothie (RM7) to cool yourself down on a hot and humid day.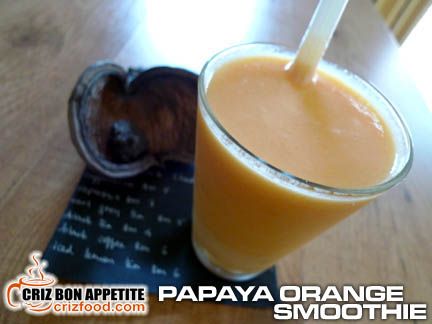 Here's a short interview (in Mandarin) with the nice couple:
I would like to thank CK Lam and the lovely couple for the invitation as well as my friends who had to bear with me while drooling over the food during the photo shooting. LOL! It's not hard at all to locate Soul Kitchen as it's just opposite Cititel, Jalan Penang at a cross junction between Lebuh Leith (Cheong Fatt Tze Mansion) and Lebuh Muntri (leading to Kuan Yin Temple).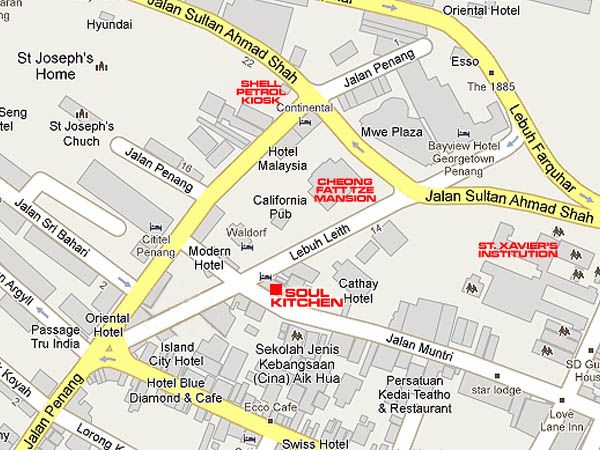 Name: KAFE SOUL KITCHEN TRATTORIA
Address: 102 Lebuh Muntri, 10200 Penang, Malaysia.
Contact: 604-261 3118, 012-594 3522 (Michele/Tonio)
Opening Hours:
10.00am-3.00pm, 6.00pm-9.00pm (Closed Tuesday – Breakfast until 12.00noon)
GPS: 5.420565, 100.334127
RATING:
Ambience: 8/10 (1-4 cheap, 5-7 average, 8-10 classy)
Food Choices: 8/10 (1-4 limited, 5-7 average, 8-10 many choices)
Taste: 8.5/10 (1-4 tasteless, 5-7 average, 8-10 excellent)
Pricing: 8/10 (1-4 cheap, 5-7 average, 8-10 expensive)
Service: 9/10 (1-4 bad, 5-7 average, 8-10 excellent)