After having the cut fruits and juices, I would always go for the best rojak in town. Most people would go for the mixed fruit rojak (spicy or non-spicy) but for me I love the fruits/vegetables in thin slices topped with the yummy sauce and sprinkled with pound groundnuts and dried shrimp powder.
You can opt for the turnip, pineapple, mangoes, pink guava or even baby cucumber slices. I ordered the turnip and pineapple and it cost me only RM2. It was so tasty that I bought the sauce (RM2.50 for 220gms & RM4.00 for 440gms) home for another fiesta later on. It also came with nuts and shrimp powder. I even saw many people buying by tens of bottles home. If you are along that area, do not ever miss this stall. You will surely regret not trying it out.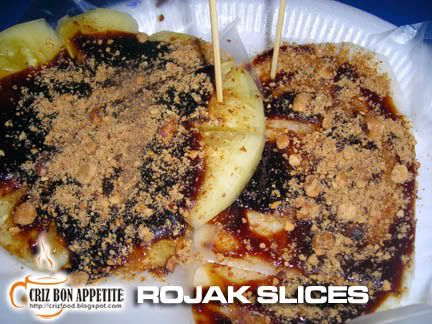 It is just along the Esplanade. There are ample of parking spaces.
Name: HO WEI JENG ROJAK (STALL 46)
Address: Esplanade Food Court
Opening Hours: 6.00pm -1.00am
GPS: 5.422822, 100.340688
RATING:
Ambience: 6/10 (1-4 cheap, 5-7 average, 8-10 classy)
Food Choices: 8/10 (1-4 limited, 5-7 average, 8-10 many choices)
Taste: 9/10 (1-4 tasteless, 5-7 average, 8-10 excellent)
Pricing: 7/10 (1-4 cheap, 5-7 average, 8-10 expensive)
Service: 7/10 (1-4 bad, 5-7 average, 8-10 excellent)