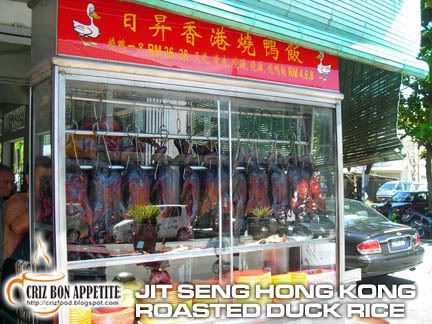 Penang is one of the states where you can savor quite a few types of duck rice. You can have the Peking Duck Rice, Pei Pa Duck Rice, Braised Duck Rice and the Hong Kong Roasted Duck Rice. One of the famous one would be the Jit Seng Hong Kong Roasted Duck Rice situated along Lebuh Carnarvon. The sole chef cum owner, Mr. Lam, has been in this business for the last 3 decades, selling his freshly roasted duck rice daily.
Even before he opens up his business around noon, you can see that the whole coffee shop would be crowded with people. What makes his duck rice so unique that people would queue up for half an hour just to eat it? Firstly, the duck is real tender with so much of ingredients stuffed in it prior to roasting. Secondly, the skin of the duck is coated with his special sauce which would include some molasses (Ba Lei Ko in Hokkien or Melaco in Portugese). Thirdly, the portion served is very generous.
Most of the time, he would include a duck drumstick for a serving for two and above such as the photo below.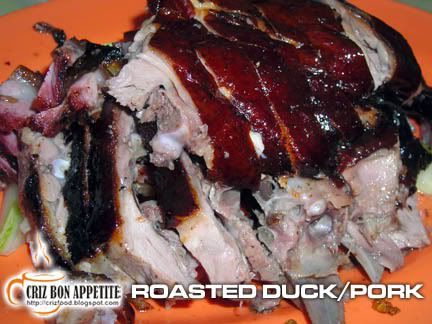 On top of his famous roasted duck, he also has Roasted Pork, Roasted Chicken and Char Siew (Sweet Roasted Pork) topped with his special sweet bean sauce.
Since the crowd was rather huge that day, I had decided to get some mixed combination takeaways with an extra bowl of rice. Can you imagine I had problem finishing the whole packet of rice? You hardly could see the rice with the generous amount of Roasted Duck Meat, Roasted Pork and Char Siew covering every inches of the rice. The whole pack cost me only RM5.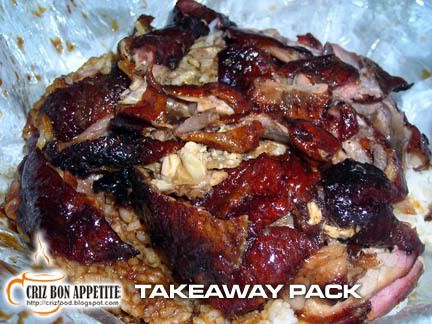 If you are a keen duck meat lover, you should try him out. It's worth the wait. On top of the never ending flow of locals, tourists as far as Australia and UK patronize his place regularly. You could also contact him for takeaway of a full bird. Roasted Duck would cost RM36-38, Roasted Chicken at RM18 and Roasted Pork or Char Siew at RM35 per kg.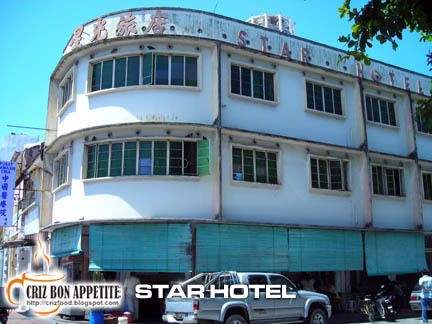 It is very easy to find this stall if you know where Lebuh Carnarvon is. If not, then move along Jalan Dr. Lim Chwee Leong until you reach a traffic light. Pizza Hut is on your right. Keep left and drive forth until you reach the next traffic light. Turn left into Lebuh Carnarvon. The duck rice stall is just within the Star Hotel premise next to Jalan Cheong Fatt Tze (formerly known as Lebuh Hong Kong).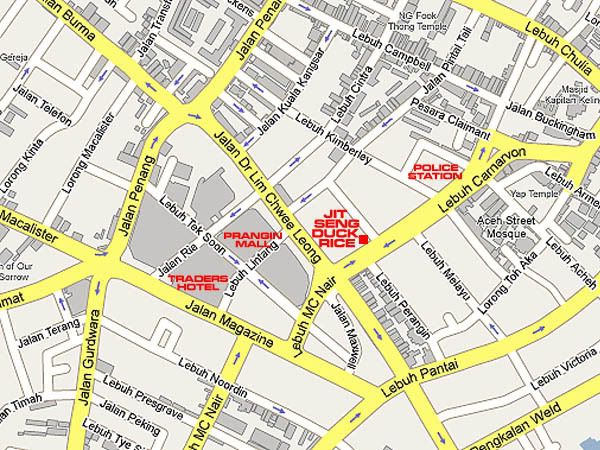 Name: JIT SENG HONG KONG ROASTED DUCK RICE @ STAR HOTEL
Address: 246, Lebuh Carnarvon, 10100 Penang, Malaysia.
Contact: 604-262 2172 (Mr. Lam)
Opening Hours: 12.00pm – 3.00pm (Closed Public Holidays)
GPS: 5.414319, 100.333386
RATING:
Ambience: 7/10 (1-4 cheap, 5-7 average, 8-10 classy)
Food Choices: 7/10 (1-4 limited, 5-7 average, 8-10 many choices)
Taste: 8/10 (1-4 tasteless, 5-7 average, 8-10 excellent)
Pricing: 6/10 (1-4 cheap, 5-7 average, 8-10 expensive)
Service: 7/10 (1-4 bad, 5-7 average, 8-10 excellent)