Instead of the usual stock for hot pot (steamboat) during this Chinese New Year reunion dinner, I had decided to opt for herbal stock. The ginseng enriched stock was a refreshing experience for my family. Are you aware that ginseng could help in stimulating the physical and mental activity of a tired or weak body? On top of that, it's ideal for defending the body system from the effects of prolonged physical strain as well as a stimulant for the endocrine glands which would include the sex glands. Did I just say that? Haha! Anyway, it's good for the general health of everyone.
The amazing part of brewing this stock would be that it's concentrated. You could easily store in small containers and deep freeze it for your future cooking. The stock would be almost gelatin like with no preservative or seasoning. All you need to do is to add half a container of water to a container of stock and put in some pepper and salt to taste. It's just as simple as that. Let me show you how you could create this HERBAL STOCK for your favorite hot pot. It's mild anyway for the consumption of all ages.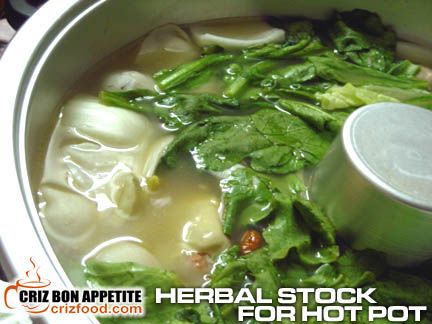 INGREDIENTS:
Stock:
2kg pork bones (big bones/tua kut)
3 whole chicken bones
50gms ginseng roots (人參鬚/Panax schinseng roots)
20 sweetened dates
10 liter water
Serving:
Dried Chinese wolfberry (枸杞/kay chee/gouci/goji berry)
Pepper
Salt
PREPARATION:
1. Bring to boil 12 liters of water in a 20L pot.
2. Wash all the bones clean with salt and slowly put all of them into the big pot of boiling water. Add in the ginseng roots and dates. Lower the fire, close the pot partly with a lid and let it simmer for about 6-8 hours. Filter out all the bones and you would get about 6-7 liters of stock left.
3. Scoop the required amount of stock for your hot pot into a new pot. Add in half that amount of hot water (2:1). Add in some dried Chinese wolfberry (about less than 1 tablespoon will do as too much will make the soup turn sour). Bring to boil and sprinkle some pepper and salt to taste. NOTE: Try to be lighter in salt usage as some of the hot pot ingredients such as the meatballs and fish balls have salt in them. Thus the longer the hot pot boils, the saltier it will get. Anyway, I will be sharing the dipping sauce recipe next to allow you to adjust to your taste bud.
Recommended Vegetables for Hot Pot:
Crown daisy chrysanthemum leaves (tang oh/茼蒿) and other vegetables such as Chinese Cabbage (菜心/choy sum), cabbage, spring onions (tied up), young corn, mushrooms, etc. Please take note that the usage of too much Enoki mushrooms might cause the soup base to be sour.
Recommended Add-in for Hot Pot:
All types of meat and fish balls which would be available at your location, either fresh or frozen, chicken fillet slices and seafood of any kind such as crab, clam, mussel, squid, cuttlefish, prawn or fish.
Simple Alternative Soup with the stock:
– Chicken fillet slices, white fungus and ginkgo nuts.
– Chicken fillet slices, lotus seed and lily bulb (百合/bai he/ pak hup).
– Chicken with chopped water chestnut balls, cabbage and rice vermicelli.
– Pork dumpling (sui kow/水餃), Chinese cabbage (菜心/choy sum) and wonton noodles.
(Serves: 10 and above)
YOU CAN CHECK HERE FOR MORE RECIPES.