Not many people are aware that hidden at a little corner of the Pasar & Balai Rakyat Gelugor, Penang, lies a humble man by the name of Sulaiman Hameed (nicknamed Mamu and from a Pakistani parentage), selling his much sought after Chapati & Roti Jala. Some dignitaries such as the Governor of Penang and members of the Perlis royal families had the opportunity to try out his specialties. Even with the constant increase in ingredients prices, Sulaiman had without fail maintained his mother's traditional recipe since he started his business 16 years ago. To him, he believed in serving his customers with the best while maintaining low charges. That's the reason why until today, his steady flows of loyal customers are still queuing up to get hold of his soft and nutritious chapati.
The Chapatis, flat unleavened breads made with the combination of atta flour (grinded whole wheat flour) and water, mildly toasted on a preheated dry skillet (tava). Thus, it's and fiber-rich and low in cholesterol, making the bread healthy for just everyone, especially those with diabetics. The Roti Jala (Netted Bread or Lacy Crepe) on the other hand, is a local delicacy, especially during the fasting month in Malaysia. The mixture prior to being molded on a preheated skillet, "screwpine" brushed with oil, consists of flour, eggs, milk, salt, turmeric powder (coloring) and water. Both these delicacies would go well with any curry dishes.
Here's a summary of the food available at Sulaiman's stall (price update as on 5 March 2012):
Chapati (RM0.80/pc)
Roti Jala (RM1.00 for 3 pcs)
Chicken Curry (RM3.00/pc with potatoes)
Minced Beef Curry (RM1.60/plate)
Vegetables Curry (RM1.60/plate)
Sardine Curry (RM1.60/plate)
Set Meals (2pcs Chapatis/4pcs Roti Jala)
With Chicken Curry (RM4.50/set)
With Minced Beef Curry (RM3.00/set)
With Vegetables Curry (RM3.00/set)
With Sardine Curry (RM3.00/set)
The Chicken Curry was way the best I had so far as the curry was amazingly fragrant from the thick creamy coconut milk, mint leaves, tomatoes and screwpine (pandan) leaves other than the usual herbs and spices. With each set ordered, they would be a slice of potato. This dish is my all the time favorite.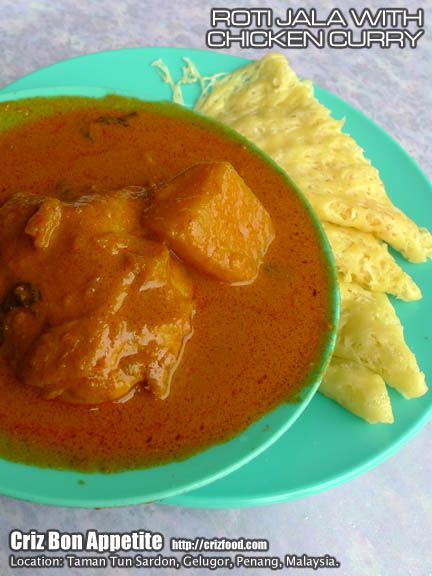 The Minced Beef Curry had a similar curry taste compared to the above but with distinctive flavors coming from the coarsely minced chunks of beef combined with potato cubes and onions. Beef lovers would love this dish as you won't find any tough parts in this concoction.
The Vegetables Curry was cooked differently as in korma style with traces of green peas, onions, carrots, mint leaves and potatoes. It had a slight nutty taste as I would suspect that grinded almonds or cashew nuts were added in for that creaminess and that mild fragrant from the added screwpine (pandan) leaves. It was tasty indeed.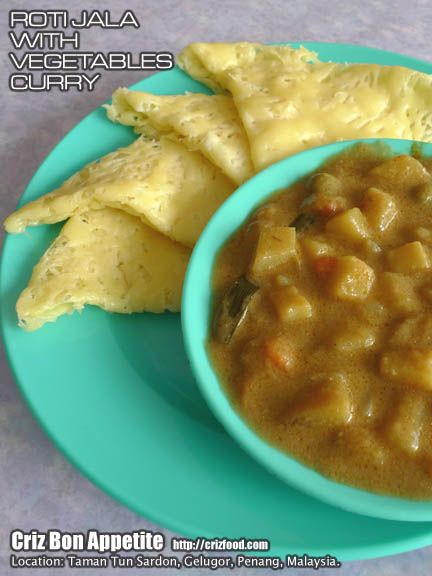 The last curry available would be the Sardine Curry. Of course, the dish would come from the tomato paste canned sardine stir fried with lots of sliced onions and green chilies. Somehow, the boss had a little twist in cooking up this dish by adding in mild spices and mint leaves with the right amount of sugar. I'm not a fond lover of canned sardines but this dish went well with the roti jala I had.
On top of selling chapati and roti jala, they would also have some sweet desserts such as bubur kacang hijau (mung beans porridge), bubur kacang merah (azuki beans porridge), bubur gandum (wheat porridge) bubur pulut hitam (black glutinous rice porridge), bubur ubi keledek (sweet potatoes porridge) and so on, alternate on different days. Each packet would only cost you RM1.30.
Overall, the curries would go well with either the chapatis and/or roti jala. It would be advisable to visit the stall as early as possible to grab your choice chicken pieces as the flow of customers could sometimes be quite unpredictable, especially during the Ramadhan period. Most of the time, their products would be sold out by 7.00pm although their business hours is until 9.00pm. Do try to call up if you are unsure. You can also make booking in advance for any function such as house warming, reunion, party, Chinese New Year, etc. It would be great if you could bring your pots and plates to contain the food prior to collection. Gosh! Little did I realize that I had engaged them for my functions for the past 10 years. Amazing! 🙂
If you are coming from the Penang Bridge via Jalan Sultan Azlan Shah in Gelugor area, keep to your right and drive all the way up to the traffic lights (Hindu temple on your left). Turn right into Hilir Pemancar (Post Office Gelugor is at the left corner building) and drive on for about 600m and you will see the beige colored roofing Pasar & Balai Rakyat Gelugor on your right. Turn right into the service road and you will see the chapati stall just next to the food court there.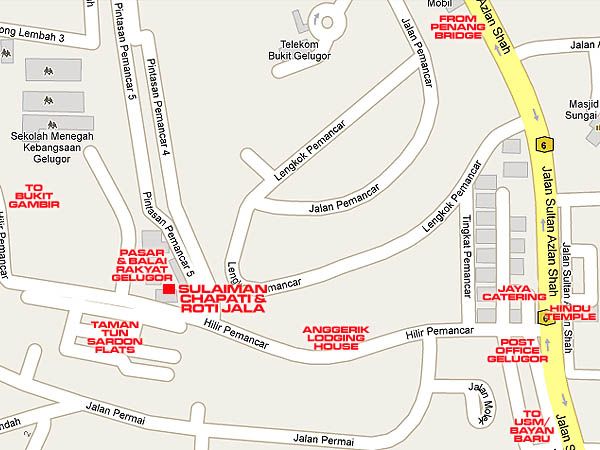 Name: SULAIMAN CHAPATI & ROTI JALA
Residence Address: D-1-7, Taman Tun Sardon, 11700 Gelugor, Penang, Malaysia.
Site Address:
Pasar & Balai Rakyat Gelugor (next to food court), Hilir Pemancar, 11700 Gelugor, Penang, Malaysia.
Contact: 012-594 6116 (En. Sulaiman / En. Johan)
Business Hours: 3.30pm-9.00pm (Closed Wednesday)
GPS: 5.369192, 100.305819
RATING:
Ambience: 5/10 (1-4 cheap, 5-7 average, 8-10 classy)
Food Choices: 6/10 (1-4 limited, 5-7 average, 8-10 many choices)
Taste: 8/10 (1-4 tasteless, 5-7 average, 8-10 excellent)
Pricing: 6/10 (1-4 cheap, 5-7 average, 8-10 expensive)
Service: 8/10 (1-4 bad, 5-7 average, 8-10 excellent)