It's the time of the year for fruit feasting as there are lots of fruits on sales just anywhere you go along the roads of Penang. From May until August each year, you would get to enjoy many of the seasonal fruits especially durians – the King of Fruits. The different species of the fruits can come in shapes such as oblong and round with yellow, green or brown husks and the flesh would either be in white, pale yellow, yellow, orange to red. These thorn covered fruits are famous for their large sizes and unique smell that made them the love and hate of many people. I don't think anyone had created a name for its intruding odor but to some it may just well be the combination of pungent cat pee, musty gym shorts, smelly socks and gas leak. I even heard someone mentioning that his neighbors called in 911 to report a rotten corpse. LOL!
Penetrating odor as the nicknames have suggested above, the fruits have the same reputation as the Hong Kong Stinky Tofu – the scent of smell could be overpowering but the scent of taste would sent many floating in heaven. There are many species of durian available in the South East Asian regions of Thailand, Philippines, Indonesia and Malaysia but most of the durian lovers would still prefer those from Balik Pulau, Penang, Malaysia and its surrounding areas as the texture are finer with stronger acquired taste.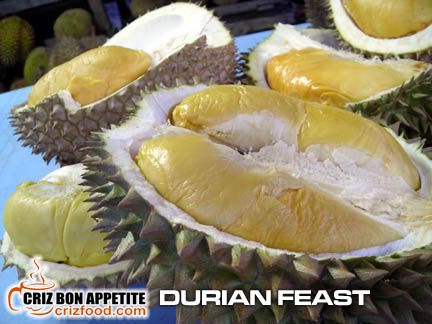 Thanks to Steven's contact with the daughter of a durian seller, an entourage of the few of us was able to have the first hand experience in tasting the best of this stinky fruit. There are many species of durians available here such as Kor Teh (Bitter Herbal Tea), Kucing Tidur (Sleeping Cat), Susu (Milk), Capri, D15, D2, COB, Ganja (Cannabis), Seven Goddess (七仙女), Bak Ewe (Lard), Ang Hae (Red Prawn), Ooi Keong (Turmeric/Kunyit) and many more. We started by tasting the more common ones and later to those award-winning and branded ones.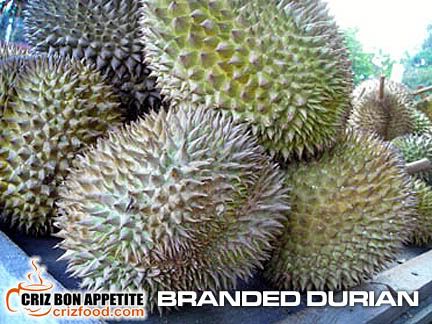 We started with the so called Ooi Keong Ong (Turmeric/Kunyit/黄姜王 – approx. RM10). It was fibrous, custard creamy and sweet with a hint of fermented wine after taste. Although the fruit was filled with lots of meaty flesh, it was just average to my taste bud as it lacked the strong aromatic taste of durian. Even though so, it would still be ideal for general consumption as it was rather filling.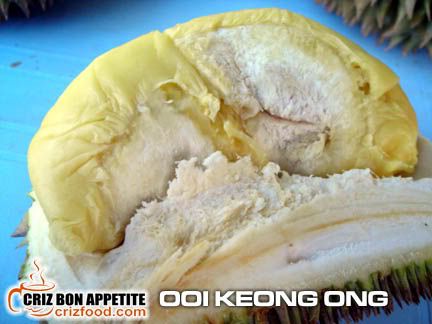 We were then given a test on our preferences for the following two branded durians of almost the same quality – Hor Lor versus Kim Poh. Comparing the colors of these two different species, Kim Poh (Golden Treasure/金寳 – approx. RM15) had a more inviting color of mixed orange and yellow. Taste wise, it had a smooth creamy and custard like flesh with slight bitterness. To me, it was a bit over ripe but that was the uniqueness that made the fruit having its strong fermented wine after taste and likeable by many.
The moment everyone tried the Hor Lor (Calabash/葫蘆 – approx. RM15), there was a moment of silence as everyone was enjoying the beauty of the taste. The flesh was so smooth that it just melted in our mouth like ice cream. The creamy sweetness and bitter end taste obviously showed which species won the contest. Thumbs up for Hor Lor!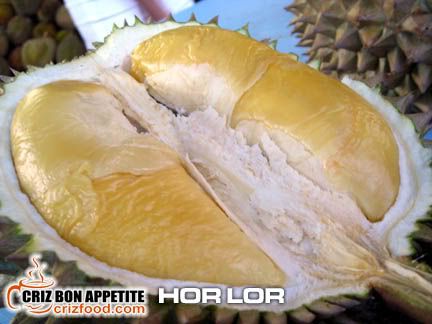 The next durian which was the Chneh Poay (Green Skin/青皮 – RM8-RM20) tasted more like native durians as it did not have much of the durian flavor "strength". More fibrous compared to the rest, it only taste sweet towards the end nearing the pulp with more obvious bitterness.
I thought the next durian served was the laugh of the day – That Kah Chui (Stuffed Buttock/塞屁股 – approx. RM10) but that was indeed the name given by Ah Joo for this native durian (durians from the older unnamed trees/土蓮). This was just another typical native durian with thinner flesh and larger seeds. Although sweet with fine texture, it definitely would not satisfy my craving for better and more fulfilling durians. I'll need more meaty flesh, regardless of branded or native as some native durians could taste far better than branded ones.
Here are a shot of some native durians which you could get a large bagful for less than RM20.
The Man of Honor aka Ang Hae (Red Prawn/紅蝦 – RM10-RM30) came out last as we had had decided to save the best for last. The fruit was indeed the best as it has won many awards in the local durian scene. The flesh was the finest around with smooth custard like creaminess. There was the distinctive sweetness and wine taste with a slight touch of bitterness. I would recommend this species. There's a secret when consuming Ang Hae. The fruit should not be eaten once collected from the plantation. It should be left aside for a few hours to enable it to gather that powerful "booster"!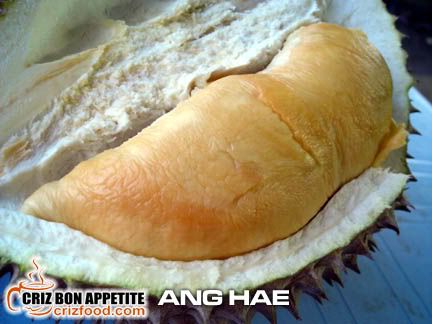 On top of having durian fresh or having them with steamed white glutinous rice topped with thick and slightly salted coconut milk and fine sugar, there are many other by products available here such as the local durian paste cake (durian kuih), dried durian meat cracker, durian cream cake, coconut durian glutinous rice cake (dodol), durian ice cream, durian nian gao (glutinous rice cake available during Chinese New Year) served with shaved coconut, etc. Phew! There are just too many to mention here. For me, I love to have the seeds roasted or boiled until cooked. They tasted just like chestnuts. Wonderful!
However, when you have the King of Fruits, you would also have the Queen of Fruits during the season – Mangosteens (RM2/kg or RM5/3kg)! These proud looking tangy and peachy flavored ladies in deep purple dresses with Brazilian party like greenish headgears and white pinkish undergarments have been believed to be the antidote for those who had consumed too many of the "kings". Its nutritious richness and antioxidant strength would surely compromise with the sugar level, carbohydrates, protein and fat that of durians. Isn't it great to have the "cooling effect" of mangosteens versus the "bodily heatiness" of durians? But have a pair of watchful eyes when peeling as the purplish natural dye from the fruit might stain your attire terribly. The edible endocarp of the mangosteen would normally have few segments of so called wedges like flesh. The bigger ones would have seeds. At the bottom of the exocarp would be some embossed wheel spokes like ridges. That would determine the amount of "wedges" the fruit will have within.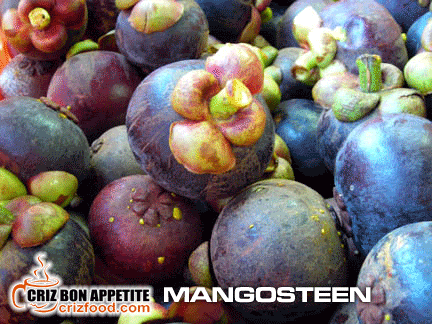 Other than the kings and queens, we have the hairy like fruits called Rambutans (RM2/kg or RM5/3kg). These fruits may come in many colors such as red, yellow, reddish green, green (unripe) or maroon (shorter hair). The species sold here were from Balik Pulau, Penang. They have thinner skins with a much thicker coconut crunch like texture. The taste of rambutans would be somewhat different compared to other tropical fruit as it has a unique mild acidic sweetness. Some older generations might even pickle them in salt. It actually tasted real good as pickles. One advice for those with asthmatic or throat problems – Do not take the fruit with the skin from the seed intact. It would cause continuous irritation to the throat.
Another tropical fruit that would be quite famous, especially amongst the Malays would be the Buah Langsat (RM2/kg). These fruits are normally oval in shape and would come in bunch of 30 fruits or less. The yellow and leather like skin fruit has 5-6 peels of translucent juicy flesh inside. Just like the mangosteen, it has whitish like seed in bigger peels. As for taste, it has a sweet and slightly sour acidic flavor with a hint of bitterness if not fully ripened.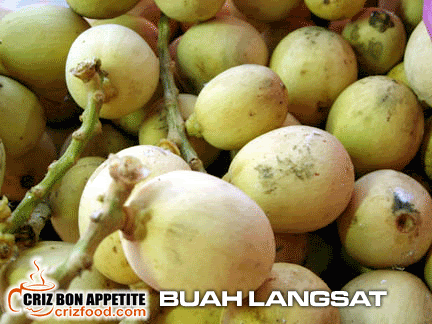 Last but not least my so called Prince of the Fruits – Cempedak (RM3/kg). The sausage like fruit practically grows on the trunk of the tree. The unique South East Asia native fruit has red, orange and yellow arils and taste somewhat like a stronger jackfruit with a hint of durian (without the intruding smell of course). I actually wanted the stronger and sweeter fruit with red arils but it would take a month or two more before they would be available. We ended up with the yellow ones which tasted just as great. Although some people would love to have them fresh, my favorite teatime snack would still be the double batter fried ones. Why double batter fried? The first batter dip would be to get the flesh cook and the next batter dip would get the seed within cooked well and to give that extra crunch. Just like the durian seed, the cempedak seed has the unique chestnut flavor but a bit softer than the former.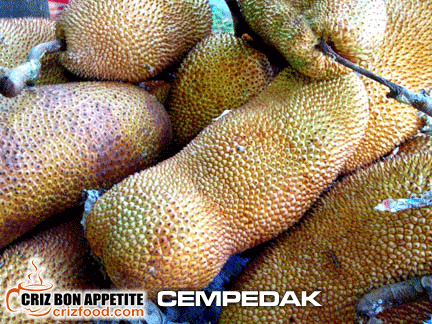 I would surely archive Ah Joo's contact for the remaining months and also for years to come as this has been one of the great fruit stalls around. Even their Buffet Durian Promotion (5-10pax at RM25/adult and RM15/child) shone out amongst the rest as there will be unlimited supplies of branded durians for your consumption. If you feel like having a durian fiesta right in the comfort of your home, delivery service can be arranged for an order of more than 10 fruits. Do check out the delivery time below.
Finding the stall would not be hard if you know how to get to the Penang International Airport by using Jalan Sultan Azlan Shah. As you reach the airport entrance "Y" junction, turn right and go over the flyover into Jalan Bayan Lepas. Drive on until you have reached the Jalan Permatang Damar Laut junction. Drive straight until next prominent landmark which would be the Emerald Park/Krystal Country Homes on your left. Drive further until you see the Teluk Kumbar Mosque, Kampung Sungai Batu. Slow down and watch out for Ah Joo's Durian Stall just a few meters away on your right next to Forever Star Electrical and Plumber Trading.
Name: Ah Joo Durian Stall
Branch Address: 1238 Jalan Bayan Lepas, 11900 Penang, Malaysia.
Contact: 017-422 2248 (Ah Joo), 012-453 1812 (Delivery-Kelly)
Business Hours: 10.00am-12.00am (daily)
Delivery: After 5.00pm (weekdays), business hours (weekends)
GPS: 5.285736, 100.238872
RATING:
Ambience: 5/10 (1-4 cheap, 5-7 average, 8-10 classy)
Food Choices: 7/10 (1-4 limited, 5-7 average, 8-10 many choices)
Taste: 9/10 (1-4 tasteless, 5-7 average, 8-10 excellent)
Pricing: 7/10 (1-4 cheap, 5-7 average, 8-10 expensive)
Service: 9/10 (1-4 bad, 5-7 average, 8-10 excellent)
Invited Reviewers:
Criz, Cariso, Food Paradise, Steven Goh, Chan CW