Recently, I had a short trip out of Penang to visit a wall mural site at Pekan Semeling (錫米嶺/新文英 – GPS: 5.700010, 100.472375), a small town within Bedong (off Sungai Petani) in Kedah, Malaysia. It housed many mural arts by various artists at the back alley of some old and abandoned houses along Jalan Raya Semeling, 08100 Kedah, Malaysia. You can check out the wall murals at my FB Site. To fill up my stomach prior to visiting the wall mural site, I've decided to pay a visit to a restaurant 10 minutes or 7.5km away named Restoran Chuan Heang (全香茶餐室), along the old trunk road of Jalan Utama Alor Setar-Sungai Petani. The restaurant has its regulars swarming in continuously for its specially crafted mantou, none that you could find anywhere in Malaysia. Other than the mantou, you could expect to order some home-style Chinese dishes.
Let's start by introducing the much acclaimed Steamed Mantou with Fritter (RM1.40nett/pc with minimum order of 4 pieces or according to the number of diners with more than 4 pax). Each of the delicacy would come with a somewhat square steamed mantou filled with a crispy homemade fritter plus a light touch of sweet BBQ sauce. As the crispiness of the fritter overwhelmed the taste from what were within, many diners had the wrong idea that it was filled with prawn, pork, etc. It was actually filled up with mashed fish, dried shrimps, shitake mushroom slices, chopped spring onions with a light touch of seasoning and wrapped in bean curd skin, prior to being coated with batter and deep fried to golden brown. It was indeed a rather unique way to serve mantou. However, as a seasoned food creator with a higher expectation on quality, I do find the item lacked of bites other than the crispiness from the thickly coated batter. The filling was barely 3mm in thickness, whereas the batter had expanded to ±25mm. Moreover, the BBQ sauce was not adequate to give the whole bite a juicy sensation. Well, I can't complain much as it was indeed a rare creation and at a cheap price of RM1.40nett each.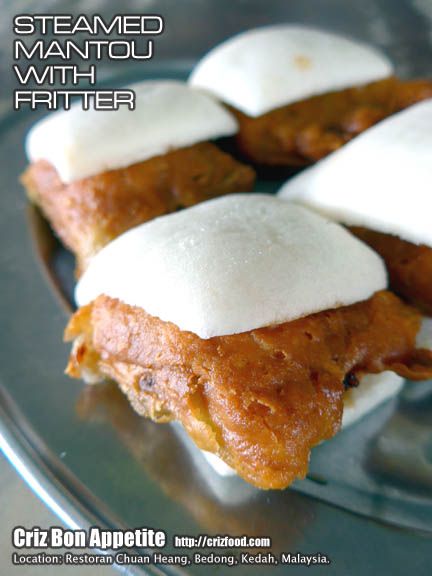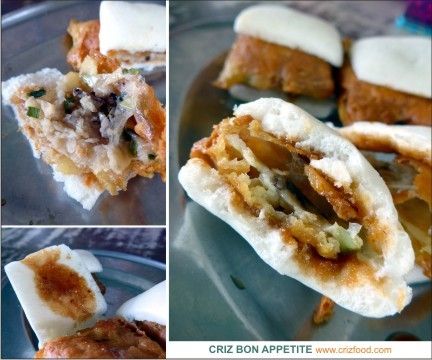 Since it was lunch time and their Roasted Pork Trotter won't be ready until 5.00pm, I tried their Braised Pork Trotter (RM24nett) instead. It was juicy and meaty with just some lightly spiced up gravy, accompanied with some vegetables and mushrooms. Though the flavors were quite adequate to go with a plate of hot steaming rice (RM0.80nett/bowl), it would be great if the kitchen had extended the time to marinate the trotter more to enable more flavors to seep into the meat. Alternatively, if you love this type of braised dish, I would recommend you to try out the more flavorful Braised Ham Hock at Zi Zai Restaurant in Paya Terubong, Penang.
Next on the list was the Steamed Prawns with Egg (RM14nett). This dish could be a love-hate dish for some diners as it used lots of julienned young ginger and Shao Xing wine. The dish practically had 4 butterfly-cut large prawns laid on top of beaten eggs with a generous amount of julienned ginger prior to steaming. When cooked, the dish would be garnished with some deep fried garlic in oil, a light touch of soy sauce and sesame oil plus some sprinkles of Shao Xing wine. Though it could be a bit strong for many, I quite like the dish due to the freshness of the prawns as well as the nice combination of flavors.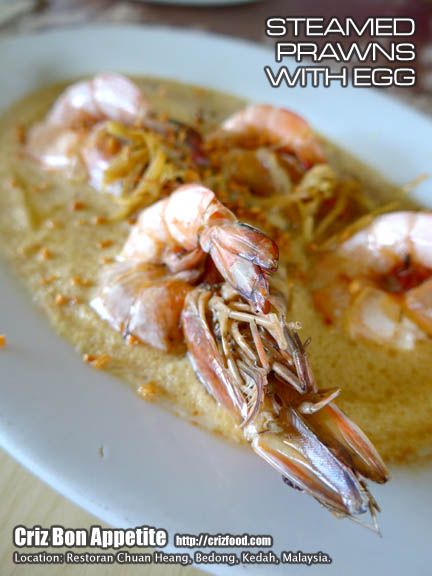 Lastly, I just ordered a simple Stir Fry Bean Sprouts & Pea Sprouts with Salted Fish (RM6nett). I loved this type of combination as bean sprouts could be rather soft if overcooked while pea sprouts could be rather fibrous if cooked alone. The kitchen got the heat right while maintaining the crunchiness of the vegetables. The added salted fish was also nice as they used a better graded one which was not too salty. It would be great if the kitchen would add in a light touch of julienned ginger and red chilies to pep up the flavors more.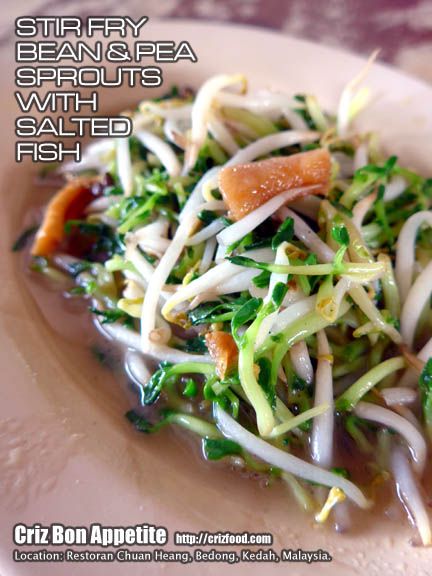 Overall, it was still a satisfying and homely meal, considered that everything served on that day were fresh and cheap. It might be that Penangites tend to have stronger taste buds on flavors and it would take a bit of effort to get use to the taste of food in the neighboring states.
It's not really hard to locate Restoran Chuan Heang (全香茶餐室) as it's just along the old trunk road of Jalan Utama Alor Setar-Sungai Petani. Some may just label the road as Jalan Raya or Batu Satu but if you have a GPS gadget or even mobile application such as WAZE, just key in the GPS coordinates provided below and you won't get lost. I'm sorry that you can't key in the restaurant name as it's not detectable on Google Maps or WAZE. To reach the trunk road, the nearest PLUS highway toll station would be at Sungai Petani (U – Utara). Upon exiting the toll plaza, keep to your right until you reach the traffic lights. Turn right and drive about 7.6km or 10 minutes away until you see a Caltex and Shell petrol kiosk next to each other on your right. The restaurant is just directly opposite the Shell petrol kiosk on your left.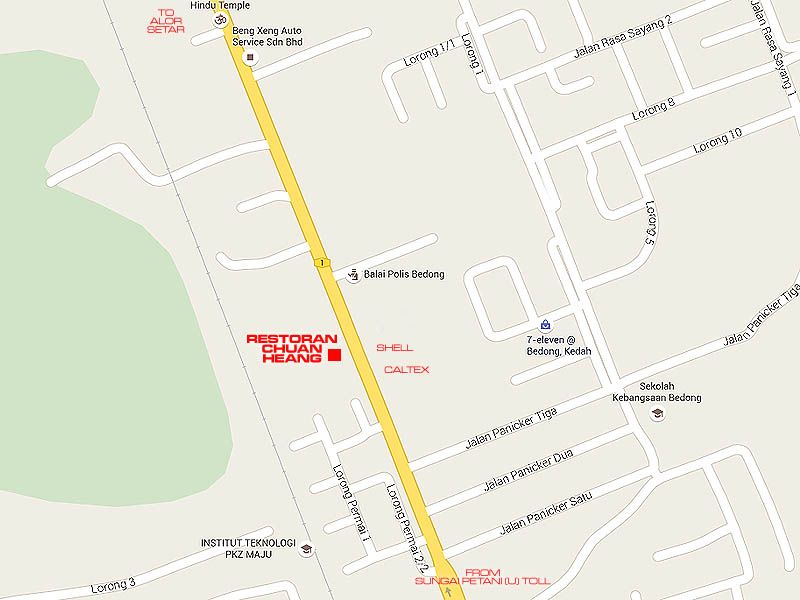 Name: RESTORAN CHUAN HEANG (全香茶餐室)
Address: 374-375, Jalan Raya, (Batu Satu/Jalan Utama Alor Setar- Sungai Petani), 08100 Bedong, Kedah, Malaysia.
Contact: +604-458 3007
Business Hours: 11.30am-10.00pm (Closed Tuesday)
GPS: 5.733286, 100.511183
RATING:
Ambience: 6/10 (1-4 cheap, 5-7 average, 8-10 classy)
Food Choices: 7/10 (1-4 limited, 5-7 average, 8-10 many choices)
Taste: 7/10 (1-4 tasteless, 5-7 average, 8-10 excellent)
Pricing: 6/10 (1-4 cheap, 5-7 average, 8-10 expensive)
Service: 8/10 (1-4 bad, 5-7 average, 8-10 excellent)