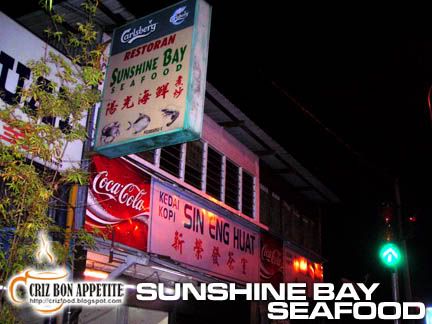 If you are not familiar with the dining places of Tanjung Bungah, you may just missed out this fine seafood restaurant there. From the front signboard "Kedai Kopi Sin Eng Huat", it may look like another ordinary coffee shop but what lied within the premises is the Sunshine Bay Seafood Restaurant. Most people would just overlook this restaurant as it is out of convenience or not knowing that they do have a parking space behind.
Recently, I revisited the place with a friend. Instead of going for the usual noodles dishes that they have, we opted for dishes served with rice. The restaurant has many types of seafood available but their main specialties are steamed fish and baby stingray. Since there were only two of us, we chose their Spicy "Kam Heong" White Prawns (RM20 for 8 large prawns). The prawns were rather spicy with loads of big onion slices, curry leaves, curry paste and pounded dried shrimps. The dish was very appetizing except that I would prefer it to be a bit less oily.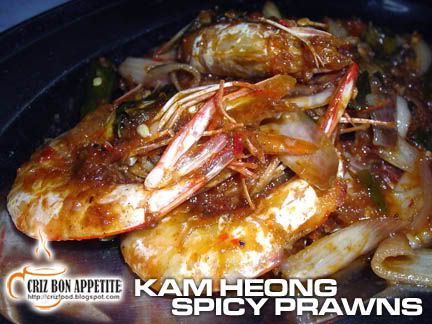 The Green Beans (Or Kooi Tao) with Dried Shrimps (RM6) was served next. Some chopped onions and dried shrimps were fried in dark soy sauce and then stir fried with fried green beans. I love this dish as the green beans still maintained their crunchiness.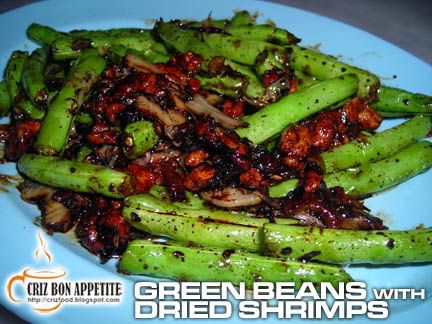 Next was the Royal Stout Fried Chicken (RM8). Choice pieces of chicken thigh meats were marinated well, fried and then cooked with some stout and ingredients. This dish is great. I won't mind ordering this more next time. It tasted like spare ribs BBQ sauce but it has that unique taste that is rather hard to describe unless you try it out yourself. There's no alcoholic taste in it at all. I guessed they might have used Royal rather then Guinness.
The last dish was their Homemade Tofu with Soy Sauce (RM8), garnished with chopped spring onions. The fried tofu was real soft and the soy sauce was not too salty. Everything blended in real well except that I found the dish to be overpriced. It's ridiculous to charge this amount as there wasn't even any meat in it.
Overall, I find the food here rather satisfying. By the way, they charged the rice separately but who would complain at 80sens each? Of course you won't be charged any service or government tax in this type of environment too.
Going to the restaurant from town would be quite a headache as the place is on the other side of the road with a stone divider separating both sides. The easiest way would be driving along Jalan Tanjung Bungah towards Batu Ferringhi until you have reached the traffic lights of Jalan Permai (Vale of Temp). You can see Maybank at the corner shop lot. Drive on until you have reached another traffic light (about 30m away) and turn left into Jalan Chan Siew Teong to make a U-Turn. The restaurant is actually opposite Jalan Chan Siew Teong. When the traffic turns green, turn right and then left into a small lane next to the restaurant. There are ample parking spaces behind the restaurant. Alternatively, you can drive on after the traffic light and turn right into the Tanjung Bungah Floating Mosque to make a U-Turn. Be careful to watch out for oncoming vehicles. You can also park your car in Restoran Khaleel (next to the restaurant) but be prepared to pay RM2 as parking fees.
Name: SUNSHINE BAY SEAFOOD RESTAURANT
Address: 569-B, Jalan Tanjung Bungah, 11200 Penang, Malaysia.
Opening Hours: 6.30pm – 10.30pm (Closed Tuesday)
Contact: 012-473 7276, 016-468 9168
GPS: 5.466144, 100.279989
RATING:
Ambience: 7/10 (1-4 cheap, 5-7 average, 8-10 classy)
Food Choices: 8/10 (1-4 limited, 5-7 average, 8-10 many choices)
Taste: 8/10 (1-4 tasteless, 5-7 average, 8-10 excellent)
Pricing: 7/10 (1-4 cheap, 5-7 average, 8-10 expensive)
Service: 7/10 (1-4 bad, 5-7 average, 8-10 excellent)