Have you ever got tired of having rice with your dishes? Maybe you could try cooking a vegetarian curry dish that would go very well with bread of any type or even wrap it in those pre-packed spring roll skins and deep fry for some great snacks. Let me share with you my simple CHICKPEAS AND SWEET POTATOES CURRY recipe today. It's up to your own creativity whether you would love to have it as stuffed pita, vegetarian curry spring rolls, curry puff, samosa or simply dip your chapati, naan, roti canai (roti paratha) or bread in it. The options are endless.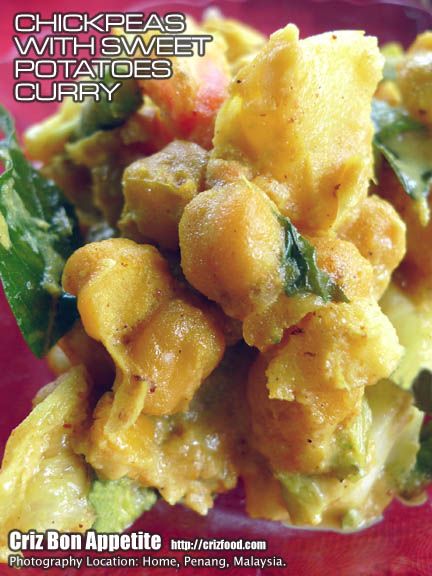 INGREDIENTS:
500g sweet potatoes (remove skin & dice into 20mm cubes)
300-400g of chickpeas (steam until cooked or canned ones)
1 small carrot (remove skin & dice into 15mm cubes, blanch until cook)
2 tomatoes (remove seeds and dice)
2 stalks of curry leaves (replaceable with 3 basil leaves)
2 tsp ginger powder (replaceable with grated ones)
1 tsp chili powder (add more for a spicier version)
1 tsp turmeric powder (kunyit)
2 tsp ground cumin (jintan putih)
3 tsp ground coriander (ketumbar)
1.5 cups vegetable stock
2 tbsp vegetable oil
Salt, sugar and pepper to taste
OPTIONAL:
1 big onion (diced)
2 cloves garlic (chopped)
Mustard seeds
Broccoli
Cauliflower
Long beans
Coconut milk
Evaporated milk
PREPARATIONS:
• Heat up about 2 tablespoon of oil and sauté the ginger powder, chili powder, turmeric powder, ground cumin and ground coriander until fragrant.
• Add in the curry leaves and sweet potatoes and stir fry thoroughly.
• Add in the vegetable stock and bring to boil. Once boils, switch your fire to LOW and let the potatoes simmer until tender. It would take about 20-25 minutes.
• Add in the steamed chickpeas and carrot. Let it simmer for another 5 minutes or so.
• Add salt, sugar, pepper to taste.
• Scoop out and serve with your choice of starch (rice, bread, etc).
(Serves: 4-5)
YOU CAN CHECK HERE FOR MORE RECIPES.