I did mention earlier in my Chinese New Year reunion dinner post that my family has a special dipping sauce for our steamboat instead of the usual hoisin sauce, chopped garlic with bird's eyes chilies in soy sauce or bottled chili sauce that most family would have as condiments. Let me share with you this simple and appetizing SWEET & CRUNCHY DIPPING SAUCE recipe for almost any meat or seafood dishes.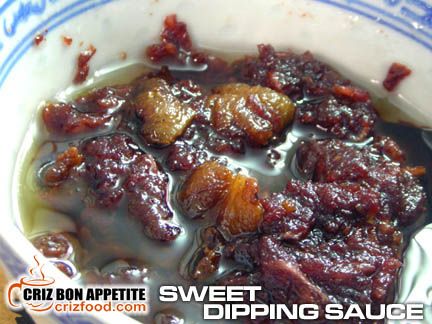 INGREDIENTS:
250gms red sweet sauce (紅甜醬/tim zheong)
1 thumb size young ginger (slice thinly and cut into strips)
100gms chicken fat/skin/lard (cut into 2" strips)
oil
PREPARATION:
1. Heat up 4 tablespoon of oil in a wok in high fire.
2. Lower the fire to medium and put the chicken fat. Slowly sauté the fat until crispy brown. Scoop up and place on a kitchen towel to seep the excess oil. When cool, cut into smaller chunks.
3. Heat up the remaining oil and sauté the ginger strips until golden brown.
4. Put in the sweet sauce and sauté for about 3 minutes under low fire.
5. Put in the chunks of fat and stir evenly.
6. Scoop and serve.
Note: You can scoop up some of the oil if there is too much. It's advisable to prepare this sauce 2-3 hours before serving as the oil would harden (due to the fat/lard) and turn white under cold environment. If this happen, just microwave the sauce in high mode for 30 seconds. Best consume within 2-3 days without needing to refrigerate.
(Serves: 10 and above)
YOU CAN CHECK HERE FOR MORE RECIPES.