I'm sure T.G.I. Fridays (TGIF) is no longer a new name in the F&B industry as it's an international chain of casual dining venues spread all over 58 countries. In Malaysia alone, there are 18 outlets in four major states such as Kuala Lumpur, Selangor, Johor and Penang. Penang itself has two outlets located at Queensbay Mall and Gurney Paragon Mall. So what's so great about visiting TGIF? It's famous for mouthwatering American classics ranging from appetizers to memorable burgers and delicious desserts. It's also a great venue to hang out with family and friends as their serving portions can be real huge, not forgetting its distinctive and different spread of choices on its menu.
To start off, it would be great if you could order a starter to share out prior to waiting for your main dishes to arrive steaming hot from the kitchen. Great food would need some time to be prepared to perfection right? Let's start with the Fridays Three-For-all (RM41.90++), a favorite amongst diners. It's one big platter with their famous Loaded Potato Skins with beef bits (You can request to opt for chicken bits if you are not a beef consumer), Fried Mozzarella and their spicy Buffalo Wings, served with sour cream & green onions, marinara sauce and celery sticks with Bleu cheese dressing.
The Americans love steaks and what would be the best than to order their recommended Australian air-flown grain-fed beef. The Sirloin Steak (RM47.90) was seasoned well and fire-grilled based on my preference of medium-rare texture. The steak was topped with my choice of black pepper sauce and served with my choice of 2 side dishes which were broccoli with garlic butter and cheddar cheese mashed potatoes. Other choice of sauces include wild mushroom butter and chimichurri pesto while side dishes options may also include grilled New Orleans corn cob, crispy fries, herbed rice and bean 7 broccoli blend.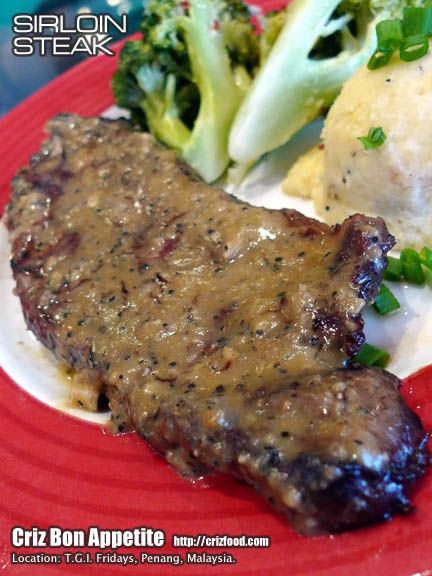 For a lighter and less meaty meal, you may also opt for their Key West Whitefish (RM32.90++), a mildly roasted whitefish topped with a sparkling citrus splash, served with seasonal vegetables and herbed rice. The tanginess of the sauce went well with the herbed rice.
A meal won't be complete minus desserts. Of course, I would surely go for their all-time favorite of Brownie Obsession (RM18.90++). The oozy warm brownie covered in chocolate-fudge and caramel sauce, served with vanilla ice cream was something any sweet tooth diner won't miss.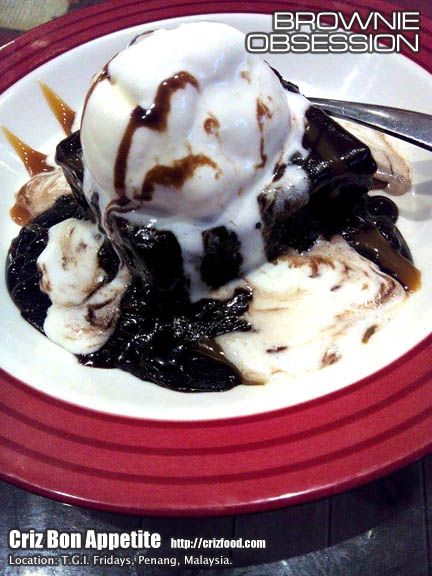 Overall, the dishes served at both the Penang outlets were up to par. The portions served were huge for an Asian appetite. Moreover, there were quite a lot of options even for burgers, pastas and desserts lovers.
Name: T.G.I. FRIDAYS
Gurney Paragon Mall Branch:
Address: Lot 1-32, Level 1, Gurney Paragon Mall, Persiaran Gurney, 10250 Penang, Malaysia.
Contact: 604-228 7554
GPS: 5.436491, 100.311398
Queensbay Mall Branch:
Address: Lot GF 131 & 139, Ground Floor, Queensbay Mall, 100 Persiaran Bayan Indah, Bayan Lepas, 11900 Penang, Malaysia.
Contact: 604-641 3363
GPS: 5.334331, 100.306709
RATING:
Ambience: 8/10 (1-4 cheap, 5-7 average, 8-10 classy)
Food Choices: 7.5/10 (1-4 limited, 5-7 average, 8-10 many choices)
Taste: 7.5/10 (1-4 tasteless, 5-7 average, 8-10 excellent)
Pricing: 8/10 (1-4 cheap, 5-7 average, 8-10 expensive)
Service: 8/10 (1-4 bad, 5-7 average, 8-10 excellent)