Taipei 101 – Taiwan Cuisine Restaurant has been in operation for almost 3 years and I had just managed to pay them a visit recently. The restaurant would serve quite a number of Taiwanese dishes but tweaked to suit the locals' taste buds. The food here could be real economical for all consumptions as prices would be in nett.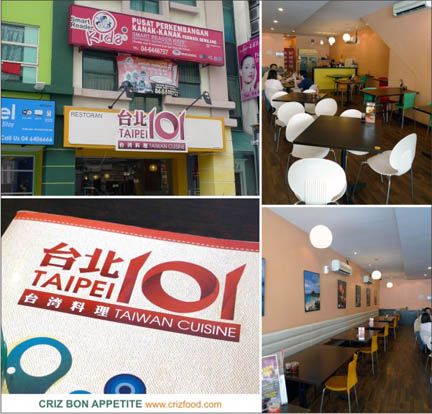 The restaurant practically served quite a variety of bento sets just like the one I had at Kim Tavern @ Sunway Carnival, Bandar Sunway, Penang. One of the sets was the Sweet & Sour Garlic Pork Bento (蒜泥白肉便當 – RM9.90nett). The bento set came with some stir fried sweet and sour garlic pork, a bowl of rice, half a braised egg, some vegetables and some bean curd stick and seaweed soup. The deep fried eggplants were somehow rather hardy and the stir fried mixed vegetables were somewhat overcooked, thus losing the crunchiness. The dishes were just some simple home cooked dishes which was nothing much to brag about. It would be better if they could give those pork slices a touch of batter and presented it in a semi dry sauce just like how Kim Tavern mentioned above did.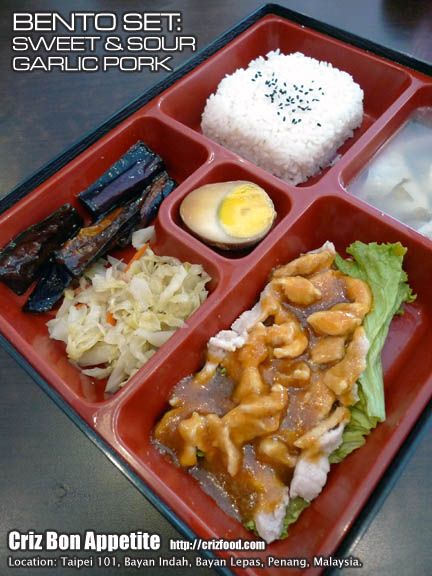 The next bento set was the Deep Fried Lemongrass Chicken Rice (檸檬香茅雞腿排飯 – RM9.90nett). The crispy chicken drumstick portion was humongous but somehow the taste was not up to my expectation as it lacked the taste of the lemon and lemon grass marinates as the said name. Maybe some finely chopped lemongrass and kaffir lime leaves added in the batter would have given the chicken choice piece a better flavor. Alternatively, some thick lemongrass gravy on the crispy chicken would be another good solution. This dish also came with some steamed rice with braised pork sauce, spicy chili tofu and half a braised egg. Unfortunately, the sauce did not have the fragrance as in the traditionally served Taiwanese Braised Pork Rice just like the one I had at my favorite Formosa Restaurant. It lacked the lard flavors.
They do also serve claypot dishes sets which would come with a bowl of rice, some spicy chili tofu and some egg. One of the dishes would be the Spicy Pork Ribs Claypot (辛辣排骨 – RM11.50nett/set or RM9.50nett ala carte). This dish was somewhat like the dim sum version of Steamed Pork Ribs with some fermented black soy beans (黑豆豆豉/tao see) and some spicy spices but with more gravy. Though the pork ribs were tender and packed with flavors, the gravy was rather diluted. The kitchen should simmer the gravy more to thicken it or use less water in the process of cooking. Else, the gravy was quite nice to go with hot steaming rice.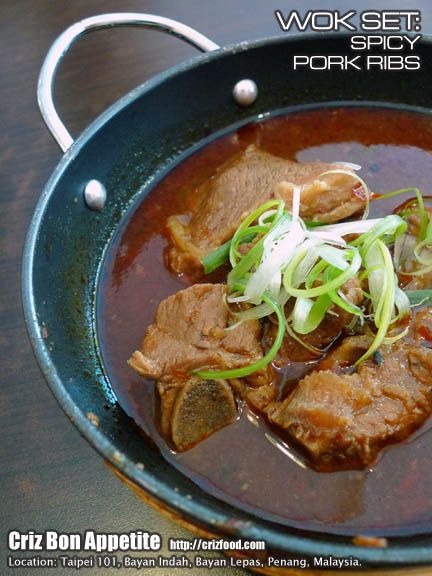 We were also served with the Braised Pork Trotter Claypot (滷豬手 – RM12.50nett/set or RM10.50nett ala carte). Obviously, some pork belly meat had been added into the dish to create more bulk as pork trotters usually would not contain much meat. The sweet black vinegar based dish had some mushrooms added in too. I personally prefer more old ginger added in to pep up the flavor but overall the dish was still great enough to go with a hot steaming bowl of rice.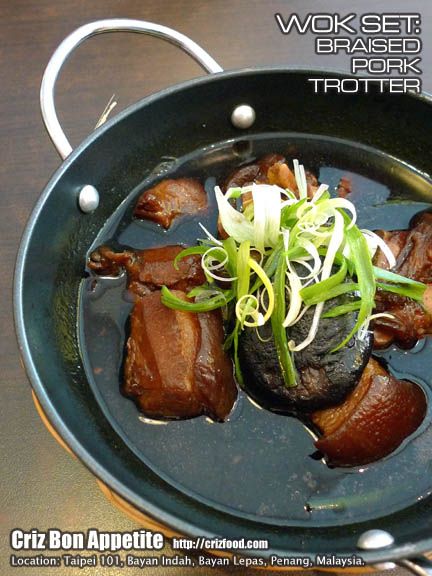 Another claypot dish that you would hardly get at any Taiwanese fast food restaurant chain would be duck dishes. Taipei 101 do serve Braised Ginger Duck Claypot (子姜鴨砂煲 – RM11.50nett/set or RM9.50nett ala carte). The dish had some choice duck pieces braised in ginger and Chinese wine with some wood ear fungus added in. Not a bad dish but the flavors from the Chinese wine might be overpowering for some diners.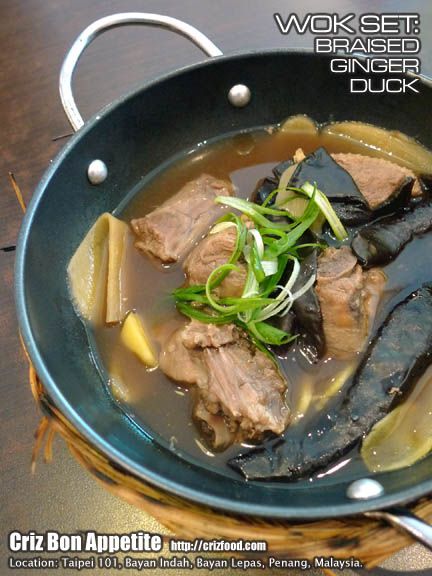 A visit to any Taiwanese restaurant won't be complete if you did not try out their mee suah (麵線/wheat grass noodles). Taipei 101 has the options for ingredients such as oyster, mushroom, squid, mock abalone, mussel and scallop. We had their Neptune Mian Xian (海皇麵線- RM7.80nett/1 ingredient, RM10.80nett/2 ingredients or RM12.80nett/3 ingredients) with mock abalone (貴妃鮑魚/processed calamari slices). Instead of using the Taiwan imported noodles, Taipei 101 was using a local version which had been deep fried. Thus, the noodles had more al dente than the Taiwanese's but still flavorful for the dish. The almost miso taste-like soup has a distinctive bonito flakes flavor with additional omelette slices, crabstick slices and some spring onions added as garnishing on top of the mock abalone slices.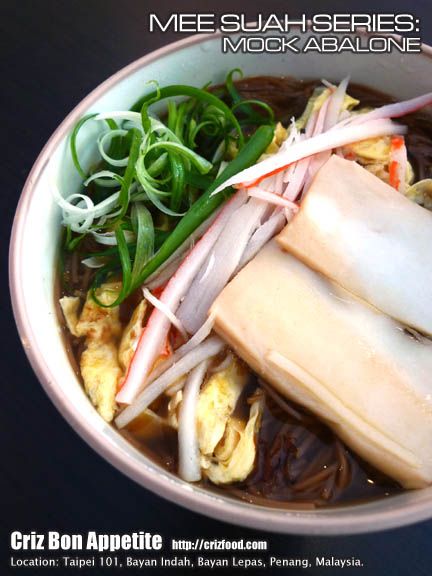 The noodle dish would go well with some dry chilies in oil from the table.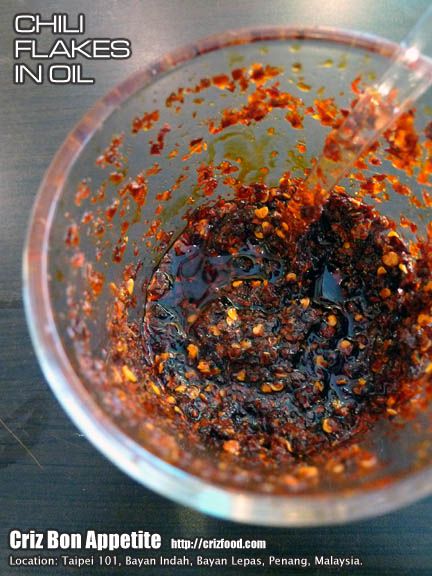 Snacks most probably play an important part in the lives of any Taiwanese. One of the snacks that I like most was their Deep Fried Kumara Potatoes with Plum Powder (甘梅地瓜 – RM4.80nett). The sweet red potatoes were done with the perfect crispiness and they were generous with the plum powder too.
Another of their snack was the Popcorn Chicken (鹽酥雞 – RM5.00nett). Great chunks of chicken were used but the batter was not up to my expectation as there were some parts of the coating which were rather hardy. Moreover, the juiciness of the meat seemed not to be in presence as drumstick meat pieces were not used in the preparation. Some seasoning powder with high hints of salt and pepper were tossed into the chicken chunks but it lacked the slight spiciness from some finely grinded chili flakes. I wish they could have done up the dish as great as Formosa Restaurant.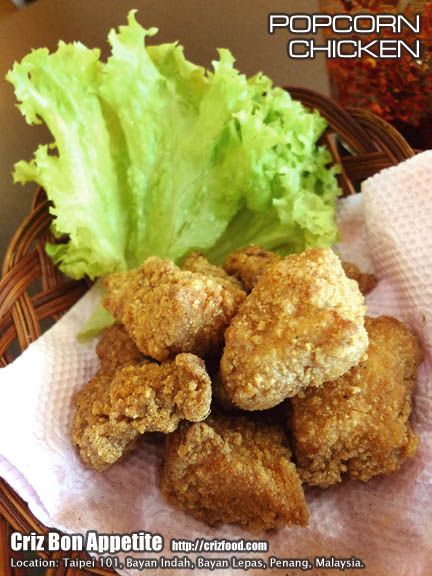 We were also served with their Taiwanese Sausage (臺灣香腸 – RM5.00nett). There were two sausages given compared to other places with only single serving. It was a great bargain. However, the lightly grilled sausage slices were obviously not handmade as the meat within was rather finely minced. Taste wise, they were still acceptable except for the missing chunky bites.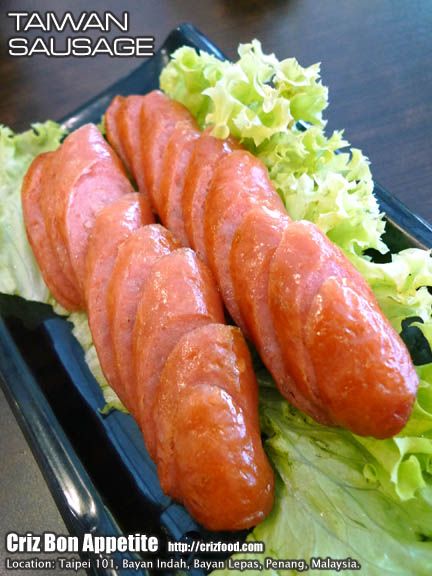 As for beverages, the options were rather standard except for some with a slight twist. We tried out their Winter Melon Lemon Tea (檸檬冬瓜茶 – RM3.90nett), Chocolate Pearl Milk Tea (朱古力珍珠奶茶 – RM3.90nett), Mango Smoothie (芒果沙冰 – RM5.90), Ice Blended Red Bean (紅豆冰沙 – RM4.90nett) and Papaya Milk Shake (木瓜牛奶 – RM4.50nett). The own created recipe of Winter Melon Lemon Tea was rather unique.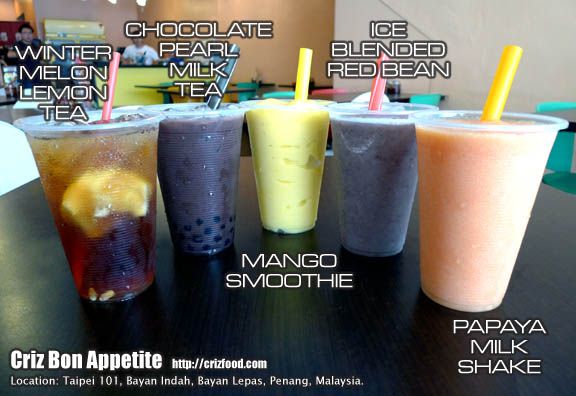 Overall, Taipei 101 could be quite an ideal place for a quick and simple meal without worrying much on your budget. Food wise, they are not much into the authentic Taiwanese cuisine but a bit more towards fusion food. There are still rooms for improvements as some of the dishes were a bit out of track with more localized flavors. I also hope the kitchen would improve on their balance in flavors as I found a large amount of their dishes lacked the required usage of ingredients. Let's hope they could revamp a better menu in the future with the help of some qualified professionals in the industry. Free delivery services would be available for purchase over RM25.
Taipei 101 Taiwan is located just opposite Queensbay Mall. If you are coming from Georgetown towards Bayan Lepas Free Trade Zone via Bayan Lepas Expressway, do watch out for the Pulau Jerejak signboard (leading to Pulau Jerejak jetty). Ignore the turning and drive on to the next left junction. Turn left into Jalan Aziz Ibrahim and drive on until you a roundabout. Turn 3 o' clock and drive on until you see a big Eastin Hotel signboard at the traffic lights. Drive on until you see a stretch of shop houses before the open space car park opposite Queensbay Mall. Taipei 101 is at this stretch of shop houses. The entrance is just before the open car park. Turn left and drive one round to find your parking space.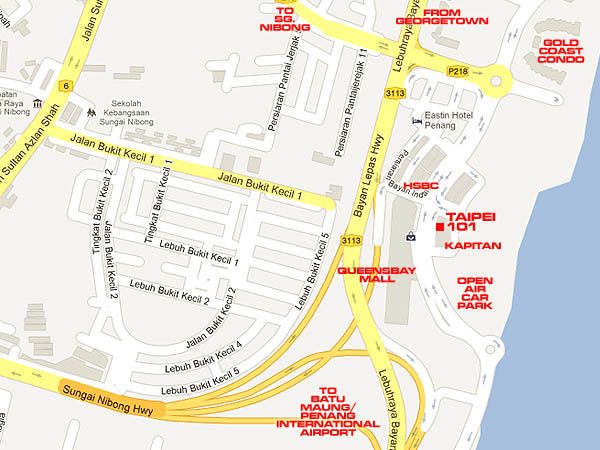 Name: TAIPEI 101 TAIWAN CUISINE RESTAURANT
Address: 35G Persiaran Bayan Indah, 11900 Bayan Lepas, Penang, Malaysia.
Contact: 604-642 1339
Business Hours:
11.00am-3.00pm (Lunch), 5.30pm-10.00pm (Dinner), 11.00am-10.00pm (Weekends)
GPS: 5.334662, 100.307305
RATING:
Ambience: 6/10 (1-4 cheap, 5-7 average, 8-10 classy)
Food Choices: 7/10 (1-4 limited, 5-7 average, 8-10 many choices)
Taste: 6/10 (1-4 tasteless, 5-7 average, 8-10 excellent)
Pricing: 6/10 (1-4 cheap, 5-7 average, 8-10 expensive)
Service: 8/10 (1-4 bad, 5-7 average, 8-10 excellent)