NOTE: THIS RESTAURANT HAS CEASED OPERATION.
If you are a frequent diner at Tao Authentic Asian Cuisine at E-Gate Penang, you would have realized that they have been undergoing renovation works for some time since early December 2012. Now the restaurant was opened on 19 January 2013 and has been renamed as Kampai. The restaurant has been refurbished to a simple Taiwanese ambience concept with low stools and open space dining areas, serving Pan Asian cuisine ranging mostly of Taiwanese cuisine with a light selection of cuisines from China, Japan, Korea and more. This new concept is another brainchild of the Managing Director, Mr. Jack Suen (孫有恒) who has brought in the new Taiwanese "quick stir fry" dining concept to Malaysia. About 95 dishes would be available from the order menu, of which 70% would consist of dishes priced at RM9.90++ each. The balance dishes from the order menu ranges between RM6.90++ to RM29.90++ per serving.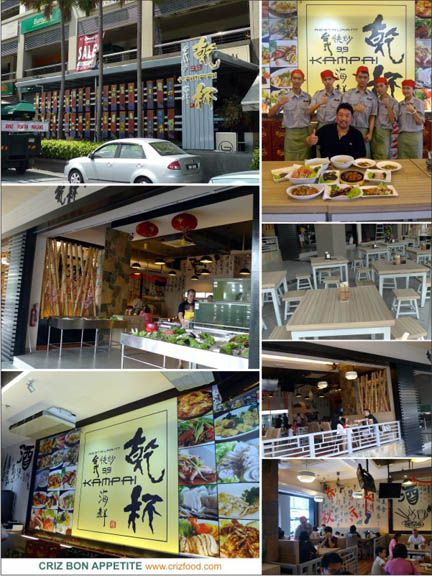 On top of the fixed menu, there would also be live seafood available based on market price as shown on the tag displayed. Some of the choices might be Red Lion, Siakap, Tiger Prawn, Kappa, Crab, Lala and more.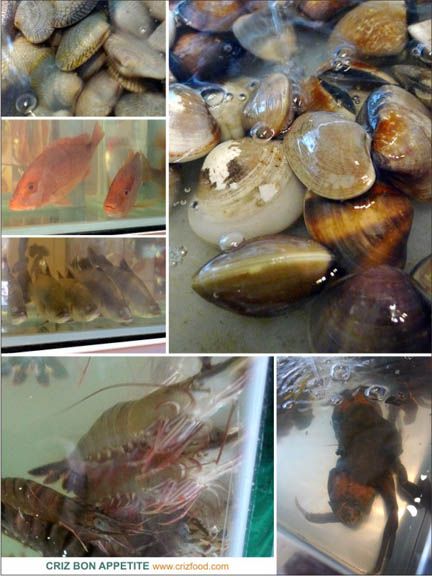 Other fresh seafood would also be available based on the price displayed on the tags. Options might be octopus, cod fish, oyster, white promfret, scallop, prawn, balitung, bamboo clam, salmon head, sea urchin, trichiurus fish, flower crabs and more.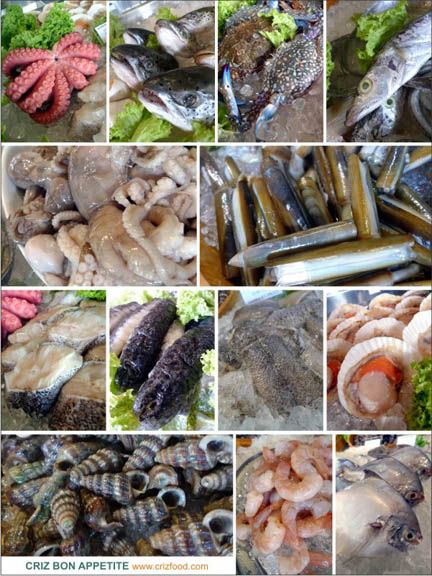 We started off with some cold cuts such as the Sashimi Moriawase (盛盒刺身 – RM29.90++), an assortment of raw fish which consisted of salmon, tuna, snapper and mackerel cuts.
Next was the Smoked Duck (煙燻鴨 – RM9.90++) which came in quite a large portion.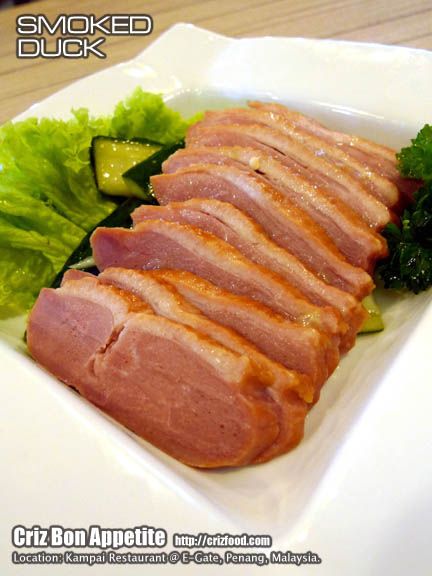 We also fried out the Taiwanese Spicy Chicken (台式椒痲雞 – RM9.90++) which was quite good as the meat was juicy and tender. However, it lacked a bit more chili flakes for my liking.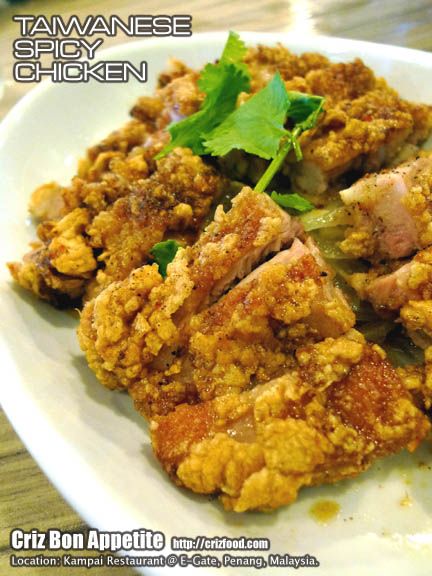 The Garlic Pork (蒜泥白肉 – RM9.90++) on the other hand was quite nice with a special sauce. It was one of the Taiwanese's favorite dishes.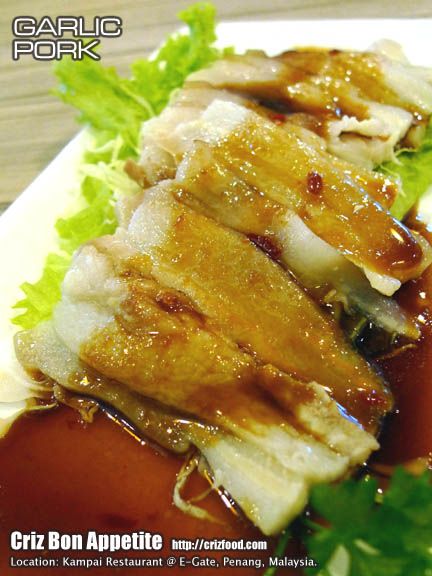 As for Clams with Ginger Soup (蛤蜊薑絲湯- RM9.90++), the soup was quite nice except for the overpowering taste of added grounded pepper.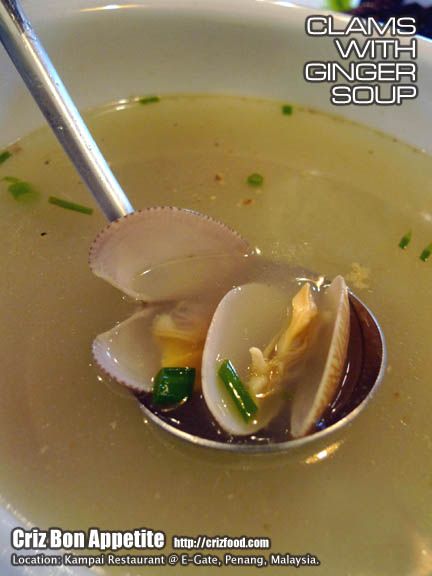 The Garlic Water Frog Soup (蒜味田雞湯- RM19.90++) was just normal to be with a strong hint of garlic minus the fragrant aroma. I would rather have this in my porridge.
The Taiwanese Roasted Pork (烤鹽豬肉- RM9.90++) on the other hand was quite dry and was rather salty to my liking. Somehow it did not have that sort of nice roasted flavors as on our local version of roasted pork.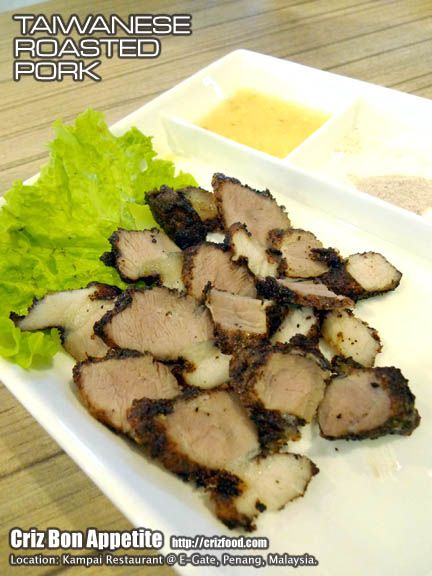 The BBQ Lamb (醬燒羊排 – RM15.90++) was rather tough for me. It was grilled with some quite nicely flavored BBQ sauce but somehow the meat was mot marinated well enough for flavors.
There was also the Grilled Lemongrass Lamb (香茅羊肉串 – RM15.90++) which to me tasted almost similar to the BBQ Lamb. There was no distinctive lemongrass flavor and was not marinated well enough as the above.
Again the Grilled Beef Ribs (鹽燒牛小排 – RM19.90++) was quite normal to me. It did not have any special sauce given except for some spices pepped salt for dipping. At least the meat was nicely marinated.
Next was the Grilled Squid in Sea Urchin Sauce (花枝雲丹燒 – RM15.90++). Nothing special to me and the portion was rather small for us.
As for stir fry items, we had Kung Bao Chicken (宮保雞丁 – RM9.90++). This was another common dish for me and somehow I felt that it lacked the "wok hei" I was expecting.
At least, the Stir Fry Leek Chicken (蒜苗鹽豬肉 – RM9.90++) was reasonably flavored to go with a nice hot bowl of steamed Japanese rice (free-flow).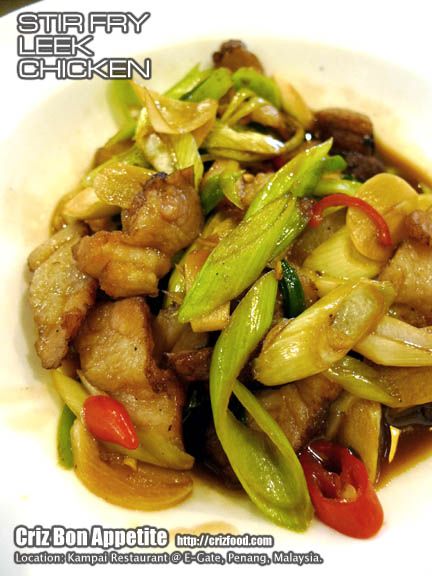 Lastly, it was the Stir Fried Tiger Prawns (乾燒虎蝦 – RM9.90++). This is so typical Taiwanese style with lots added onions and capsicum in sweet and sour sauce.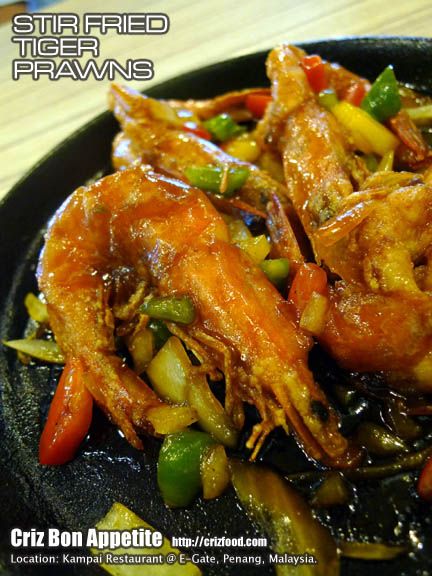 The beverages from this restaurant would basically be canned drinks and beers. Some of the recommended beers would be the Taiwan Beer (RM12++ each) and Taiwan Fruit Beer (RM12++ each). The Taiwan Fruit Beer has 4 flavour such as Lychee, White Grapes, Mango and Pineapple. Other beer brands available would be Budweiser (RM13++), Carlsberg (RM14++), Carlsberg Gold (RM15++) and Asahi (RM17++). For children, there would only be mineral water (RM2++ each) and canned drinks (RM2.50++ each) such as 100Plus, Coke, Sprite, F&N Strawberry, F&N Grape, Iced Lemon Tea, Chrysanthemum, Soya Bean and Grass Jelly.
You can click below to view a larger photo of the menu available in Kampai Restaurant. The live seafood in the tanks and fresh seafood on ice would be based on market rate and would be charged separately per 100 grams as displayed at site.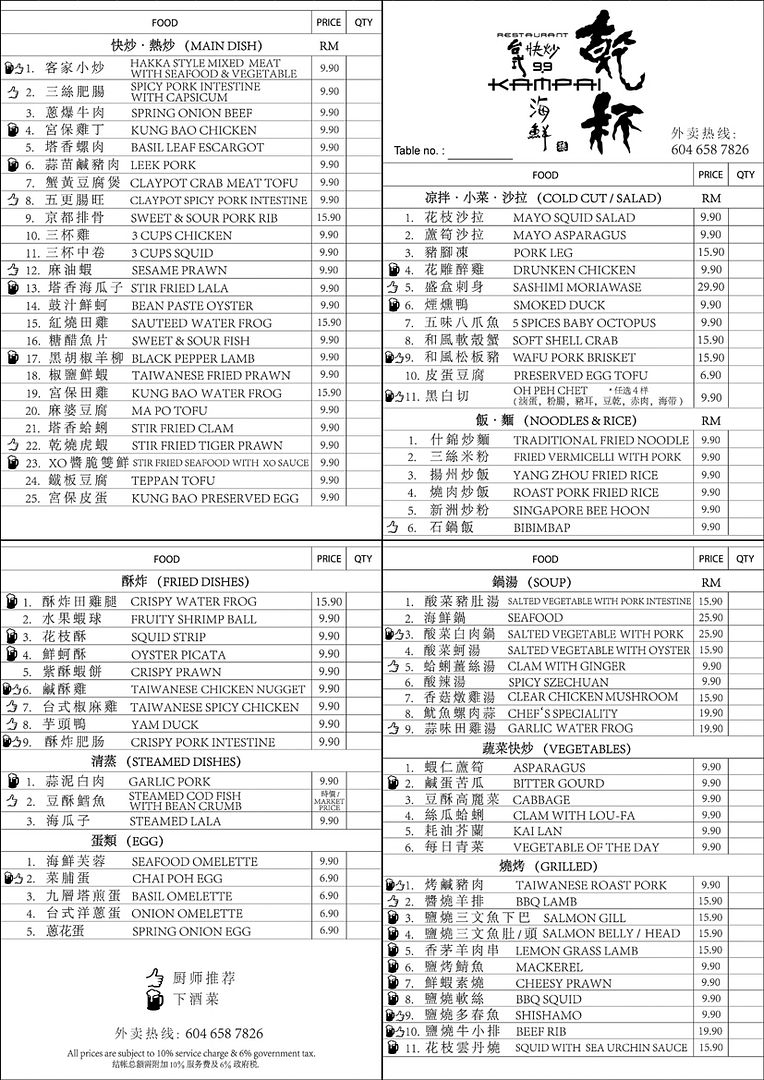 Overall, I personally felt that the dishes served here lacked the authenticity from the actual Taiwanese food I have tried. Though the Taiwanese cuisine we have tried in Malaysia were mostly from the Taiwanese street food scenes, somehow the so called "quick stir fry" dishes served here did not provide me with the type of identity I was expecting to get. 90% of dishes from the menu may consist of name of dishes from the region but they still taste almost similar as what I would get from those stir fry (chu char/大炒) stalls widely scattered all over the country. The only advantage I can see would be its availability to serve late night food hunters up to 2.00am daily with quick food to pair with beers. Another few items not available would be desserts and those milk tea easily available in Taiwan. Anyway, the sitting capacity would only be up to a maximum of 80 pax.
The Kampai restaurant is located within the E-Gate building just next to Subway Sandwiches & Salads facing the main road (Tun Dr. Lim Chong Eu Expressway). If you know how to go to Tesco E-Gate, you won't have problem at all locating the restaurant.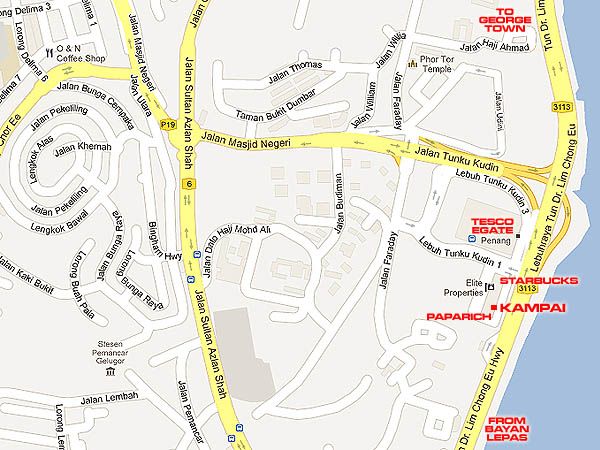 Name: KAMPAI RESTAURANT @ EGATE PENANG
Address:
1-01-05 & 1-01-06, Ground Floor, E-Gate, Lebuh Tunku Kudin 2,
Gelugor, 11700 Penang, Malaysia.
Contact: 604-658 7826
Business Hours: 12.00noon-2.30pm, 5.30pm-2.00am (Daily)
GPS: 5.375828, 100.315405
RATING:
Ambience: 7/10 (1-4 cheap, 5-7 average, 8-10 classy)
Food Choices: 9/10 (1-4 limited, 5-7 average, 8-10 many choices)
Taste: 6/10 (1-4 tasteless, 5-7 average, 8-10 excellent)
Pricing: 7.5/10 (1-4 cheap, 5-7 average, 8-10 expensive)
Service: 7/10 (1-4 bad, 5-7 average, 8-10 excellent)