Note: Please take note that the price of dishes here had increased tremendously in 2011. It's no longer a budget dining place as it once used to be. I have edited the pricing here and the portion would be bigger than shown here.

That's a good question to begin with. Lang Sae Lee is neither the name of a place, a state nor a country but the name of a person. Originated from Pulau Betong, this lady has been residing in Penang for the last 4 decades, cooking delicious and aromatic Thai cuisines that her neighbors would always be envy of. As humble as anyone along the heritage stretch of the clan jetties along Weld Quay, Madam Lee had decided to share her passion in cooking hot and spicy Thai dishes barely a month's ago just to supplement the moderate income of her family members. As a result, what could be a greater news for foodies all over town other than having some home cooked Thai dishes at an unbelievable and yet reasonable pricing.
But there is one problem… you would need to have the patience to dine in this residential stilt-in-the sea house as this is a non-commercialized one-cook restaurant and food would not be served for quite some time. For those with 4 or more diners, it's best to pre-book your dishes prior to visiting this place. Don't be sad with the news as the restaurant has many surprises in store for you. The surrounding area has lots of interesting eco system creatures and birds plus beautiful landscapes for those shutter lovers. You can easily fill up your waiting time when you are enchanted by the beauty of Mother Nature. WARNING: PLEASE WEAR FLAT SHOES AS YOU MIGHT NOT WANT YOUR HIGH HEELS TO GET STUCK BETWEEN PLANKS OF THE WOODEN BRIDGE!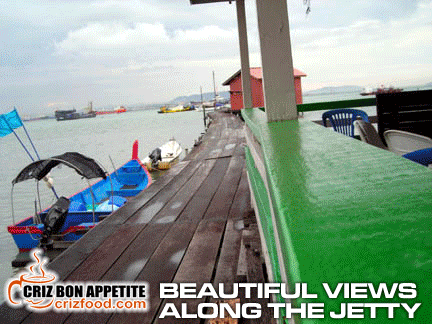 So, what's good to have here? If you are looking for many dishes to go with some fragrantly steamed Thai rice, it would require an advance booking to get the full range of dishes Madam Lee can wok up for you. Simplicity with some vermicelli and rice would be available here. For instant, the Thai Laksa (RM4) here was good. It was so much different compared to those I had tried locally. The vermicelli were thinner and the soup base had a more pungent and spicy flavor with some touches of coconut milk. Other than the usual sliced cucumber, pineapple, onions, mint leaves and cooked fish fillets, I had a surprise with the additional chopped onions, pickled radish (cai po/菜脯) with sliced red chilies. The whole concoction plus some added chili flakes was worth my sweating. LOL!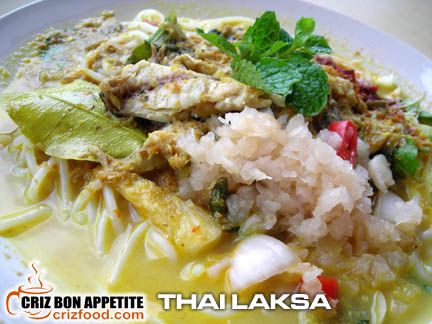 There are six types of rice dishes available here. One of the most commonly ordered in any Thai cuisine would be the Pineapple Fried Rice (RM5). The serving here was rather large for the amount paid as there were generous amount of pineapple cubes added on top of the few large prawns, chicken meat and egg. It was indeed filling.
The next rice dish was my all-time favorite – Thai Holy Basil Fried Rice (RM5). It was nothing fanciful but just some stir fry dish on top of a bowl of steamed Thai rice but the taste was something amazing. The special flavor came from the clove-like sweetness Thai holy basil leaves, fragrantly stir fried with some special sauce with your choice of seafood and meat. You can opt for the dish to be cooked with prawns, chicken meat or simply a combination of both. The style of cooking was rather traditional too as all the ingredients used were smashed instead of the usual cutting. This will be one dish that you should not miss out but there's one warning here. Please inform Madam Lee your level of hotness.
Just an additional note here to share with those who would like to know more about the basil leaves used in Thai cuisine. There are 3 types available, either fresh or dried. The Thai Sweet Basil (horapa/daun selasih) is normally used in dishes such as Thai Green Curry and Taiwanese 3 Cup Chicken. This basil also commonly known as just Thai basil has a more assertive flavor that not many people can accept and they are the strongest flavored ones amongst the 3 species. The next would be the Thai Holy Basil (kha phrao/daun ruku ruku/tulsi). They are milder in taste but have clove-like sweetness in them. This type of basil is cultivated for religious and medicinal purposes. It's believed to be used for many purposes such as cold, stomach disorder, poisoning and many more and the Hindus uses them as part of their worship rituals. The last basil would be the Thai Lemon Basil (manglak/daun kemangi/hoary basil). The leaves have a more citrus-like flavor and they are widely used in Indonesian cuisine such as raw salad.
Another of the commonly ordered rice dish would be the Belacan Fried Rice (RM5). The rice was fried with Madam Lee home made belacan (dried shrimp paste). The taste was not as intruding as some of the belacan dishes I had tasted before. The fried rice was served with cut omelette, some stir fry pork, sliced onions, unripe mangoes, bird eye chilies and some deep fried dried shrimps. When mixed up just like a salad, it was another great experience. The meat was tender and the sourness from the unripe mango made the whole dish real appetizing.
There was also the Salted Fish Fried Rice (RM5). This rice dish would be great for those who could not take too much of spicy food. The fried rice was very similar to the Oriental Fried Rice but has bits of fragrantly fried salted fish. The salted fish was not fishy as it was made from a higher grade of fish, namely barracuda.
There would surely be the Tom Yam Fried Rice (RM5) in any of the Thai restaurant menus but I find the dish to be a bit too mild for my liking. The fried rice has the fragrant, the required ingredients, the sourness from the lime juice but it lacked the extra kick taste from some chopped bird eye chilies. I won't know for sure but it could be due to Madam Lee thinking that I was not in the game for another extra hot and spicy dish. 😛
The last of the rice dishes would be the Sambal Fried Rice (RM5). I love this dish a lot too. The sambal (shrimp paste plus fresh red chilies concoction) was definitely one of the best around. Every mouthful was like heaven as each grain of rice has the fragrance and was coated thoroughly in flavors. This is another of my recommended dish.
If you think that having the above few dishes won't be enough to fill you up, there's always the finger food. You can try out the Fish Cake (RM2/pc) which has some sliced kaffir lime leaves and vegetables mixed with fish paste inside.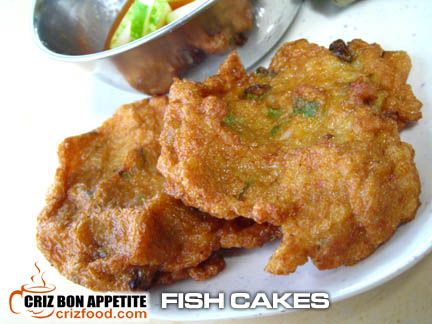 Pandan Chicken (RM2/pc) would also be available here. Each piece would have some turmeric plus coconut milk marinated chicken fillet, wrapped professionally in a pandan leaf (screw pine leaf) and deep fry to perfection. The meat was still juicy and nice. I don't mind paying a bit more for a bigger and thicker pandan chicken as I personally felt that it was too small for me. One bite and it was gone. LOL! If they were to add in one or two bird eye chilies, it would be even better.
How do you like to have some jaws here? Yea… shark meat! They do serve Deep Fried Shark Fillet (RM15/plate) here too. It was just another simple fried fish dish but the fillet was indeed fresh and the fine texture of the meat was wonderful.
There's also the Belacan Chicken Wings (RM3/pc) too. I found that there wasn't much of belacan flavor on the chicken wings and they sure do taste normal. I still prefer the ones at my regular stall at Lebuh Kimberley. Let's hope Madam Lee improves her recipe for this dish further.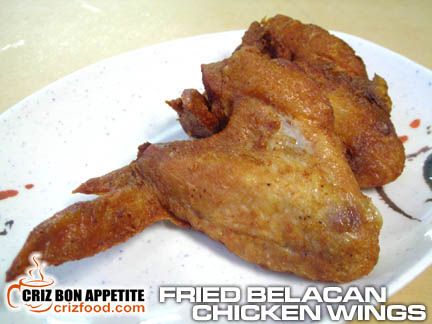 You can also order their Stuffed Chicken Wing (RM4/pc). Each wing was stuffed with marinated chopped mushroom, carrot, prawns and squid, coated with some frying flour and fry until golden brown. This dish would be great for children if only you instruct them not to put the chili sauce on it.
There's also the Spicy Stuffed Chicken Wing (RM3/pc) version with the same ingredients as above plus some turmeric spices and sliced kaffir lime leaves. Well, both the stuffed chicken wings were equally nice if taken immediately when served.
You might also want to try out the Clear Seafood Tom Yam Soup (RM15/bowl). This is one of the less available tom yam locally as most of the restaurants would serve the "easier" red version. The way Madam Lee cooked the soup made me craved for more. It had the right amount of pungent and sourness and all the ingredients used were fresh. Depending on market availability, each bowl/clay pot would have at least one large prawn, some squid slices, goldband jobfish (kalak fish) fillet combined with some abalone mushrooms. The dish was indeed great to go with my other rice dishes. You must try this soup out!
The Red Seafood Tom Yam Soup (RM15/bowl) would also be available here. If you had read carefully earlier, you would have notice that I had inverted the word "easier". Most restaurants would use the ready made tom yam paste (nam prik pao) available in the market for faster cooking, thus it would not have the freshness in the soup base. As for Madam Lee, she also uses that but with a minimal amount to pep up the red color of the soup. The soup would be spicier and sour than the earlier version. My recommendation would still be the earlier version as it's more towards the original taste of tom yam.
Overall, this is just a simple Thai food restaurant located along the beach front of Weld Quay, overseeing the Straits of Malacca. It would be a great place to chill out but do watch out for the low tide period as there would be the overwhelming muddy stench. By the way, there will be more delicious dishes available from time to time from Madam Lee. Please check with her when you call up for reservation. For lunch crowd, you would not have problem dining there. For dinner crowd, it would be best if you book in advance as the business would end at 7.30pm, although you can stay until 9.00pm or later.
Visiting this place would be quite a maze for many people, especially foreigners, as the house is located deep into the Tan Jetty. Here would be a few maps and photos to lead you to the restaurant. Please right click to view map/photos in a bigger version.
Here's Map A which would lead you directly to the entrance of Tan Jetty. It's quite easy to spot the place as it's just next to Tan Bee Eng Bird Shop with a small "Tan Jetty" sign above. If you are coming from the ferry terminal along Pengkalan Weld, keep a watchful eye on the landmarks on your left, especially those Jetty signboards. You would pass by Lim Jetty (temple), Shell petrol kiosk, Chew Jetty (hawker area), slow down and watch out for the Tan Jetty (Tan Bee Eng Bird Shop) sign on your left. Park you car within the road next to Xen Teck Café a bit further up on your left. Walk back to the Tan Jetty entrance where you would see a giant water tank and walk right until the last house.
Alternatively, there's the Map B with a riskier route but with ample parking space. Just drive into the road beside Xen Teck Café until you see the Tan Jetty Prawn Fritter stall. Drive further in until you see the beach front. The restaurant is located at the last house on your left. There would be lots of dogs there and you would have to walk over some loose wooden planks to get into the back portion of the house. My advice – call Madam Lee to lead you into the house when you have arrived. I would not advice this route for the elderly and children, especially when the sun is about to set or during rainy days.
Name: LANG SAE LEE THAI FOOD
Address: 97A, Tan Jetty, Weld Quay, 10300 Penang, Malaysia.
Business Hours: 11.00am-2.30pm, 5.00pm-10.00pm
Contact: 014-907 1808 (Madam Lee)
GPS: 5.411565, 100.339195
RATING:
Ambience: 7/10 (1-4 cheap, 5-7 average, 8-10 classy)
Food Choices: 7.5/10 (1-4 limited, 5-7 average, 8-10 many choices)
Taste: 8/10 (1-4 tasteless, 5-7 average, 8-10 excellent)
Pricing: 6/10 (1-4 cheap, 5-7 average, 8-10 expensive)
Service: 6.5/10 (1-4 bad, 5-7 average, 8-10 excellent)