A trip up Teluk Kumbar today proved fruitful for Chef Chen Hong (陳鴻) and his entourage as they finally get to visit the durian orchard that had named one of their native durians (土榴蓮) as "鴻榴槤/Hong Durian". Even before the chef's arrival, this species of durians which has been in existence for over 2 decades and was nicknamed as "crocodile skin durian" were already selling like hotcakes amongst the locals.
It was amazing how the owner knew how to differentiate the dozens species of native durians here. One thing for sure, they chose the ideal one to name it after Chef Chen Hong. The dark yellow colored flesh of this durian has that smooth custard creamy sweetness with a hint of fermented wine after taste. The fruit was almost all meaty with small seed. The quality can be compared to the second hottest selling durian, Hor Lor (Calabash/葫蘆), just right after the hottest selling Ang Hae (Red Prawn/紅蝦). What an honor for Chef Chen Hong to have that fruit under his name. This durian would surely do well if exported to Taiwan.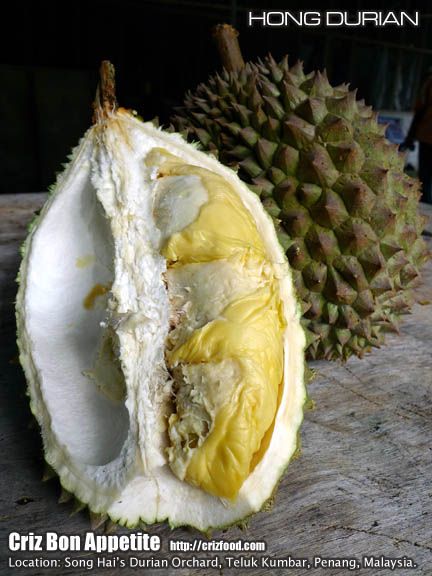 An expert in his culinary skills as always, Chef Chen Hong opened up a durian with ease. He charmingly remarked that the durians should be sold overseas not as a fruit but something exotic and unique that can be created in many forms of delicacies. He had even thought up of a few recipes which durian would be the main ingredient impromptu. They don't address him as the Culinary Prince (美食王子) in Taiwan for no reasons, right? 🙂
Chef Park (from Korea) and Chef Billy Ng (runner-up of 8TV's Hot Chef Season One) also had their try outs in opening durians. I wonder if the owner was serious enough to name their two durians as "Korea" and "Billy Boy". Chef Park who was not a lover for durians eventually took to a liking for them.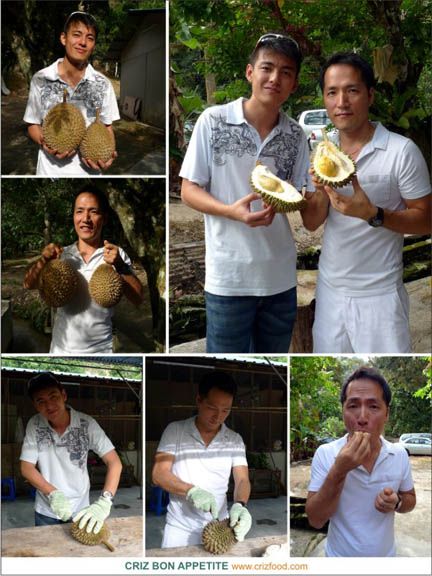 The up the hill durian orchard was still untarnished with man-made pollution. The stream was so clean that you can still drink from it. Many fishes and prawns were sighted swimming about happily without the intrusion of human kind. The atmosphere was fresh and clean with abundant flora and fauna blossoming everywhere. Even a rare species of butterfly flew over and landed on my hand. What a beautiful sight that was. The orchard which spanned from Teluk Kumbar to Tanjung Asam ("chui cheang" where angling trips to the nearby Pulau Kendi was often planned) had many other famous branded durians such as the Ang Hae (Red Prawn/紅蝦), Hor Lor (Calabash/葫蘆), XO, Kapili Susu, Lipan, D2, D24, 604, Ooi Keong Ong (Turmeric King/Kunyit King/黄姜王), Xiao Hong (Small Red/小紅), Ganja (Cannabis), Chneh Poay Kia (Green Skin Boy/青皮仔), Bakuli (Marbles), Phua Cincu (Half Pearl) and many more. Other local fruits such as rambutans, mangosteens, cempedak, etc are also available here.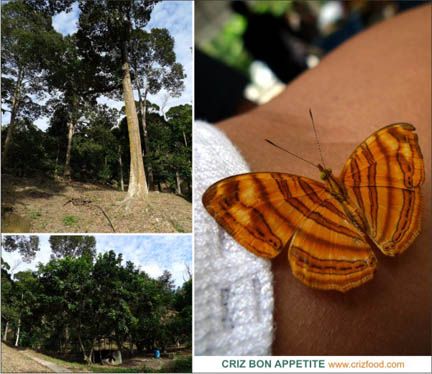 The evening event was also attended by the entourage of Chef Chen Hong, Chef Park, Chef Billy Ng, Food Digest crew members, FoodTok, family members and friends of the owner, food bloggers and reporters. It was indeed a fun-filled outing for everyone after some hectic weeks of planning, organizing and food hunting for the best food in Penang.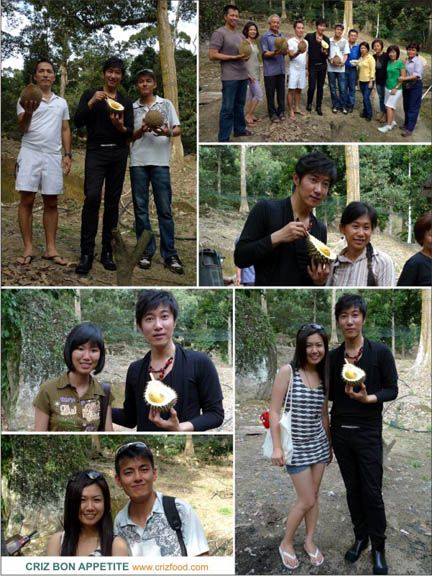 If you are coming from the Bayan Lepas FTZ area along Jalan Bayan Lepas towards the Penang International Airport, drive over the overhead bridge towards Teluk Kumbar. Drive on for around 6-7km and watch out for a big "Hai Boey Seafood" direction signboard on your left at a junction. Turn left into the junction which would also lead you towards Gertak Sanggul. Drive on until you see the "Hai Boey Seafood" signboard on your left. Slow down. Drive on for another 400m and watch out for a small slope on your right (GPS: 5.283556, 100.209471). Drive up the slope and you would see a small temple on your right. Just follow the sign boards available and you would reach your destination within 5 minutes.
Name: SONG HAI'S DURIAN ORCHARD
Address: Teluk Kumbar until Tanjung Asam, 11910, Bayan Lepas, Penang, Malaysia.
Business Hours: To call up
Contact: 016-467 5233 (Mr. Tang Song Hai)
GPS: 5.292088, 100.211914
Sales Office: 26 Lintang Merak, Sg. Dua, 11700 Gelugor, Penang, Malaysia. (Opp. Tesco Extra)
FaceBook: http://www.facebook.com/pages/Song-Hais-Durian/129590123727593
RATING:
Ambience: 5/10 (1-4 cheap, 5-7 average, 8-10 classy)
Food Choices: 7/10 (1-4 limited, 5-7 average, 8-10 many choices)
Taste: 7.5/10 (1-4 tasteless, 5-7 average, 8-10 excellent)
Pricing: 7/10 (1-4 cheap, 5-7 average, 8-10 expensive)
Service: 9/10 (1-4 bad, 5-7 average, 8-10 excellent)