If you love the Texas Grill Promotion in June 2012, you would surely love the Wild Wild West Promotion at Swez Brasserie @ Eastin Hotel, Penang, for the whole month of November 2012 (1-30 November 2012). This promotion would be under the skillful hands of the Jr. Sous Chef, Chef Kelvin Cheong with the help of Chef Evon Chiang from the Cold Kitchen. In this promotion, you would have more options with a combination of Texan and Mexican cuisine. You can now eat as how the cowboys from the West would. Please note that there will be a 15% discount for all MAYBANKARD, VISA, CIMB and UOB card members. More details below.
We started with some appetizers namely some Nachos with Assorted Dipping Sauce (烤玉米片沾醬). The imported Tex-Mex tortilla chips came served with 3 types of dipping sauces such as Chili Con Carne, Guacamole and Ranch BBQ sauces. All of us preferred the ranch BBQ sauce over the others as the smoky flavor complemented the chips real well. The second was the Guacamole which basically consisted of blended avocado, garlic, and onions mixed with some finely brunoised tomatoes and capsicum plus a light touch of salt, pepper and lemon juice. The taste was quite equivalent to that of sour cream dip but creamier with the added avocado. The last was the Chili Con Carne. The rich tomato paste dip came with minced meat, corn kernels, kidney beans, etc. Taste wise, it was a bit spicy with some sourness and sweetness. It was not that the dip was not tasty but due to it being a bit too heavy as an appetizer.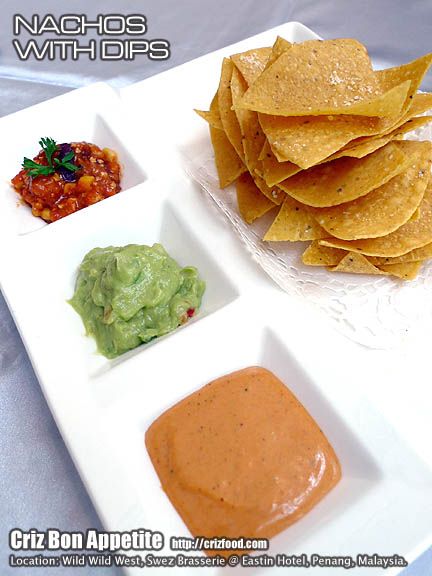 Next was the Mexican Burrito Mustard Bites (芥末醬卷餅) which consisted of fresh wheat flour tortilla laced with a thinly spread of mustard, filled with lots of fresh greens, meat plus sauce and folded like our local "Poh Piah" aka Spring Rolls. The rolls had a wasabi after taste and would be best consumed when they are freshly prepared or the tortilla would get slightly dry after being exposed too long to air.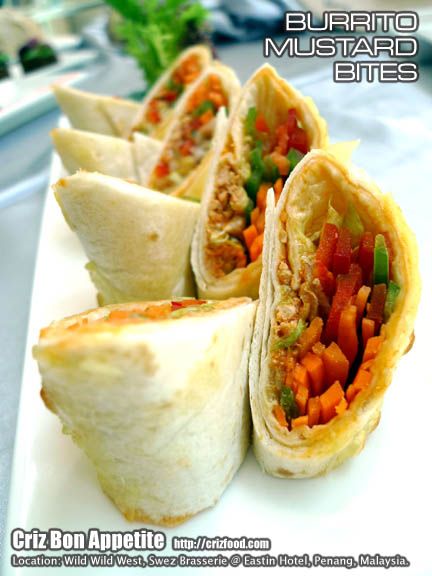 There would also be some cowboy bread available to be spread with some jam and butter or even to be dipped into the available soup of the day. Some of the types available might include Country Bread and grinded maize made Polenta Bread.
As for the main course, we had the Classic Beef Ribs Stew (美式牛肉炖排骨) served on a bed of Grilled Vegetables with Coyote Canyon Red Chili Sauce (香烤沾醬蔬菜). I immediately felt in love with the beef ribs stew as the meat was tender and the gravy was just right to my liking. The dish had almost a similar taste as those BBQ Ribs but without the strong hickory smoked flavors. Now you know what would be best with those country breads~ 😛 On the other hand, the grilled vegetables were just normal.
There was also the Grilled Raw Honey Chicken (香烤蜜糖雞腿). The flavor on the grilled chicken was quite subtle with a light touch of honey sweetness and rosemary. However, I personally felt that the meat needed a longer period of marinate as they were not flavored in balance. Chef Kelvin's Grilled Chicken with Honey Mustard Glaze (蜂蜜芥末醬烤雞) tasted way better than this dish.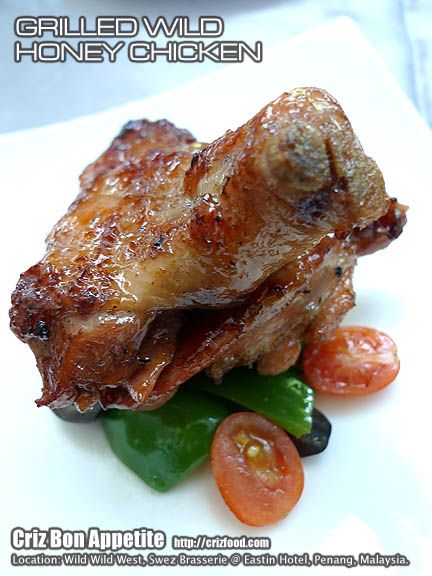 The Fish Tostadas with Veracruzana Salsa (墨西哥貝拉克魯斯沙司魚餅) was awesome as the dish was salty, acidic and sweet to my liking. The Mexican state of Veracruz along the Gulf of Mexico indeed had a high Spanish influence as can be seen quite obviously in the usage of their herbs and spices. The choice of using sea bass fillet was perfect as it was thick and had as a simple marinates of just dill, salt and pepper. What impressed me most was the Veracruzana Salsa. Instead of the normal raw based salsa, it had more complex flavors all combined into one. The rich tomato based sauce wasn't spicy at all. It had hints on the usage of bay leaves, thyme and marjoram, other than garlic, onions, cilantro and chili pepper, plus with a light touch of capers and black olives. The salsa complemented the fish dish extremely well. The only confusing thing is the word "fish tostada" and "餅", which would translate as crispy/crunchy biscuit in English. Is the fish dish supposed to be served on a tostada aka toasted corn tortilla as it would be in Mexico or it just meant toasted fish? Only the chef would be able to answer to this confusion.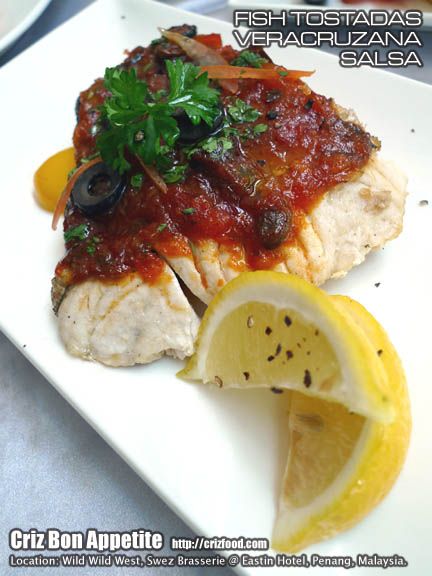 There were also some Crispy Cheesy Potato Skins (香脆芝士馬鈴薯) to go with the dishes. I was just some crispy deep fried potatoes with cheesy sauce and a light sprinkle of paprika. I could have this side dish alone for the whole day~ Haha! 😛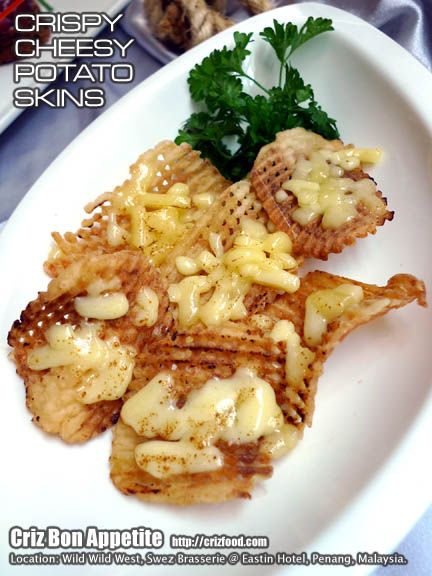 Desserts were super nice. Everyone presence were praising the Texas Double Chocolate Mud Cake (濃郁巧克力泥蛋糕). The rich chocolate mousse between the fluffy light and moist cake plus a touch of oozing ganache on the cake, melted in the mouth heavenly. Can I have another piece please? 😛
Another great dessert would be the Cowboy Raspberry Cobbler (牛仔紅莓果餡餅). It had almost the same bite of the flaky crumbles but with added chocolate chips and walnut. A simple topping of ganache and fresh raspberries made this cobbler the perfect dessert to end a meal.
Overall, the dishes served in this coming Wild Wild West Promotion were up to the standard required. Of course, you won't expect to get fine dining dishes from the cowboys but you can feel that each and every dish served at Swez Brasserie during this coming had the hearts of the assigned chefs in it. It's all about hard work and commitment to get the best dish to please the appetite of the diners. Way to go Chef Kelvin, Chef Franco and Chef Evon as it was another job well done! Keep it up!
Here's the summary of the promotion.
WILD WILD WEST PROMOTION (1-30 NOVEMBER 2012)
Lunch (12.00 noon – 2.30pm): Monday – Friday
RM48++ (adult), RM24++ (child)
Hi-Tea (12.00 noon – 3.00pm): Saturday, Sunday & Public Holidays
Normal weekend: RM55++ (adult), RM28++ (child)
Festive Occasion: RM68++ (adult), RM34++ (child)
Semi Buffet Dinner (6.30pm – 10.00pm): Monday – Thursday
RM48++ per pax
For MAYBANKARD, VISA, CIMB and UOB card members, you can enjoy 15% discount for the Wild Wild West Semi Buffet Dinner (Monday to Thursday) and Weekend Buffet Dinner (Friday to Sunday) from 6.30pm – 10.00pm.
The Swez Brasserie is located at the ring wing of Eastin Hotel, Penang (next to Queensbay Mall). If you are coming from Georgetown towards Bayan Lepas Free Trade Zone via Bayan Lepas Expressway, do watch out for the Pulau Jerejak signboard (leading to Pulau Jerejak jetty). Ignore the turning and drive on to the next left junction. Turn left into Jalan Aziz Ibrahim and drive on until you a roundabout. Turn 3 o' clock and drive on until you see a big Eastin Hotel signboard at the first right junction. Turn right and drive on. Park your car at the basement car park. Take a lift to the first floor lobby and you would see the restaurant there.
Name: SWEZ BRASSERIE @ EASTIN HOTEL
Address: 1 Solok Bayan Indah, Queens Bay, 11900 Bayan Lepas, Penang, Malaysia.
Contact: 604-612 1128, 604-612 1138
Business Hours: 12.00pm-2.30pm (Lunch), 6.30pm-10.00pm (Dinner)
GPS: 5.33643, 100.306345
RATING:
Ambience: 8/10 (1-4 cheap, 5-7 average, 8-10 classy)
Food Choices: 8/10 (1-4 limited, 5-7 average, 8-10 many choices)
Taste: 7.5/10 (1-4 tasteless, 5-7 average, 8-10 excellent)
Pricing: 8/10 (1-4 cheap, 5-7 average, 8-10 expensive)
Service: 8/10 (1-4 bad, 5-7 average, 8-10 excellent)