Some of the shoppers might not know that there is a Thai restaurant hidden in the more low traffic area of Prangin Mall, Penang. The restaurant, Thai Station Café & Restaurant at Atrium A of Prangin Mall is actually a subsidiary company of the HK Wong Kok Group of Restaurants. There's a branch of HK Wong Kok at Level 3, Atrium B, Prangin Mall too.
Whenever I'm in Prangin Mall, I would drop by for some food or just savor some of their Thai desserts. Although this is not the best Thai restaurant in town due to their fusion way of preparing some of the dishes, this could be a great place for a quiet discussion. I have tried out a large number of their dishes even before I started my flood blogging such as their Kway Teow Nger (Beef Koay Teow Soup – RM7.30), Khow Phad Krapi (Shrimp Paste aka Belacan Fried Rice – RM7.50), Phad Thai (Thai Fried Koay Teow – RM7.50) and so on.
The recent one I had was their Phad See Eu (Stir Fried Hor Fun with Kailan aka mustard greens – RM7.50). The noodle was smooth but the mustard greens were a bit too old and fibrous. Luckily with a big serving and lots of pork slices make the overall taste quite passable.
My friend ordered the Khow Phad Subprarod (Pineapple Fried Rice – RM6). It has a slightly spicy look compared to those we get from the local hawker stalls. I guessed they might have added some turmeric powder to make it so yellowish. As for taste, it's just slightly above average although it had quite a lot of raisins, pineapples and chick chunks in the dish.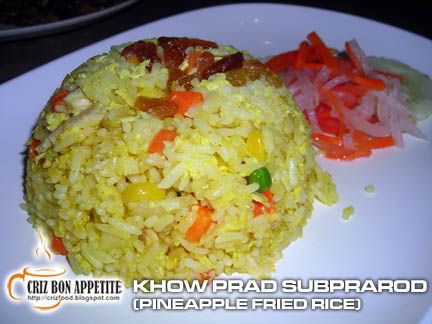 We also tried out their Hor Mouk (Fish Mousse aka Fish Otak Otak – RM3.50). The fresh piece of fish fillet and the combination of spices were great. The only hiccup is that they did not use any wild betel leaves (daun kaduk) at the base, instead they used lots of Thai basil leaves (daun selasih). To me it's fine as I love the unique taste of green curry. It might not be suitable for some.
For dessert, my friend ordered the Tub Tim Krob (diced water chestnuts coated with red starch jellies, somewhat like the seeds of a pomegranate, diced jack fruits and served with sweetened coconut milk – RM3.90). The taste was great as it's not too sweet as those I had taken in Thailand.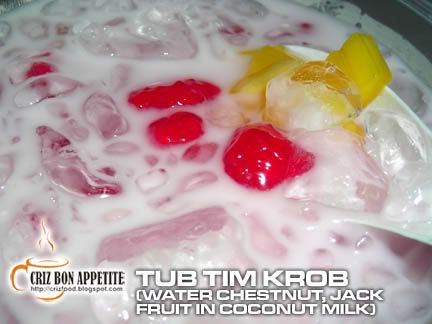 I ordered their Ruam Mid (diced water chestnuts coated with red starch jellies, diced glass jellies aka leong fun, attap seeds in syrup – RM3.90). The taste is just mediocre.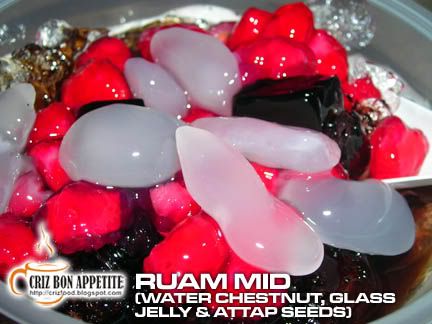 Overall, the food there is just slightly above average to my liking as I had got my taste bud accustomed to somewhat more authentic Thai cuisines. By the way, they do charge a 5% service tax. If you are in Prangin Mall, Penang, walk towards the entrance of the Parkson Grand Supermarket at Level 1, Atrium A. There are actually two entrances at each floor. If you cannot see the restaurant, it means you are at the wrong entrance. Try moving to the next entrance.
Name: THAI STATION @ PRANGIN MALL
Address:
33-01-118A, 1st Floor, Prangin Mall, Jalan Dr. Lim Chwee Leong, 10100 Penang, Malaysia.
Opening Hours:
12.00pm – 9.00pm
Contact: 604-262 8080
GPS: 5.414464, 100.331683
RATING:
Ambience: 7/10 (1-4 cheap, 5-7 average, 8-10 classy)
Food Choices: 8/10 (1-4 limited, 5-7 average, 8-10 many choices)
Taste: 7/10 (1-4 tasteless, 5-7 average, 8-10 excellent)
Pricing: 7/10 (1-4 cheap, 5-7 average, 8-10 expensive)
Service: 8/10 (1-4 bad, 5-7 average, 8-10 excellent)